ALMATY -- As the Kazakh government wraps up an operation that repatriated almost 600 Kazakhs from Syria, efforts to rehabilitate militants radicalised in the war zone are only beginning, security officials and analysts say.
Operation Jusan (Bitter Wormwood) has concluded, National Security Committee (KNB) Deputy Chairman Nurgali Bilisbekov told parliament February 6.
Jusan was the government's effort throughout 2019 to repatriate radicalised Kazakhs stranded in Syria and Iraq after the "Islamic State" (IS) collapsed. Kazakhstan intends to try some of them as terrorists and to rehabilitate the rest.
The humanitarian effort included multiple flights between Syria and Kazakhstan in 2019. A total of 277 adults -- 57 men and 220 women -- as well as 547 minors have returned home from Syria and Iraq since the collapse of IS, according to the KNB.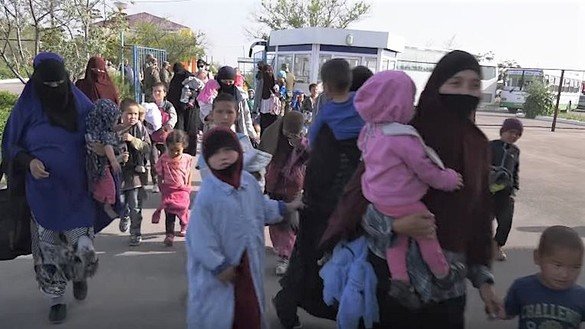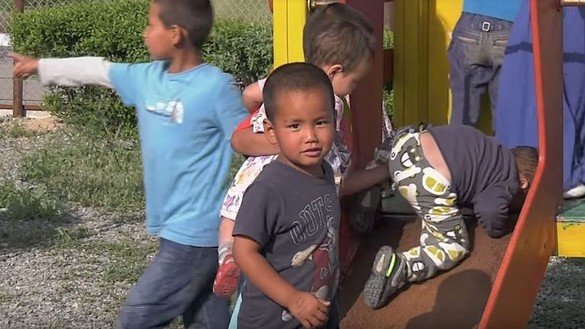 "We brought back practically everyone who expressed a desire to return, including militants," Bilisbekov said. "Of course, the relevant work continues. We will try as much as possible to remove everyone from the conflict zones, especially children and women."
According to Bilisbekov, 114 Kazakh adults as well as an unknown number of children remain in war zones.
Evacuating Kazakhs from war zones is a costly operation, said Bilisbekov.
"Transportation, de-radicalisation, socialisation -- these are very expensive matters," he said. "But we believe that this is all justified, because, above all, we must proceed from the fact that mainly children were brought back. This is our civic duty. The state must pay attention to it. Not a single child taken from the conflict zones has been neglected."
Plans for de-radicalisation
When discussing the costs of Operation Jusan, society needs to take into consideration the long-term rehabilitation of those who fought in wars, said Asylbek Izbairov, director of the Institute of Geopolitical Studies in Nur-Sultan.
"[This] necessitates the involvement of not just one specialist," but several others including "psychologists, religious scholars and theologians," he said.
Courts have prosecuted 41 of the Jusan returnees, said Bilisbekov.
While many of those who have been jailed upon their return are responding to de-radicalisation efforts, some "remain adherents to radical views," he said.
Kazakh nationals being tried in connection with charges of fighting with IS in Syria committed horrific crimes, prosecutors have said, pointing to evidence that includes gruesome photographs and videos.
It is very difficult to de-radicalise someone who swore an oath to a "caliphate" and the manner in which specialists evaluate the sincerity of someone's disavowal of extremism is crucial, said Izbairov.
The KNB continues to work with convicted terrorists even after they leave prison, said Bilisbekov, noting that those ex-convicts are on probation.
"We continue to work with them. This is our duty," he added.
Releasing extremists who finished their prison sentences is a separate and complex issue, said Izbairov.
The KNB recently arrested five men who sought to carry out terrorist attacks in Taraz and Karaganda, he said. All of them are ex-convicts who upon their release had decided to commit terrorism.
"Why? Because they made contact with 'religious ones' in the penal system," he said. "This shows that de-radicalisation techniques need improvement. After all, radical ideologues are changing their tactics too."
De-radicalisation is very difficult but possible if one uses the right techniques, stressed Izbairov.
About three or four years ago, a group of professionals at the Akniyet Rehabilitation Centre in Nur-Sultan used the "six-toothed gear" technique, he said, referring to the use of six methods of dissuasion to pound against someone's extremist views.
"Together with them, we released a manual on de-radicalisation titled 'Straightening Someone Out'. It was an effective method," said Izbairov.
A long struggle
The Interior Ministry (MVD), Prosecutor General's Office and KNB approved the manual, Izbairov said, adding that the group members received special awards from the Anti-Terrorism Centre.
"I once met with one of the leaders of this group, and he said that the 'gear' technique is effective in working with those who embraced radical ... views while in Kazakhstan," he continued. "But it won't be particularly effective with those who returned from Syria, because they cling to the oath of allegiance they took to terrorist leaders. They have seen war and blood, and they themselves have killed."
For those repatriated from Syria, de-radicalisation is made more difficult because it is an issue of faith and ideology, not of childhood psychological traumas or day-to-day traumas, said Izbairov.
As a result, the usual methods of working are not suitable for them, according to Izbairov.
It takes time for former radicals to form orthodox views, so they should not be expected to quickly abandon them, said KNB Col. (ret.) Arat Narmanbetov of Almaty.
"Even those who supposedly have changed... we can't look into their heads to be convinced of this," he said. "It is entirely likely that they are behaving like chameleons -- they change their behaviour and speech according to the environment," explained Narmanbetov.
"People have a difficult time giving up even political views, but here we are talking about much more secret things -- faith. The struggle for these souls will be difficult and long," he said.