NUR-SULTAN -- Kazakh officials say security forces have thwarted two potential terrorist attacks since the start of the year.
"On February 14, two adherents of a destructive religious movement were detained in Almaty," the National Security Committee (KNB) said February 18.
"An improvised explosive device [IED] with shrapnel, bomb-making components, knives, and smartphones with photos and videos of alleged attack targets were seized at their place of residence," the KNB said.
The detained individuals planned to carry out terrorist acts in Kazakhstan, it said, adding that the investigation continues.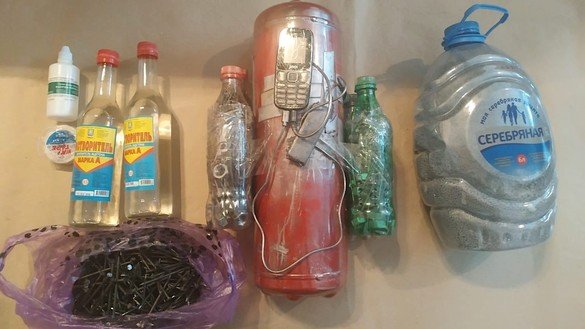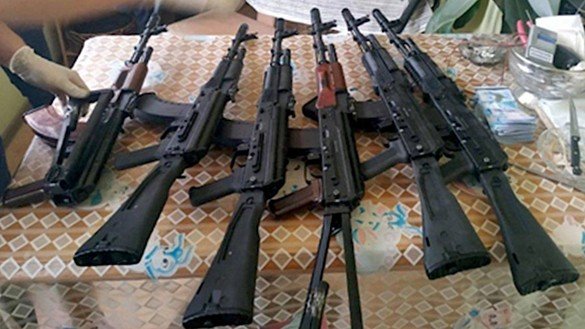 This is the second time this year that security forces have arrested suspects accused of plotting terror acts in Kazakhstan.
On January 27, KNB officers detained five suspects in Taraz and Karaganda, who are accused of plotting to commit terrorist acts in public places.
Kazakhstan continues to take measures against terrorism and violent extremism, recognising the continuing threat.
On February 18, Kazakh President Kassym-Jomart Tokayev signed the law "On Ratification of the Shanghai Co-operation Organisation Convention on Countering Extremism".
The convention calls for improving Kazakh counter-terrorism laws, interacting with international organisations and civil society, monitoring the internet and several other measures to counter extremism.
Foiling terrorists
Meanwhile, law enforcement agencies are working to break up trafficking routes for weapons and munitions that could end up in terrorist hands.
On February 6, a Shymkent court sentenced members of a criminal group engaged in the illegal manufacture and sale of firearms.
The suspects were detained last July. During their arrest, security forces seized eight automatic weapons, two pistols and ammunition and destroyed a weapon workshop.
The defendants were sentenced to three to four years in prison.
Last November, security forces in Akmola Province broke up a criminal group involved in the theft and sale of explosives.
Security personnel seized 200kg of explosives and more than 400 detonator caps during an attempted sale.
"In recent years, Kazakhstan's special services have been able to prevent terrorist acts. Preventive measures are bearing fruit -- terrorists are being detained at the stage of acquiring munitions and explosive precursors and at the stage of planning terrorist acts," said Shymkent-based political scientist Rauan Dautaliyev.
It is important for law enforcement to prevent weapons from getting into the radical environment, he said, adding that 17 such seizures took place in Kazakhstan in 2019.
"Civilians must be vigilant, because a whole chain of actions by terrorists leads to a terrorist attack," said Dautaliyev.
"As a rule, they meet with like-minded people and discuss their criminal plans, stay in apartments where they're not registered, acquire IED components and weapons, and study places where they plan to carry out a terrorist attack," he said.
"Vigilance and prompt calls to the police can save lives," he added.