ALMATY -- Migrant workers from Central Asia are feeling the full impact of Moscow's floundering economic strategy, with many losing their jobs and unable to find new ones.
Russia's gross domestic product (GDP) grew by 1.4% in 2019, compared with 2.5% in the previous year, according to the the country's Ministry of Economic Development.
But even that unimpressive figure might exaggerate Russia's economic performance.
Russia's real GDP growth last year was 1.2%, according to a World Bank estimate.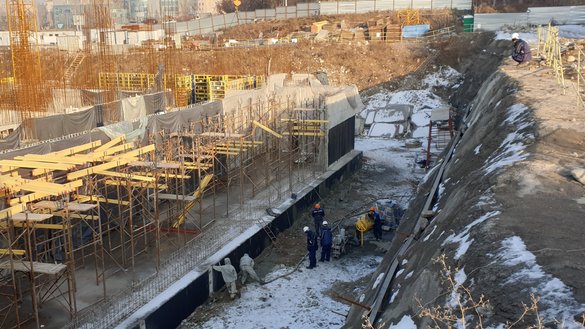 Following a significant drop in oil prices in 2015, Moscow changed its economic strategy, resorting to large-scale cost cutting and budget savings. It also has reeled from Western sanctions imposed after the illegal Kremlin annexation of Crimea in 2014.
Living standards have declined as incomes failed to keep pace with inflation. From 2013 to 2018, Russian incomes rose by an average of 5.3% per year while annual inflation rate averaged 7.4%, according to the Russian Federal Statistics Service (Rosstat).
In the first quarter of 2019, 14.3% of the Russian population had incomes below the subsistence level, which amounted to 10,753 rubles per month ($165 at the exchange rate for last March). That percentage equals 20.9 million inhabitants, or half a million more than a year earlier.
Construction, a key sector of the Russian economy and a source of jobs for migrant workers from Central Asia, has been severely affected.
In the first quarter of 2019, 45% of Russian construction firms reported a decrease in work, according to Rosstat.
In 2020, the slumping construction industry will complete only slightly more than half the buildings it completed last year, according to economists, Rambler.ru reported.
Hard times for Central Asians
Norbek Akhmedov, a Tashkent native, returned home from Novosibirsk, Russia, last November after several months of unsuccessfully trying to find work in constructiion.
"The work situation in Russia has become very difficult," he said. "A few years ago, I earned up to $1,000 a month doing construction and renovations, but today there are almost no such opportunities."
In recent years, Russians facing the onset of poverty have begun competing with Central Asian migrants in the local labour market, according to Akhmedov.
"Earlier in Russia, there were few locals who wanted to work as construction workers or haulers, but now they have become less picky about work and employers are specifically choosing them," he said.
Akhmedov now works at a porcelain factory in Tashkent.
He receives good wages and no longer intends to go to Russia, at least not in the coming years, he said.
Bitter citizens
Ordinary Russians are openly expressing their discontent, as Russian President Vladimir Putin found on a trip to Saint Petersburg in mid-February.
In mid-February, Putin faced what appeared to be a rare unscripted grilling from a Russian woman who asked whether he could live on her disability income of 10,800 RUB ($161) a month, as AFP reported.
While visiting Saint Petersburg, Putin was approached by passersby who filmed him on cell phones.
The woman asked Putin: "Please tell me, is it possible to live on 10,800 RUB ($161) [per month]?"
"I think it's very hard," Putin said quietly in video footage posted by Russian media.
The woman cited everyday costs, apparently doubting Putin knew the figures.
A trip to the grocery store costs at least 1,000 RUB ($15), she said, while utility bills for an apartment cost at least 4,000 RUB ($60) per month.
"We still have very big social problems," said Putin.
"Why don't you solve them then?" the woman retorted.
"We are solving them," Putin said.
Rethinking Russia
The economic stagnation in Russia has led Central Asian countries to rethink Russia's value as a strategic partner.
Uzbekistan, which has been opening to the world under President Shavkat Mirziyoyev, in January refused to join the Russia-led Eurasian Economic Union (EEU). Instead, it chose observer status.
"We will not be a member of this union," Mirziyoyev said in a speech at the time.
"Bear in mind one thing: Nobody will ever give away our independence to anyone. Independence rests in the hands of a president whom the people trust," he said.
The decision comes even as many Uzbeks work as migrants in Russia.
Uzbekistan faces larger challenges than supporting migrant labour, said Farhad Tolipov, director of the Tashkent-based think tank Caravan of Knowledge.
"Tashkent should not rely on a factor like migrant labour in its decision whether to join the EEU. This issue can ... be resolved through direct negotiations with Moscow," he said.
At the same time, the United States is becoming an increasingly attractive partner for Central Asian countries.
US Secretary of State Michael Pompeo's visit in February to several post-Soviet countries, including Kazakhstan and Uzbekistan, was productive in terms of achieving new economic agreements, particularly regarding investments.
The leaders of the two Central Asian republics did not hide their desire to strengthen co-operation with the United States.
"Uzbekistan and Kazakhstan are demonstrating their willingness to co-operate with the United States regardless of Russia's course," Arkady Dubnov, a Moscow-based analyst of the Commonwealth of Independent States (CIS) and Central Asia, said on independent Russian radio station Ekho Moskvy on February 3.