BISHKEK -- Kyrgyz analysts are questioning the intent of Russia's deployment of air and missile defence systems inside Kyrgyzstan.
The equipment is set to be installed at a Russian air base near Kant, said deputy chief of the Kyrgyz military General Staff Nurlan Kiresheyev in a statement cited by Radio Free Europe/Radio Liberty's Kyrgyz service on February 14.
The Russian air base in Kant, a small town 20km from the capital, has been operating since 2003 as part of the Collective Security Treaty Organisation (CSTO), a military bloc that includes Russia, Kyrgyzstan, Armenia, Belarus, Kazakhstan and Tajikistan. About 500 Russian troops are deployed at the base.
Kiresheyev made the statement the same day that Russian Deputy Minister of Defence Nikolay Pankov told lawmakers in Moscow about the plans, according to the report.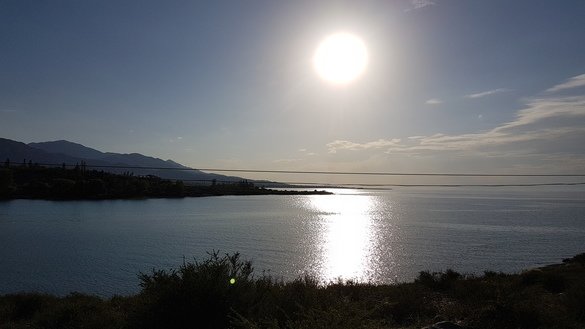 The air and missile defence systems as well as drones will be deployed as part of agreements signed during Russian President Vladimir Putin's visit to Kyrgyzstan last June for a summit of Shanghai Co-operation Organisation (SCO) heads of state.
The latest move comes amid Moscow's efforts to expand its military presence in Kyrgyzstan.
Putin during an earlier trip to Bishkek in March 2019 convinced Kyrgyz authorities to expand the Russian base in Kant by 60 hectares, and the topic of opening up a second Russian military base in southern Kyrgyzstan continues to come up.
During Putin's visit in March, protesters made it clear what they think of Putin's heavy-handed policies toward their country.
Demonstrators gathered outside the Russian embassy in Bishkek a day before Putin arrived, holding posters calling him a "killer" and an "occupier", and called for Russia to leave Kant.
'Why are missiles needed here?'
"I don't understand why missiles are needed here, as if someone is going to attack the Russian base," said Bishkek political scientist Askat Dukenbayev.
Russia continues to strengthen its military presence in the country's secure northern Chui Province, while ignoring the south, which faces real threats to security, according to Murat Konokbayev, a former Kyrgyz diplomat from Bishkek.
"In May [2019], terrorists who came from Syria were detained in Batken," he said, referring to the arrests of two Kyrgyz men reported by Knews.kg at the time. The story identified them only as R. B. and R. U. and said both had fought in Syria on the extremist side before returning to Kyrgyzstan.
And remember the events in the late 1990s, when there were clashes between IMU [Islamic Movement of Uzbekistan] militants and our troops [in Batken]," added Konokbayev.
"Why does Russia not want to strengthen security where it really is needed?" Konokbayev asked.
Apart from its declared agenda, the Kremlin is pursuing strategic interests that are purely its own in Central Asia, he said, citing Syria to illustrate Russian behaviour. Russian forces arrived there in 2015 to prop up President Bashar al-Assad and remain there.
"Even though Russia has achieved its stated objectives in Syria, it is not going to withdraw its troops from there," he said. "Putin has openly stated that the Russian military will be there as long as it is beneficial to Russia."
"A military presence in a foreign country is always used to influence, control, and pressure local authorities to settle strategic issues to one's advantage," he said. "This is a matter of Kyrgyzstan's national security."
Russian military bases make Kyrgyzstan a target for the Kremlin's adversaries, warned Ulan Jumaliyev, a Bishkek lawyer and member of the Independent Kyrgyzstan online group.
"We are being set up. Even Belarus, Russia's kin, refused to host Russian air defence and other units," he said.
Environmental consequences
Kyrgyz residents have in the past expressed dissatisfaction over Russia's military activities in the country, particularly in regard to the environmental consequences of Russian military exercises around Lake Issyk-Kul. The mountain lake is Kyrgyzstan's number-one tourist attraction.
The Russian 954th Anti-Submarine Weapons Test Base has been testing torpedoes in the cherished lake since 1943.
Russia also conducts military exercises on the southern shore of Lake Issyk-Kul, which, according to environmentalists and local residents, cause significant damage to the lake's unique ecosystem.
Harmful substances are emitted by explosions during the exercises, said Baktygul Stakeyeva, a Bishkek-based environmental engineer and employee of the environmental movement MoveGreen.
"Craters form where these explosions occur, and the surrounding soil and vegetation are ruined," she said in 2018. "Not only can pollutants penetrate soil, water and animals' bodies, you have noise pollution too."
The local ecosystem is already fragile enough without the damage from military exercises, she said.