TASHKENT -- The Uzbek National Guard and other security forces in Uzbekistan hosted a joint crisis response exercise with US Central Command (CENTCOM) from February 24 to March 2, aiming to improve security co-operation and interoperability.
Uzbek and US military personnel participated in "Invincible Sentry 2020" at military training areas and other locations, the US embassy in Tashkent said in a statement Wednesday (March 4). Some US personnel at MacDill Air Force Base in Florida participated remotely.
"Our military co-operation with Uzbekistan is based on mutual respect and common interests," US Ambassador to Uzbekistan Daniel Rosenblum said in the statement. "Training programmes and joint response exercises such as Invincible Sentry show the depth and breadth of our security partnership with Uzbekistan."
The exercise enabled Uzbek and American participants to improve operational effectiveness when confronted with unfamiliar challenges and to enhance interoperability, the statement added.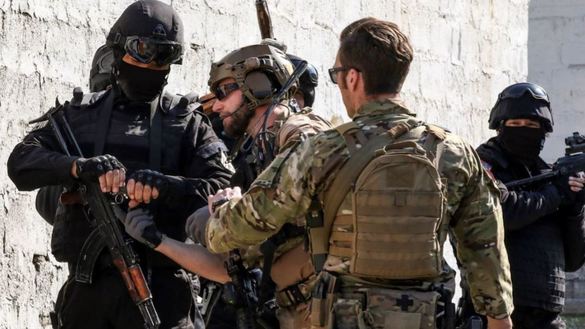 Combined military training such as the exercise is ideal for preparing partner forces to operate together when necessary, the statement said.
The US military holds more than 80 exercises with partner nations each year in the CENTCOM area of responsibility, it added.
Strengthening military co-operation
A new era of relations between the armed forces of the two countries began in January last year, when Uzbek special forces and the US National Guard took part in joint exercises for the first time at Camp Shelby in Mississippi.
The relations between the militaries of Uzbekistan and the United States continued with a series of mutual visits in August and September.
Last September, a US military delegation headed by Lt. Col. Brad Howe of the Mississippi National Guard visited Uzbekistan to train helicopter pilots. American and Uzbek pilots conducted joint flights and participated in trainings in the Chirchik Garrison near Tashkent.
Uzbek soldiers were recognised for their efforts in joint training exercises held by the Mississippi National Guard at its Camp McCain last December as the two countries continued to bolster military co-operation.
Two sergeants from the Uzbek military's Special Operations Battalion returned from the United States with awards after taking part in the annual "Best Warrior" competition at Camp McCain.
Senior Sgt. Sardor Mamarasulov was named "Best Foreign Junior Commander", and Junior Sgt. Mukhriddin Ochilov was recognised as "Best Foreign Soldier".