WASHINGTON -- An ethnic Kazakh woman from China on Wednesday (March 4) received an award for her in courage in denouncing Beijing's oppression of Chinese Muslims, the US State Department said in a statement.
US Secretary of State Mike Pompeo hosted the Annual International Women of Courage Awards. Twelve women from around the world received the honour, including Sayragul Sauytbay.
The award "honors women around the globe who have exemplified exceptional courage and leadership in advocating for human rights, women's equality, and social progress, often at great personal risk", according to the State Department.
Authorities in Xinjiang, China, over the past few years have placed hundreds of thousands Muslims, including ethnic Kazakhs, in indoctrination camps. At least 1.5 million Kazakhs live in the region, representing the second-largest Turkic group there after the Uighurs.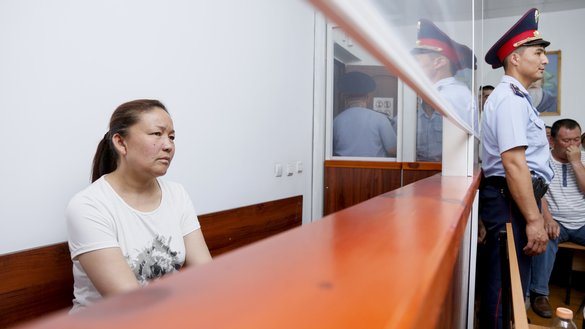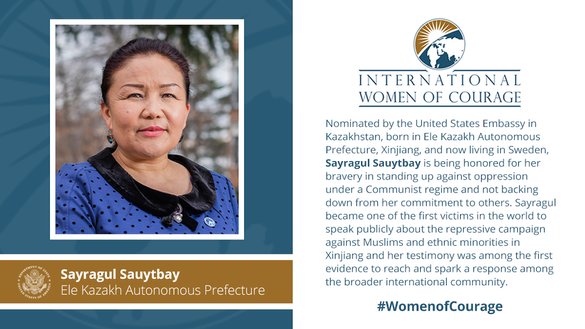 A harrowing story
"In July 2016, Sayragul and her family attempted to move to Kazakhstan but the Chinese Communist Party (CCP) confiscated her passport and prevented her from going with her husband and children," the State Department said in its statement.
"From November 2017 to March 2018, Sayragul was forced by the CCP to teach Chinese to ethnic minority people in a detention camp. In March 2018, Sauytbay fled to Kazakhstan," the statement said.
"Subsequently, Sauytbay become one of the first victims in the world to speak publicly about the CCP's repressive campaign against Muslims ... Sayragul and her family received asylum in Sweden, where they now live."
On trial in Kazakhstan in 2018 in connection with charges of illegally entering the country, Sauytbay described the abuses she had witnessed and personally endured.
Chinese authorities were forcing thousands of Muslims, including Uighurs and ethnic Kazakhs, to undergo indoctrination in re-education camps, she testified. The court gave her a suspended sentence and prevented her deportation to China.
Eventually Kazakhstan allowed her to move to Sweden.
Spreadsheet detailed extensive persecution
In recent months, evidence of the oppression of Chinese Muslims has piled up.
In February, the New York Times published a leaked 137-page spreadsheet further detailing the persecution of Chinese Muslims.
The document outlined information that authorities in Karakax County, Xinjiang, gathered on more than 300 residents held in indoctrination camps as well as their neighbours and relatives.
Seemingly benign activities were recorded, such as abstaining from alcohol, seeking to go on a religious pilgrimage or attending a funeral.
The document also covered how often people prayed, whether they wore religious clothing or long beards, with whom they had contact and the behaviour of their families.