BISHKEK -- The case of Khusniddin Zainobiddinov, a 30-year-old ethnic Uzbek from Kyrgyzstan, is just one example of how Central Asian migrants are singled out by Russian police and face torture, say activists.
Zainobiddinov was wrongfully held for 13 months in connection with an explosion that occurred in December 2018 in an apartment building in Magnitogorsk, Russia, Radio Free Europe/Radio Liberty (RFE/RL)'s Uzbek service reported.
The blast caused one of the entryways to collapse and killed 39 people.
Law enforcement attributed the incident to a gas leak. "Islamic State" (IS), which has a history of making baseless claims of responsibility to gain publicity, boasted in January 2019 of perpetrating the tragedy.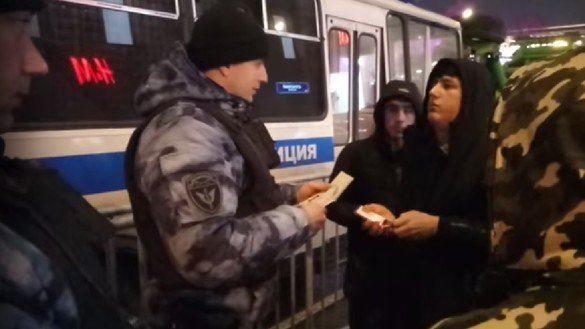 At the time, police urged the public to ignore IS, asserting that "experts and criminologists found no traces of explosives or explosive components in fragments taken from the scene".
Even though authorities identified a non-criminal cause, Zainobiddinov was arrested in January 2019 on suspicion of carrying out a terrorist act, as he later told his wife. The prosecutor's office in Magnitogorsk drew up a report "on the detention of the internationally wanted" Zainobiddinov.
Zainobiddinov spent seven months in a Federal Security Service (FSB) pretrial detention centre and six months in a local deportation camp before authorities released him in mid-February for lack of evidence.
"FSB personnel tortured him, broke his nose and ribs and used electric shock in an effort to make him admit guilt," according to his complaint, reported RFE/RL.
Security officials showed him photographs of men with long beards whom he did not know and asked him for information on them, while demanding that he testify against them, he said.
Zainobiddinov, who arrived in Moscow after his release, told RFE/RL that he plans to seek justice for the violations of his rights.
"I was tortured without cause so much," he said. "My whole body was broken. You would be frightened to see me. There must be at least some laws in Russia! I came to Moscow in search of justice. I want to hold those security personnel accountable. I'll go to the European Court [of Human Rights] if necessary," he said.
Mass raids
The Magnitogorsk police did not limit themselves to Zainobiddinov. They increased pressure on the entire community of Central Asian migrants.
In January 2019, local law enforcement carried out mass raids on areas where Central Asian migrants lived or worked, according to the pro-government newspaper Komsomolskaya Pravda.
"Above all, the inspections applied to minibus drivers. Drivers were required to present documents... On weekends, law enforcement officers rushed to the market near the Grand shopping centre," Komsomolskaya Pravda reported.
Eyewitnesses claimed that several dozen Tajiks and Uzbeks were detained there, according to the newspaper. Additionally, construction firms employing immigrants from Central Asia ended up on a so-called blacklist.
"What's more, Magnitogorsk residents write that neighbourhood police officers and volunteer patrols are going from apartment to apartment," the publication added. "They are particularly interested in apartments where foreigners live, as well as addresses where five or more people are registered."
Police officers resorted to inspecting schools allegedly attended by migrant children.
"It got to the point that the principals of local schools received an unofficial instruction -- check the registration of all pupils ... In the city, there's talk that illegal migrants are being sent home by the trainload," wrote the newspaper.
'My whole body was broken'
Zainobiddinov's case and the persecution in Magnitogorsk are just one example of the injustice committed by Russian police, according to human rights activists.
Central Asians in the country complain of routine imprisonment and torture by Russian law enforcement.
In recent years the European Court of Human Rights has issued numerous rulings in favour of plaintiffs from Central Asia concerning torture in Russia, confirming that it continues to be practiced there, said Nadezhda Atayeva, president of the Association for Human Rights in Central Asia.
It will be difficult for Zainobiddinov to confront the Russian law enforcement system, since "co-ordinated actions of officials in power always lead to the restriction of the rights of victims seeking to hold personnel involved in torture accountable", said Atayeva.
"In particular, evidence of torture is not documented in a timely manner, because the victims are under the control of personnel who have an incentive to lose evidence," she said.
Moscow police often abuse Central Asians, said Valentina Chupik, director of the Moscow human-rights organisation Sunrise of the World.
"I have been approached by people whom the police ... put in a cell for several days without food or water just because their migrant registration had expired," she said."The police constantly scoop up people who don't look Slavic, whom they then abuse and even extort."
Most migrants are not aware of their rights and do not try to defend them, preferring to obey or bribe authorities, she said.
This impunity gives a free hand to Russian law enforcement personnel, and they themselves are committing the crimes they are supposed to be fighting, she said.