NUR-SULTAN -- Central Asian countries are ramping up efforts against the coronavirus COVID-19 pandemic, as doctors warn against malicious rumours and disinformation.
Some countries still have no known cases, though exposure might simply be a matter of time.
No coronavirus cases have been registered in Kyrgyzstan as of Tuesday (March 17), while 321 patients are quarantined in the country, according to its Health Ministry's team on coronavirus prevention.
Nightclubs, movie theatres, cafes, playgrounds and computer clubs have been temporarily shut down to prevent the spread of the virus in the country.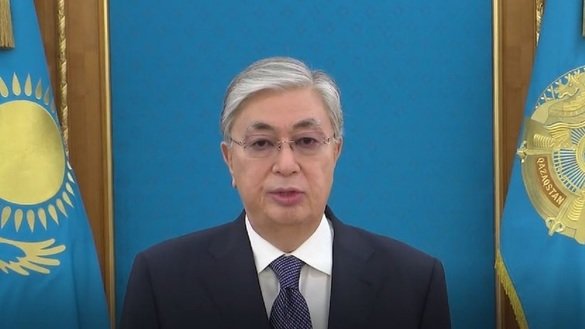 "The government is not taking any days off starting today," Kyrgyz Prime Minister Muhammedkaly Abylgaziev said at a briefing Monday (March 16).
Government agency directors and provincial governors will be ready to answer questions from the public day and night, he said.
"I twice spoke with Kazakh Prime Minister Askar Mamin. We discussed the situation. Of course, there will be restrictions on the movement of citizens. But it will not affect transportation of goods or business," he said.
Tajikistan has not reported any confirmed coronavirus infections as of Tuesday, while it has quarantined 1,566 individuals.
The Asian Development Bank (ADB) said Monday it has allocated a $100,000 grant from its Maternal and Child Health Integrated Care Project to support the Tajik government's preventive and mitigation efforts against the virus.
Turkmenistan also has no confirmed cases of coronavirus.
However, an employee at the hospital in Choganly near Ashgabat told Radio Free Europe/Radio Liberty (RFE/RL) on March 2 that two patients have been kept under quarantine and in "strict isolation" for the past 10 days.
Meanwhile, the number of coronavirus cases grew to 10 in Uzbekistan, according to Uzbek Health Minister Alisher Shodmonov.
Uzbek authorities reported the country's first confirmed coronavirus infection on March 15 and immediately announced sweeping measures to contain the virus.
Along with the border closures, Tashkent is shutting down schools, suspending international flights and banning public gatherings.
Kazakh state of emergency
Kazakhstan on Tuesday reported 32 coronavirus-infected patients, including 15 in Almaty and 17 in Nur-Sultan, making it the hardest hit country in the region.
The Kazakh government declared a state of emergency from March 16 to April 15, Kazakh President Kassym-Jomart Tokayev announced in a video message Monday.
"In accordance with Kazakh law, I signed a decree introducing a state of emergency in our country. The state of emergency applies from 8am on March 16, 2020, and will last 30 days. If necessary, the regime may be extended," said Tokayev.
Large-scale events have been banned, and cinemas, theatres, exhibitions and other crowded events or venues have been temporarily closed, he said. Grocery stores will operate normally.
The government has instituted travel restrictions and allocated funds to purchase medicine, tests and laboratory equipment, he added.
The Kazakh Ministry of Industry and Infrastructure Development announced Monday that it was suspending 49 regular international flights per week, including all flights connecting Kazakhstan to China and Iran. It has suspended most rail service to neighbouring countries.
Calls for preventive measures
More than 1,600 patients are quarantined in hospitals and about 1,000 are in home isolation, according to the Kazakh Ministry of Healthcare.
Citizens arriving from China and neighbouring states continue to be monitored, the ministry said in a statement.
It urged the public to take preventive measures, including washing one's hands and face often and thoroughly and avoiding crowded places and interaction with sick people.
"If you experience any symptoms, we do not recommend that you go to the hospital triaging centre on your own. Instead, please call an ambulance," said a spokesman for a Ministry of Healthcare call centre.
"All the necessary medications and test kits are available, and doctors are working around the clock. The Ministry of Healthcare will promptly issue announcements about any cases of infection that occur and take all necessary actions," he said.
Kazakhs can get official information on the Ministry of Healthcare's Facebook page or by calling the 24-hour call centre at 1406.
"We're operating normally, but tensions are rising. Naturally, we're devoting a lot of attention to preventive measures and educating the population. The epidemiological situation is under control; so far there have only been isolated cases in the country," said Meruert Abdualiyeva, a doctor in Shymkent.
"If required, people should not under any circumstances be reluctant to go into quarantine or get treatment -- do not expose yourself, your family or the people around you to the danger," she added.
"Take your temperature several times a day, tidy up your home and air it out, and wash your hands frequently with soap," Abdualiyeva said.
"We are remaining calm," said Taraz resident Nazgul Kasumova.
"We believe that the government is keeping the situation under control and there will be no widespread infection. We need to wash our hands, avoid crowds, and not panic," she said.
Rumors and disinformation
Those spreading fake reports causing panic over coronavirus will be punished in accordance with the law, Tokayev said in his televised address Monday.
Kyrgyz police detained 15 citizens accused of spreading false information on social media and messaging apps, police said Monday (March 16).
Russia launched the disinformation campaign over the COVID-19 outbreak, US Assistant Secretary of State for Europe and Eurasia Philip Reeker warned earlier.
"By spreading disinformation about coronavirus, Russian malign actors are once again choosing to threaten public safety by distracting from the global health response," he said.
Thousands of Russia-linked social media accounts have launched a co-ordinated effort to spread conspiracy theories about the new coronavirus.
The disinformation campaign promotes unfounded conspiracy theories claiming that the United States is behind the COVID-19 outbreak, in an apparent bid to damage the US image around the world.
False personae on Twitter, Facebook and Instagram are advancing Russian talking points in multiple languages, US officials tasked with combating Russian disinformation told AFP.
"Russia's intent is to sow discord and undermine US institutions and alliances from within, including through covert and coercive malign influence campaigns," said Reeker.
China is also actively attempting to deflect criticism of its role in the coronavirus pandemic spreading across the world by promoting conspiracy theories about the origin of the virus.
The spread of these malignant conspiracy theories is not coming from Chinese citizens but from the highest echelons of the Chinese government.