BRUSSELS, Belgium -- While the world passed a grim milestone Friday (March 20) of surpassing 10,000 deaths due to the coronavirus pandemic, the European Union (EU) accused Moscow of putting lives at risk by mounting what it said was a "significant campaign" to spread false or misleading information about the deadly virus.
Pro-Kremlin media outlets are promoting disinformation about COVID-19 in order to make the crisis worse in the West by undermining trust in healthcare systems, warned an internal EU document seen by AFP.
Brussels' warning comes less than a month after US officials said thousands of Russian-linked social media accounts had embarked on a co-ordinated effort to spread alarm about the virus.
The EU's Stratcom East task force, which tackles disinformation emanating from Russia, said it had identified almost 80 cases of disinformation about coronavirus since January 22.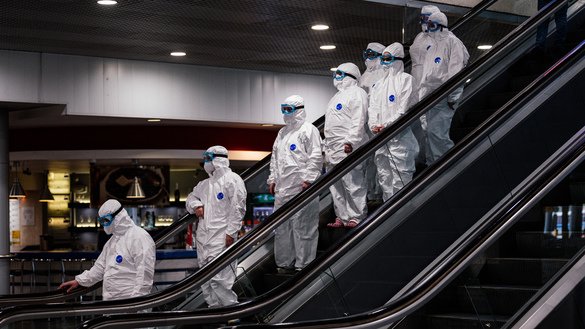 "Pro-Kremlin disinformation messages advance a narrative that coronavirus is a human creation, weaponised by the West," said the EU document, which was circulated to all 27 member states.
Accounts linked to the Russian state have been pushing disinformation online about coronavirus in English, Spanish, Italian, German and French, said the task force.
The strategy is to pump out dozens of different, sometimes contradictory narratives to sow confusion and fear.
"These efforts are in line with the Kremlin's broader strategy of attempting to subvert European societies from within," the internal document said.
Examples include the idea that coronavirus is a biological weapon deployed by China, the United States or the United Kingdom, that it originally broke out in the United States rather than in China or that the virus is an instrument to impose totalitarian rule.
The pro-Kremlin sources are not authoring the theories themselves, say researchers working with the task force.
Instead they are picking up and amplifying conspiracy theories originating elsewhere, such as China, Iran or the US far right.
The Kremlin denied the accusations.
Endangering lives
Disinformation from outside the EU, including "from Russia or from providers which are based in Russia or linked somehow to pro-Kremlin sources", has surged, said EU spokesman Peter Stano.
The EU is working closely with its member states, NATO and the G7 to crack down on disinformation, Stano said.
The public should turn to reliable, trustworthy sources for information, Stano said, warning that false rumours and propaganda were endangering lives.
"Whoever is spreading the disinformation is essentially playing with people's lives," he said.
Major online platforms including Google, Facebook and Twitter are working with governments and health authorities to stop the spread of disinformation.
But they still are not doing enough to "systematically share data and statistics with researchers and others", said the EU internal report.
China is also actively attempting to deflect criticism of its role in the coronavirus pandemic spreading across the world by promoting conspiracy theories about the origin of the virus.
The stakes are becoming clearer in Kazakhstan, which as of March 20 had 44 confirmed cases, including three deaths, according to AFP and Johns Hopkins University. On Thursday (March 19), authorities locked down its two biggest cities, Almaty and Nur-Sultan.
"The measures include dividing the two cities into sectors and creating checkpoints to control access [and] limiting the population's movement by foot and by vehicles in the two cities," reported Radio Free Europe/Radio Liberty.
Kazakhstan is under a March 15-April 15 state of emergency.
All other Central Asian countries have been ramping up efforts against the pandemic.
The United States is helping Central Asian countries prepare for the spread of COVID-19 through donations of personal protective equipment (PPE) such as gloves and masks for health workers.
Russians brace for worst
Meanwhile in Russia, many Russians instinctively distrust official claims regarding the virus and fear the true situation is much worse, even as President Vladimir Putin has reassured the public that the pandemic is under control.
The Russian regime reacted quickly in late January as the virus epidemic raged in China, closing the 4,200km-long Sino-Russian border and banning entry to most Chinese citizens including tourists.
As late as March 6, Russia had only 10 documented cases on its soil. But the numbers then began rising swiftly and on a single day, March 18, leapt by 29% to 147.
The "situation is generally under control" in Russia, Putin said March 18, according to Kommersant.ru.
Moscow and a few other cities have limited the size of public gatherings and ordered school closures. Still, most Russians are not facing drastic changes to their way of life.
"There's no reason to panic. And all the measures we are now taking are preventative," said Deputy Prime Minister Tatyana Golikova, who is responsible for health.
Nevertheless, the public anxiety is very real. Since the start of the week, images of empty supermarket shelves have circulated on social media and many have retreated to their summer houses in the countryside.
"I've bought two packs of buckwheat. It's our mentality to distrust what they're saying on television," said 47-year-old Svetlana Andropova of St. Petersburg.
Russia's X5 Group, the country's largest food retailer, said it was replenishing stocks of essential foods up to four times as frequently as usual.
Face masks and anti-bacterial hand gel are almost unobtainable in Moscow.
Conflicting figures
Many question the official number of confirmed cases and consider it an underestimate.
The health authorities are hiding cases by recording them as pneumonia or severe respiratory infections, said Anastasia Vasilyeva, president of an independent trade union called the Doctors' Alliance.
Official figures are conflicting. Pneumonia cases went up 37% year-on-year in Moscow in January 2020, according to Rosstat, the state statistical agency, while the Moscow city health department says rates of pneumonia among outpatients declined 7% and 8% in January and February.
The testing methods also have come under question. While the state health watchdog says that more than 110,000 tests have been carried out, Moskovsky Komsomolets, a popular daily newspaper, questioned their reliability compared to those in other countries, saying that only the severest cases were testing positive.
"Living in Russia forces you to think for yourself first of all, to analyse information from different sources," commented Sergei, 29, a sports journalist.
Rumours about the virus are circulating quickly. A centre set up to monitor the crisis is working to identify clusters of false reports on social media and remove them.
On March 17, a report that Moscow would shortly be placed in a state of emergency with a nightly curfew circulated widely before authorities denied it.
Russians have responded with typical black humour.
"As soon as it crosses the Russian border, coronavirus turns into ordinary flu," runs one popular joke.