ALMATY -- Central Asian migrants in Russia, now stranded because of Moscow's haphazard response to the coronavirus pandemic, are suffering in a country where they were already made to feel unwelcome.
For weeks, Russian President Vladimir Putin had been expressing little concern of a COVID-19 outbreak in Russia, and did not impose any major restrictions on movement inside the country.
However, that approach did not pan out as concern has sharply risen with 1,036 confirmed cases Friday (March 27), including three deaths, and fears the virus is widespread and unreported.
An official decree Friday has ordered restaurants, cafes and resorts closed from Saturday to fight the coronavirus outbreak.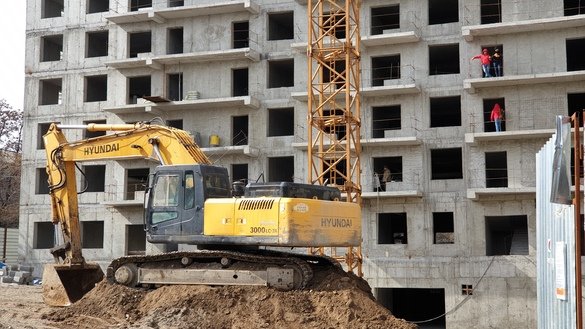 The Kremlin also halted all international flights, both coming and going, from midnight March 27 under a government decree listing new measures against the coronavirus outbreak, AFP reported.
The abrupt decision trapped Central Asians both inside and outside Russia, where millions of them work.
The decree exempts special flights evacuating Russian citizens from abroad and flights authorised by the Russian government. The new measures do not apply to domestic flights within Russia.
Putin Wednesday (March 25) postponed a vote on constitutional reforms and urged Russians to stay home to contain the coronavirus.
Russia's Constitutional Court on March 16 approved a package of amendments including a "reset" of Putin's previous terms, giving him the possibility to rule into 2036 in a move that some Central Asian observers saw as taking advantage of the coronavirus crisis.
A referendum on the reforms originally scheduled for April 22 "must be postponed to a later date", Putin said, without specifying when.
The move comes after the Russian regime closed its borders on March 16.
Dire circumstances
The measures taken by the Russian government have made life difficult for residents of the Central Asian countries, who have not been able to return home since the borders closed.
On Tuesday (March 24), 100 Tajik citizens at Vnukovo, one of the three main airports serving Moscow, were stretched out on foam mats between baggage carts loaded with plastic-wrapped suitcases and crates of bottled water.
Return flights were leaving sporadically and the price of some seats had almost tripled. Trains from Russia to Central Asian countries also were suspended.
Some 157 Kyrgyz citizens were stranded at the Russia-Kazakhstan border, according to the Kyrgyz Embassy in Moscow, as cited by 24.kg on March 20.
A Kyrgyz diplomat based in Orenburg, Russia, "met with [those] Kyrgyz on March 17 and advised them to return to their temporary residences in Russia and stay there until the restrictions are lifted", the embassy said.
Meanwhile, 15 Kazakhs trying to fly home from India via Russia were confined to a Moscow airport's transit lounge, barred from going through border control, Dana Nurzhan, a Moscow-based journalist for the Kazakh television channel Khabar24, wrote on Facebook on March 20.
"Could we have imagined such a situation a month ago? That states would close borders, while Kazakhstan would try to solve the problem of evacuating its citizens from Russia? It's the new reality," Nurzhan wrote.
Migrant workers from countries such as Tajikistan and Uzbekistan, now unable to fly to Russia, are unable to obtain badly needed refunds on the tickets they bought from Russian airlines.
In Tajikistan alone, hundreds of thousands of citizens holding those worthless plane tickets who ordinarily would be working now in Russia are now unemployed, television channel Current Time reported.
The Russian government's untimely and inadequate actions to fight the coronavirus have already greatly impaired the Russian economy, and that is why migrant workers from Central Asia are suffering, said Bishkek-based economist Elmira Suranchiyeva.
"Many families here in Kyrgyzstan are lamenting that their breadwinners in Russia have ended up in a difficult situation: without work, without any means of subsistence and without even the possibility of returning home. It's unclear where they'll live and what they'll live on," Suranchiyeva said.
Xenophobia on the rise
On top of everything, xenophobic sentiment has been proliferating in Russia in recent weeks, complain some Central Asians.
Hundreds of thousands of men and women from ex-Soviet republics in Central Asia live in Russia, where they often work low-paid jobs to escape unemployment and feed families back home.
In doing so, they have endured abuse and beatings from Russians who depend on them to clean bathrooms and subway stations, drive buses and construct their buildings.
Ulan Omorov, who is from Tokmak, Kyrgyzstan, and is now in Moscow, said that local residents had begun to shy away from him.
"Yesterday, when I took a seat on the subway, the man sitting next to me took one look at me and immediately got up and walked away. That wasn't the first time something like that happened," he said.
Police officers have begun to stop him much more frequently on the street to check his papers, he said.
Meanwhile, Central Asia is ramping up measures to fight the COVID-19 pandemic, while doctors are urging people not to trust the expanding rumours and disinformation.
In the region's countries, entertainment centres, cinemas, cafés, playgrounds and computer clubs have been shuttered temporarily to keep the virus from spreading.