NUR-SULTAN -- The US government continues to send vital aid to Central Asia amid the escalation coronavirus outbreak to help countries in the region fight the deadly virus.
Most recently, the United States pledged more than $800,000 (349.7 million KZT) to Kazakhstan through the US Agency for International Development (USAID) to support the country's efforts to fight the COVID-19 pandemic.
The United States "continues to work together with the Government of Kazakhstan during the coronavirus crisis. We praise Kazakhstan's quick and decisive actions to stop the spread of COVID-19," US Ambassador to Kazakhstan William Moser said in an April 2 statement on the embassy's website.
"The United States has identified priority areas to provide support in collaboration with the Kazakhstan Ministry of Health, [the US] Centres for Disease Control and Prevention [CDC], and the World Health Organisation [WHO]," the embassy said.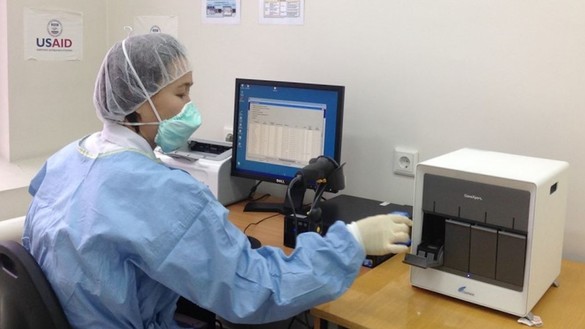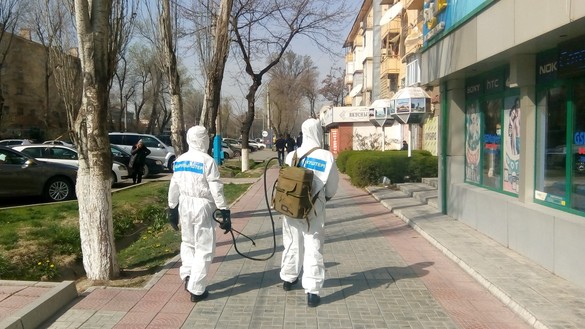 These areas include "preparing laboratory systems for large-scale testing, preventing and controlling infections in health-care facilities, improving COVID-19 surveillance... combatting disinformation about the virus, and engaging communities to work together to fight the virus in Kazakhstan," it added.
Earlier on March 17, the United States donated personal protective equipment to Kazakhstan.
More than 21,000 pieces of equipment including medical gloves, masks, gowns and protective goggles will be distributed to healthcare workers in every region of the country.
Gratitude from Kazakhs
The aid from the United States is part of a pattern stretching back decades, note observers in Kazakhstan.
"We gratefully accept the aid from the American people," Nur-Sultan political scientist Bolatbek Isayev told Caravanserai. Kazakhstan, like many other countries, is in a very difficult position and "any help is very important," he emphasised.
"USAID has helped Kazakhstan since our country's first days of independence," he said. "It also helps the other countries in Central Asia. It first rendered aid on issues of transitioning the economy from the Soviet to the market economy, and then in health care and in education."
Even in this difficult period, which is difficult for the United States too, "the help we need is reaching us quickly and without strings attached", he noted.
"With the help of USAID, Kazakhstan is carrying out many social programmes and projects," said Oleg Krutov of Zhambyl Province, an employee of the NGO Youth Centre for Reconstruction and Development. "NGOs have conducted and are conducting a multitude of very necessary projects with the aid of grants distributed on behalf of USAID."
"You know your true friends in tough times," he emphasised. "Now, when Kazakhstan is fighting the coronavirus infection, real help from certain countries and organisations is evident."
'Crucial' co-operation
Pandemics make international co-operation necessary, noted Moser.
"Today, an infectious-disease threat anywhere in the world can easily cross borders and create health hazards across the globe; that is why co-operation on the international level and mutual support are crucial in such critical times," Moser said.
As of Tuesday (April 7), Kazakhstan had 685 known coronavirus cases.
Kazakhstan declared a state of emergency on March 16. Authorities blocked off points of entry and exit to the hardest-hit cities, cancelled large events and shuttered all entertainment centres and all stores that do not sell food.
In addition to their primary duties, the army and police are now working to halt the spread of the coronavirus. They are maintaining public order amid a state of emergency and performing disinfection procedures.
On March 31, Kazakh President Kassym-Jomart Tokayev appeared on television to announce measures to mitigate damage from the coronavirus pandemic.
Pensions and other government benefits will increase by 10% to offset rising inflation, he said.
Members of the most vulnerable categories of the population and those who have lost their jobs will receive a one-time welfare payment of 42,500 KZT ($95). The amount earmarked for these payments is 200 billion KZT ($450 million).
Authorities will distribute packages of food and household items for free to the unemployed and to persons with disabilities. Farmers will receive financial aid, while tax breaks will go to business owners.
Turkmenistan, Uzbekistan get support
The United States is providing similar assistance to other Central Asian countries.
The United States has made available more than $920,000 (3.2 million TMT) in health assistance for Turkmenistan to help prepare laboratory systems, activate case-finding and event-based surveillance, support technical experts for response and preparedness, bolster risk communication and more, the US Embassy in Turkmenistan said in a statement Monday (April 6).
The United States has invested approximately $21 million (73.7 million TMT) in Turkmenistan's health care as part of more than $201 million (705.5 million TMT) in total assistance to the country over the past 20 years, the statement noted.
The United States is also working with Uzbekistan to prevent the spread of the virus.
"In partnership with the Uzbekistan Ministry of Health and the Agency for Sanitary and Epidemiological Welfare and in co-ordination with other international donors, including the World Health Organisation (WHO), the US government has identified priority areas to provide support for the needs of Uzbek citizens, health professionals, and government," the US Embassy in Uzbekistan said in a statement on April 2.
"USAID will be providing funds to prepare laboratory systems for large-scale testing, to prevent and control infections in healthcare facilities, to improve COVID-19 surveillance and rapid response, to improve case management of the infected, to combat disinformation about the virus, and to engage local communities so that they can help the government and health care providers provide timely and accurate information to the public," it added.