ALMATY -- Central Asian countries, facing the growing spread of COVID-19, are pulling together to help battle the disease by actively co-operating on exchanging information, working in concert on logistics, and demonstrating solidarity as the pandemic increases its grip on the area.
As of Thursday (April 9), coronavirus infections had been reported in three countries of the region: Kazakhstan had 764 confirmed cases including seven deaths; Kyrgyzstan had 280 identified cases including four deaths; and Uzbekistan had 555 cases including three deaths.
Tajikistan and Turkmenistan have not confirmed any cases of COVID-19.
The coronavirus came to Central Asia with a delay in March, after the World Health Organisation (WHO) designated COVID-19's global spread as a pandemic, according to official reports.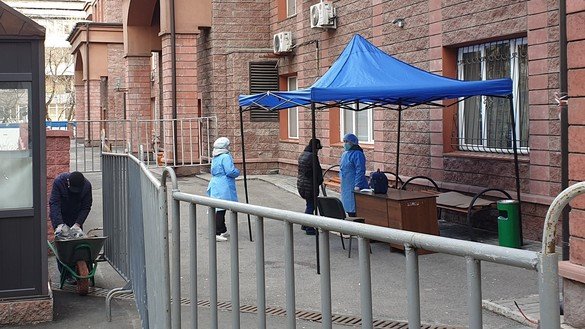 Kazakhstan, Kyrgyzstan and Uzbekistan have since undertaken a number of measures to reduce social contact, such as closing down cinemas, shopping centres, cafes and restaurants.
Mutual support
As the outbreak worsens in the area, heads of state in Central Asia are reaching out to each other to offer assistance.
On March 27, Kyrgyz President Sooronbay Jeenbekov had a telephone conversation with Kazakh President Kassym-Jomart Tokayev and Uzbek President Shavkat Mirziyoyev, according to the president's staff in Bishkek.
They discussed joint measures to counter the spread of the coronavirus and to enhance co-operation in trade, the economy and transportation, said a press release.
The pandemic has helped pull Central Asian countries closer together in various areas.
In early March, trucks were backed up on Kyrgyzstan's border into Kazakhstan because customs officers could not process documents fast enough.
As early as the middle of March, Kazakh Prime Minister Askar Mamin and his Kyrgyz counterpart, Muhammedkaly Abylgaziyev, agreed to simplify the procedure for border crossings by trucks as well as to take joint efforts to combat the coronavirus.
For its part, Uzbekistan is providing neighbourly assistance to Kyrgyzstan by sending humanitarian supplies amid a sharp increase in the number of cases of COVID-19 in the two countries.
On March 29, the governor of Fergana Province, Shukhrat Ganiyev, sent 10,000 masks and 900 protective suits to Osh Province, Kyrgyzstan, while the governor of Andijan Province, Shukhrat Abdurakhmanov, sent 4,800 rapid tests and reagents, Bishkek news site Gezitter.org reported.
Rail cars also arrived in Osh, Kyrgyzstan, from Uzbekistan on April 2 containing 1,000 tonnes of flour, personal protection suits, respirators, gloves, glasses and non-contact thermometers, said the Kyrgyz Ministry of Emergency Situations (MES).
Local authorities in Kyrgyzstan and Uzbekistan have intensified co-operation amid the spread of the coronavirus, said Kadyr Sulaimanov, a member of the Osh Province volunteer patrols who help law enforcement in enforcing anti-coronavirus regulations.
"Earlier, under [former Uzbek president Islam] Karimov, the relations between the two countries were cool, but after Mirziyoyev came to power [in 2016], everything changed," Sulaimanov said.
"Now, especially during the pandemic, Kyrgyzstan and Uzbekistan are helping each other with food and necessary medical supplies and are generally behaving like truly friendly countries," he said.
Russia's unfriendly actions
This comity contrasts with the behaviour of Moscow, observers say.
Russian President Vladimir Putin for weeks offered a haphazard response to the coronavirus pandemic and did not impose any major restrictions on movement inside the country.
However, that approach did not pan out as confirmed cases rose sharply, spurring fears of widespread and unreported illness.
Then, on March 16 Russia suddenly closed its borders.
This policy created hardships for residents of Central Asian countries who could not return home once the borders were shut from both sides.
Hundreds of citizens of Kazakhstan, Kyrgyzstan, Uzbekistan and Tajikistan were stranded in Russian airports, many of whom were even forced to spend multiple nights there.
Flights departed irregularly from the Russian airports, and the price of some tickets almost tripled. Additionally, railways cancelled trains from Russia to Central Asian countries.
Eventually, Russian authorities chose a disastrous option for public health: mass, uncontrolled expulsion of the would-be passengers without obtaining any knowledge about their health or their plans after being kicked out of their respective airports.
On the night of April 3, employees of Tolmachevo Airport in Novosibirsk drove more than 100 citizens of Central Asian countries out of the building, Radio Free Europe/Radio Liberty (RFE/RL)'s Kyrgyz service reported.
They had been forced to live at the airport for more than two weeks, waiting in vain for flights home.
The International Organisation for Migration office in Kyrgyzstan has assisted Kyrgyz citizens by placing them in travellers' hostels and feeding them. The Uzbeks were less fortunate. Nobody stepped up to help them.
Earlier, on March 31, uniformed personnel evicted another group of stranded Tajik migrants from Domodedovo Airport in Moscow. The migrants had spent more than 10 days in the building, reported RFE/RL's Kyrgyz service. They all ended up outdoors at night.
The migrants received help from an unidentified businessman from Tajikistan, who put them up in his cottage.
Russian authorities then charged the good Samaritan with "resettling the migrants while violating the law".
Migrants are at high risk
Such a government policy regarding migrant workers could have negative consequences in the fight against COVID-19, activists say.
Migrant workers remaining in Russia are at a particularly high risk of becoming infected, said Karimjon Yerov, a Tajik human rights activist living in Moscow.
"Migrants usually live with five to 10 people in the same apartment and often meet in large groups. This is a huge number of breeding grounds, and the scale of the spread of the disease could be terrifying," he said.
In a situation when countries are showing solidarity in the common fight against the disease, Russian authorities should reconsider their harsh policies toward migrant workers, said Aigerim Jakashyeva, a doctor at a clinic in Almaty, Kazakhstan.
"We doctors, in turn, are receiving and treating Russians when they need help, and are not dividing the sick into 'ours' and 'theirs,'" she said.