With a few thousand soldiers now infected with COVID-19, the US military wants rivals to understand: don't test us, we have not been weakened.
Multiple statements from the US military have sought to deliver that message amid questions over whether the US fighting force can maintain full readiness, with cases among service members at 2,031 as of April 10.
The US military has about 2.3 million personnel.
"We're still capable, and we're still ready no matter what the threat," Joint Chiefs Chairman Gen. Mark Milley said April 9.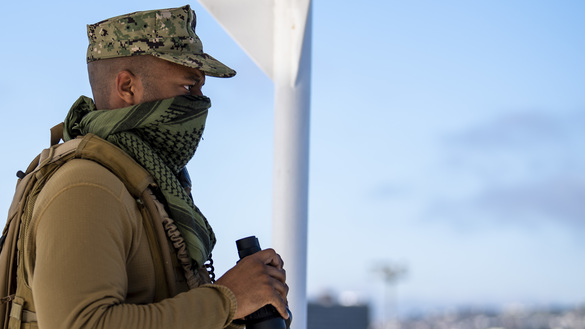 "I wouldn't want any mixed messages going out there to any adversaries that they can take advantage of an opportunity, if you will, at a time of crisis," he added.
"That would be a terrible and tragic mistake if they thought that."
US military transparency, continued readiness
Unlike Russia, China and Iran, whose regimes have engaged in cover-ups, malign disinformation campaigns, and willful, self-destructive procrastination, the US Defence Department has tried to be transparent about the outbreak, publishing daily totals of infections among its troops, civilian workers and families.
Including civilian staff, military family members, and contractors, total Department of Defence infections were at 3,366 April 10, with one death.
Having initially given the location of cases, it now offers only broader totals, to avoid giving enemies too much information.
One is well-known: the carrier USS Theodore Roosevelt, forced to dock in Guam for an extended period by an outbreak that has hit 585 of the 4,800 aboard.
US military strategy rests on demonstrating its ability to project power around the world at any time.
In early March the military established a system of "bubbles", creating two separate operating teams for submarines and nuclear missile silos.
Team members are quarantined for 14 days and then kept segregated so that if an infection hits one, the other team remains ready.
"You can't get social distancing in a submarine or even in a tank. But you take prudent measures as best you can," said Defence Secretary Mark Esper.
The readiness concerns continue. Coronavirus has surfaced in the crews of three other carriers, none on deployment: the Ronald Reagan, docked in Japan, and the Carl Vinson and Nimitz, both undergoing maintenance in Washington state.
The infected sailors have been evacuated and have all recovered, according to the Navy.
While also stressing that US force readiness has not diminished, Joint Chiefs vice chairman Gen. John Hyten April 9 said the Navy was working hard to protect the entire fleet from shipboard COVID-19 outbreaks.
"To think that it will never happen again is not a good way to plan," he said of the Roosevelt case.
Contrast with US adversaries
In stark contrast to the US military, regimes in Russia, China and Iran -- all grappling with COVID-19 -- have engaged in a number of activities harmful to themselves and to their foes.
For weeks, Russian President Vladimir Putin expressed little concern about a COVID-19 outbreak in Russia. A flare-up of cases in Moscow forced him in late March to impose severe restrictions on movements nationwide.
After a doctor who shook hands with Putin in March was diagnosed with the virus, the president began working remotely, the Kremlin said April 1.
Meanwhile, the Russian and Chinese regimes continue to spread damaging disinformation about the coronavirus pandemic, endangering lives worldwide and undermining democratic societies, according to the European Union.
The Chinese regime, which covered up the pandemic early on, dooming the world to an astronomical death toll, is busy selling deficient medical equipment to desperate countries.
Mahan Air, partially owned by Iran's Islamic Revolutionary Guard Corps, recklessly spread COVID-19 worldwide. It continued to operate dozens of flights between Iran and China during the height of the coronavirus spread in February and March, as reported by Radio Farda.
The irresponsible practice continued even as Iranian authorities had so many dead COVID-19 patients to bury that satellites filmed them digging unacknowledged mass graves nationwide.
Even in February, it was apparent that Tehran was giving bogus numbers that understated the incidence of COVID-19 in Iran.
Disinformation
Questions about US military readiness persist in part because of rumors and disinformation often coming from Russia, said Laura Cooper, Deputy Assistant Secretary of Defence.
"We have seen a number of threads of information that are heating up about the readiness of the US military and others," Cooper, a Russia specialist, told reporters.
Milley said that 2,000 infected personnel out of a fighting force of 2.3 million was "not huge".
"And I want to make sure everyone clearly understands that the readiness of the US military is still strong," said Milley.
"We're still capable, and we're still ready no matter what the threat."