ALMATY -- The leaders of member nations of the Co-operation Council of Turkic-Speaking States (CCTS) met in a video conference on April 10 to discuss working together to combat the novel coronavirus.
The summit on "Co-operation and Solidarity in the Fight against the COVID-19 Pandemic" was attended by Kazakh President Kassym-Jomart Tokayev, Kyrgyz President Sooronbay Jeenbekov, Uzbek President Shavkat Mirziyoyev, Azerbaiajani President Ilham Aliyev and Turkish President Recep Tayyip Erdoğan.
Turkmen President Gurbanguly Berdymukhamedov, Hungarian Prime Minister Viktor Orban and World Health Organisation (WHO) Director-General Tedros Adhanom Ghebreyesus also took part in the summit.
Kazakhstan has been working to support its neighbours, having sent 5,000 tonnes of flour each to Kyrgyzstan and Tajikistan, said Tokayev during the video conference.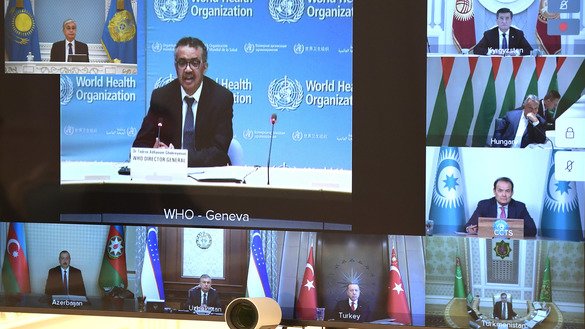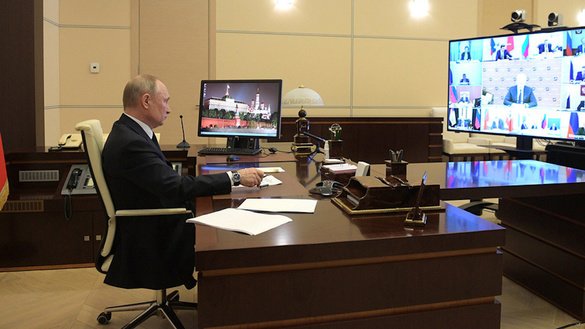 A Kazakh research institute recently developed a diagnostic test for the coronavirus, according to Tokayev, who added that Kazakhstan was ready to share its experience.
Meanwhile, Jeenbekov proposed a reduction in barriers at shared borders for shipments of humanitarian and everyday goods, according to a statement from his office.
That plan would include simplifying the mechanisms for administrative and customs duties and lowering the duties on essential goods exported among the organisation's member states, it added.
Mirziyoyev proposed the formation of a joint epidemiological monitoring system within the Turkic Council, his office said in a statement.
He additionally suggested facilitating the exchange of information and experience among the health ministries of member states on epidemiological research and the prevention, diagnosis and treatment of especially dangerous infections, it said.
The joint effort would create a co-ordination group to combat the pandemic, it added.
The pandemic is a serious threat for CCTS countries, said Karlygash Nugmanova, president of the East-West International Centre for Geopolitical Forecasting in Nur-Sultan.
"As a result of the online summit, several comprehensive measures will be approved as part of ensuring epidemiological monitoring in Turkic Council member states, protecting socially vulnerable segments of the population and supporting the economy and business," she said.
Putin compares Turkic people to virus
The Turkic Council's video summit demonstrates Central Asian countries' desire to make decisions and act without the involvement of Russia, which has been trying for many years to strengthen its influence in the region, said Murat Konokbayev of Bishkek, a former Kyrgyz diplomat.
During the pandemic, Moscow has been viewed with increasing disappointment by Central Asian countries, citizens of which are trapped in Russia and face violations of their basic rights every day, he said.
While other countries show solidarity and provide mutual support, Russia is becoming an even more hostile environment for Central Asian migrant workers.
Thousands of citizens of countries such as Kyrgyzstan, Uzbekistan and Tajikistan remain in Russia, where borders and airports are closed, said human rights activists.
Russian airlines cancelled flights to countries in the region and did not refund customers whose tickets became worthless. As a result, migrant workers have been left without work and without anywhere to stay as their money rapidly runs out.
Meanwhile, on April 8, during a cabinet video conference on the pandemic, Russian President Vladimir Putin made an offensive historical analogy that drew widespread attention.
"Our country has repeatedly passed through serious trials: the Pechenegs tormented her, and the Polovtsians. Russia has coped with it all. And we will defeat this coronavirus," he said, comparing Turkic-speaking peoples who led a nomadic life in Eurasia until the 10th and 13th centuries to a highly contagious, deadly virus.
The Polovtsians were distant forebears of modern Kazakhs, Kyrgyz and Uzbeks.
Little is known about the Pechenegs, but Russia befriended the Polovtsians and then left them in the lurch when the Tatars invaded in the 13th century, Fedor Uspensky, a scholar of ancient Russia, told the independent publication Meduza.
Media outlets and social networks carried a tidal wave of mockery of Putin's remarks.
Putin's speechwriter made a laughingstock of him by invoking the Pechenegs and Polovtsians, Arkady Dubnov of Moscow, a political scientist and analyst of the Commonwealth of Independent States and Central Asian countries.
It was ugly for the Russian president to compare a deadly virus to the ancestors of Turkic-speaking peoples, said Shukhrat Mukhamedov, a Tashkent resident.
"They ... say that Putin is smart and knows history well. Then why does he make such statements?" he remarked.