Libya's UN-backed Government of National Accord has voiced alarm that a private Syrian airline has been transporting mercenaries who have been in direct contact with Iranians into Libya to fight.
Iran is one of countries hardest hit by the novel coronavirus (COVID-19) pandemic, with 1,030 new cases of infection announced on Thursday (April 23rd) alone, taking the country's total to 87,026.
Iran's Islamic Revolutionary Guard Corps (IRGC) has been accused of exacerbating the health crisis by failing to implement quarantines and continuing to allow affiliated carrier Mahan Air to fly to China, where the outbreak began.
In eastern Syria, which borders Iraq, residents have expressed fear that Iran-backed militias will spread the virus in Syria, along with concerns that the Syrian regime has not taken sufficient measures to stem its spread.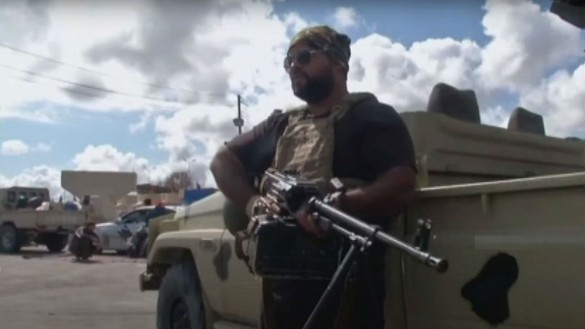 In light of these concerns, Libya's interior ministry on March 18th warned that Cham Wings, a private Syrian airline based in Damascus, has been transporting people who had contact with Iranians to Benghazi.
The airline has opened an office in Benghazi, the ministry said, accusing it of conducting "dubious trade activity" and bringing people in from Syria, which raises the risk of a health crisis.
The airline's passengers include Syrians with links to the Wagner Group, a "private army" of Russian mercenaries fighting in Syria, as well as members of Iran's IRGC and Lebanon's Hizbullah, the ministry said.
Russia has been using Wagner Group as a cover for its activity in Libya.
Threat to Libyans
The interior ministry warned residents of eastern Libya not to come into close contact with any person arriving via Cham Wings flights. It also cautioned commercial banks not to deal with the airline.
It meanwhile called on the UN Support Mission in Libya and UN Sanctions Committee to document these violations and hold the perpetrators accountable.
The influx of Syrian mercenaries, brought to Libya under the auspices of the Wagner Group, is beginning to raise alarm among the local population, Libyan journalist Imran Mohammed told Diyaruna.
They may spread coronavirus in Libya as they entered the country illegally, without undergoing medical exams or being quarantined, he said, noting that mercenaries arriving from Syria are commingling with other foreign fighters.
In the current volatile climate, where control over certain areas is constantly changing hands, fighters are moving from place to place and mixing with Libyan combatants and civilians, Mohammed said.
This heightens the risk of infection and increases the likelihood that the virus will be transmitted to communities in Libya, he added.
Medical facilities in Libya are in "dire condition", he noted, with the country's dilapidated health infrastructure incapable of handling a large number of infections, should an outbreak occur.
To date, Libya has recorded only 60 cases of infection with COVID-19 and one death.
No medical checks
More than 300 Syrian youth from the Quneitra region travelled to Libya after undergoing combat training in camps run by the Wagner Group, Sweida activist Nizar Bou Ali told Diyaruna.
These men did not undergo medical examinations when they arrived at the training camps, or before their travel to Libya, he said.
According to Bou Ali, a number of youth who had initially signed up to work for the Wagner Group backed out and left the training camp after learning they might be forced to take part in the fighting in Libya.
They had been told during the recruitment process that they would only guard oil installations there, he said.
Fighters in general run a high risk of infection because they live and work in close quarters, military expert Yahya Muhammad Ali told Diyaruna.
The Wagner Group's recruitment of Syrian youth to fight in Libya is "akin to issuing a death sentence", he said, not only to the recruits but also to Libyan civilians, if the pandemic spreads among the fighters.