TEHRAN -- The commander of Iran's Islamic Revolutionary Guard Corps (IRGC) on Thursday (April 23) continued to threaten US ships operating in Gulf waters after an incident last week.
"We declare to the Americans that we are absolutely determined and serious... and that all action will be met with a decisive response that will be efficient and quick," Maj. Gen. Hossein Salami told state television.
Tensions escalated after Iranian forces harassed US ships in the Gulf.
The US Navy said April 15 that IRGC Navy (IRGCN) boats "repeatedly crossed the bows and sterns of the US vessels at extremely close range and high speeds," coming at one point within 10 yards (nine metres) of the bow of one.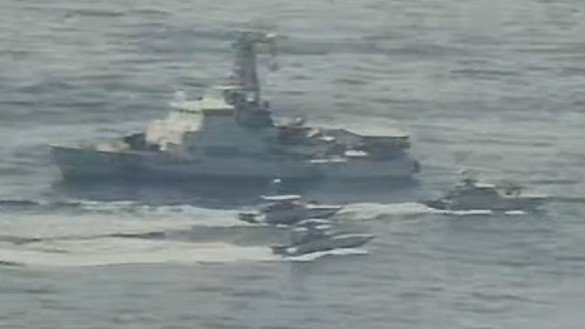 US Navy and Coast Guard ships were conducting operations in international waters in the northern Gulf with Apache attack helicopters at the time, said the statement.
The much smaller speedboat-like IRGCN vessels ignored warnings from the US ships for about one hour, before finally responding to radio communications and then leaving, it added.
"The IRGCN's dangerous and provocative actions increased the risk of miscalculation and collision," the statement said, adding they violated maritime customs and laws.
US President Donald Trump on Wednesday (April 22) said on Twitter he had "instructed the United States Navy to shoot down and destroy any and all Iranian gunboats if they harass our ships at sea".
"Every ship that deploys in harm's way has the inherent right of self-defence," Gen. John E. Hyten, the vice chairman of the Joint Chiefs of Staff, said in a Pentagon statement Wednesday.
If threatened, US commanders "will respond with overwhelming lethal force," he warned Iran.
'Tragic mistake'
US military officials have continued to warn adversaries that US forces remain capable despite coronavirus infections.
As of April 22, 5,734 total cases of COVID-19 have been reported within the US Department of Defence, including 3,578 military, 771 dependents, 965 civilians and 420 contractors, according to Military.com.
The US military has about 2.3 million personnel.
"We're still capable, and we're still ready no matter what the threat," US Joint Chiefs of Staff Chairman Gen. Mark Milley said April 9.
"I wouldn't want any mixed messages going out there to any adversaries that they can take advantage of an opportunity, if you will, at a time of crisis," he added.
"That would be a terrible and tragic mistake if they thought that."