ALMATY -- As Russian President Vladimir Putin continues to express his intention to regroup the former Soviet states under Moscow's control, citizens of those Central Asian nations continue to say "no way".
Putin made the latest pronouncement during the programme "Moscow. The Kremlin. Putin" on April 19 on state-owned television channel Russia-1.
On the programme, the Russian leader touted the "advantages" of restoring the Soviet Union.
"By conquering a phobia of the past and fears of a revival of the Soviet Union and of the Soviet empire ... the understanding that unification benefits everyone is inevitably prevailing," he said.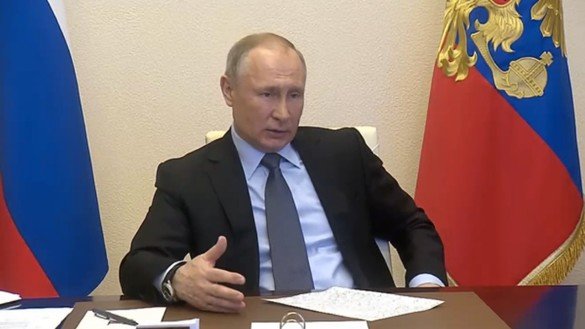 "And, conscious of these advantages -- and all the participants in this process are conscious of these advantages -- we are advancing," he added.
It is surprising that "up until now, we haven't moved forward on this path as much as we could have," said Putin.
For the former Soviet republics, it is "completely natural" to improve their competitiveness by unifying, he claimed.
'Imperial urges'
Putin's statements have provoked anxiety among many citizens of former Soviet states who understand his subtext.
His remarks demonstrate he is not even trying to hide his political goals, said Almaty political analyst Dastan Kadyrzhanov.
"For some countries, this [reunification] would mean a loss of independence," he said, adding that "there should be no expectations of gaining any nice bonuses from any reunification."
Readers of news stories about Putin's statements published on Kazakh websites expressed anger and indignation in their comments, and some even insulted the Russian leader.
"We don't need the USSR. His imperial urges are big. I personally support the independence of our homeland," wrote a Tengrinews.kz reader named Sayan.
"We don't need any USSRs. The vestiges of the USSR -- the famine and the Zheltoksan in 1986 -- are enough," wrote a commenter named Khyuvei, referring to the Kazakh death toll during the Soviet forced collectivisation of the 1930s and the bloody suppression of Kazakh youths' protests a half-century later.
The same sentiments were echoed in Kyrgyzstan.
Emil Umetaliyev, a Bishkek resident who runs a travel agency called Kyrgyz Concept, posted a poll on Facebook to find out if the Kyrgyz people support a revival of the USSR.
All of the approximately 300 respondents voted no.
The Kremlin has been engaged in this plan to restore the Soviet Union since 2000, said Bishkek resident Aiya Aaly in a comment on Umetaliyev's post.
"Groups were created on all the social networks, especially the Russian Odnoklassniki, to revive and attract people to 'Soviet nostalgia' and to brainwash them," she wrote.
"But of course, the deadliest weapon is television: the Russian channels and propagandists represented by Solovyov and Kiselyov [presenters on Kremlin-controlled TV channels], sow lies and propaganda without being challenged. So it's important to cleanse our country's information space of their influence," Aaly added.
EEU dissatisfaction
Putin made similar remarks in an interview last October 1 in Yerevan, Armenia, during a summit of the Eurasian Economic Union (EEU), a Russian-dominated economic bloc.
Central Asian countries that were once part of the Soviet Union are not going to buy Putin's argument that they will enjoy "advantages" if they reunite with Russia, especially given Moscow's mistreatment of other EEU members, say analysts.
Dissatisfaction within the EEU has been growing because of harsh protectionist policies that the Russian regime has implemented against its EEU partners, solidifying evidence that the bloc benefits only Moscow.
Those polices have left Russia with unresolved conflicts with other members including Belarus and Kazakhstan.
Belarusian President Alexander Lukashenka January 21 expressed outrage about actions taken by Moscow that included raising prices on Russian oil exports to Minsk, Belta, the Belarusian state news agency, reported.
At the same time, Russia, which is a transit country for trade between Kazakhstan and Belarus, has blocked the export of hydrocarbons from the former to the latter.
For its part, Kazakhstan regularly complains that Russian authorities create artificial barriers to the sale of Kazakh products in Russia, including confiscation of those products.
The EEU does not truly have an economic mission, according to Rasul Zhumaly of Almaty, a former Kazakh diplomat and author of the book "Geopolitics in Central Asia".
Instead, it is a political project of Russia to restore the status quo: its influence on the post-Soviet region, he said.