ALMATY/TARAZ -- As Kazakh doctors battle to treat patients infected with the coronavirus, concerns are growing over substandard protective gear made in China and on the economic impact from the countrywide lockdown.
As of Friday (May 1), medics have recorded 3,551 coronavirus cases across Kazakhstan, while hospitals have discharged 899 patients who recovered. Another 25 patients have died.
A state of emergency and lockdown that Kazakh authorities announced on March 16, initially to last a month, will now continue through May 11, though some sectors began reopening on April 27.
"The quarantine will be completely lifted only when new cases of infection are not detected," Aizhan Esmagambetova, Kazakhstan's chief medical officer, said April 17 at a briefing in Nur-Sultan.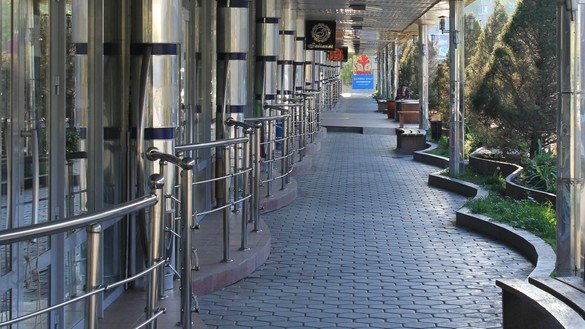 While the Kazakh medical community battles to save lives during the pandemic, the government is stepping up efforts to blunt the impact on the economy.
Most businesses have been shut and only stores that sell groceries and essential goods are operating across the country.
Those closures are hurting big enterprises as well as small outfits such as Maria Sakulinskaya's textile business.
She was expanding just as the coronavirus pandemic hit Kazakhstan, striking at the heart of the nation's economy, Sakulinskaya told AFP.
A steady flow of work as a lone entrepreneur had put her in the position to offer contracts to three seamstresses.
On the horizon was one of her busiest seasons -- sewing dresses for school-graduation ceremonies.
But by late March, all non-essential businesses in Kazakhstan's second city, Almaty -- including Sakulinskaya's -- had been ordered closed by authorities anxious to contain the coronavirus.
The schools that were key customers closed their doors too.
"This quarantine has blown me out," said Sakulinskaya, estimating her monthly income would have tripled to $1,000 [423,000 KZT] if everything had gone to plan.
"I am sitting at home without anything. Our only lifelines have come from the state," she said.
A 'perfect storm'
Sakulinskaya is one of more than four million Kazakh citizens to receive a government handout of 42,500 KZT ($100) after losing work because of the lockdown.
The payments, which began landing in bank accounts earlier this month, are among anti-crisis measures introduced by authorities to help Kazakhs reeling from the virus-hit economy in addition to the precipitous drop in global prices for the country's key export, crude oil.
This combination, which Nursultan Nazarbayev, the former Kazakh president, labelled a "perfect storm", has seen the International Monetary Fund and the World Bank predict a recession in Central Asia's largest economy this year.
Women on maternity leave and workers who have lost their source of income under the quarantine now receive regular payments from the state -- 42,500 KZT).
Also, the authorities are promising to pay $35 (15,000 KZT) monthly for utility bills to members of vulnerable segments of society, such as people with disabilities, large families and retirees drawing the country's minimum pension.
The government aid is welcome and needed, said Taraz resident Kamila Seisenova.
"I have already received 42,500 KZT," she said. "The transfer arrived three days after submitting an application. Our business is not operating right now. I'm on unpaid leave, and this money will help our family survive."
Faulty Chinese products
As cases mount, the government is working to develop its own COVID-19 test kits over concerns that products such as tests and protective gear made in China are unreliable.
The Central Reference Laboratory, owned by the Kazakh Scientific Centre for Quarantinable and Zoonotic Infections under the Ministry of Healthcare and built by the United States, has seen success in developing coronavirus tests, according to Healthcare Minister Yelzhan Birtanov.
Local doctors distrust Chinese tests and protective gear, especially after videos circulated online have shown the unsanitary conditions in which Chinese "manufacturers" are sewing medical masks.
The quality of Chinese diagnostic tests for the coronavirus and other equipment has raised questions in an increasing number of countries.
The Chinese regime has been earning billions of dollars selling masks and other protective equipment to foreign countries since March, yet a growing number of nations are complaining about substandard or faulty medical products.
Meanwhile, Kazakhstan and other Central Asian countries are benefitting from donations from other countries including the United States.
On April 22, the US Defence Threat Reduction Agency (DTRA) delivered medical products to Kazakhstan, including reusable sets of personal protective equipment -- suits, masks, gloves and goggles.
The same day, the US Agency for International Development (USAID) allocated an additional $800,000 (343.8 million KZT) to combat COVID-19 in Kazakhstan, on top of $800,000 allocated earlier in the month.