TASHKENT -- Pro-government media outlets in Russia are tapping into citizens' anxiety over the coronavirus pandemic to paint migrant workers from Central Asia as villains and criminals, observers say.
Some outlets have published articles and opinion pieces that single out "guest workers" and "Asians" as being at fault for what they claim is an increase in crime during the virus outbreak.
"Migrants have begun to rob the inhabitants of Moscow, robbing them of food and money, and this happens with the complete tolerance of Moscow authorities and the police," Russian nationalist Vitalii Drobyshev wrote on LiveJournal, a Russian community publishing platform, in mid-April.
Some Russian media outlets have published articles with headlines such as "Hungry guest workers have begun to rob people for food" and "Epidemic could spark a migrant revolt".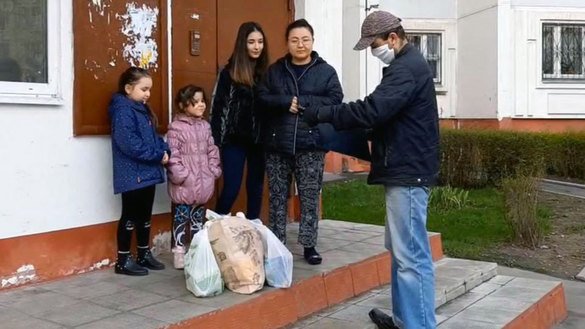 A "gang of Asians" was involved in a robbery of two high-ranking Defence Ministry officials in the suburbs of Moscow, said one news report.
Still, while some publications and writers try to stoke xenophobic sentiment toward migrants by citing the potential "threats" posed by them, genuine evidence of those threats does not exist.
For example, Mikhail Delyagin, director of the Institute of Problems of Globalisation, lobbed an unbacked accusation in an interview with online publication Svobodnaya Pressa in early April.
"In our country, guest workers are now attacking people next to supermarkets," he claimed.
However, Delyagin gave no facts to back up his assertion, claiming only, "People are saying it".
A policy of stoking hate
"Such unfounded statements are inciting an atmosphere of xenophobia in [Russian] society," said Igor Fakhritdinov, an Uzbek specialist on media technology.
"In fact, the media aren't providing any statistics. It's possible that the crime rate among migrants hasn't changed. Russian citizens also commit crimes. But the media are specifically emphasising migrants in order to provoke hysteria," he said.
Migrants are "an incomprehensible, frightful, unfamiliar 'enemy' onto whom responsibility for all of one's errors can be shifted," he added.
Such assertions about crime and migrant workers fly in the face of reality as Russian authorities recognise that the crime level in the country has been on the decline.
"Street crime has declined because there's no one on the streets," Aleksander Mikhailov, a general with the Russian FSB intelligence agency, told the news site RF-SMI in early April, when asked whether migrants in Moscow were attacking people.
His main concern was that overcrowding in migrants' residences might help spread the virus.
Attempts to deflect the country's woes onto migrant workers have mixed results, as shown by comments on social networks.
Users have been writing obscene and insulting comments in response to a video of a single crime allegedly committed by Uzbek citizens that was posted on Facebook on April 19 on the Interesnaya Moskva (Interesting Moscow) page.
At the same time, some commenters are calling out those who tout disinformation about migrants.
"Where did you get the idea that this isn't a junk story? Where is the date of the recording? Why are you spreading information from a source that is full of disinformation and is bankrolled by certain people?" wrote one user.
"It would be better if you remembered how to be human and not to provoke hatred, which will kill you too," she continued.
Pavel Sorokin, an Uzbek migrant, struck an encouraging note.
Most Russians are not buying the media's hysteria over migrant workers and crime, he said.
"I live in St. Petersburg, where there's a large number of my former compatriots," he said. "There's been nothing negative from normal people, and it's the same during the pandemic. All of this [uproar] is just being fed by the media."
Economic woes feed anxiety
The measures the Russian government has taken during the crisis have been viewed as insufficient by the public, Lev Gudkov, director of the Levada Centre, a pollster, said in an interview with Svobodnaya Pressa in late April.
"Because of public awareness of the scope of the catastrophe ... tied to the pandemic, the drop in oil prices and the depreciation of the ruble, their irritation is going to grow," he said. "Under these circumstances, the government support measures come off as mockery [of the public]."
At the same time, the Russian economy depends on a steady stream of migrant workers.
The working population in Russia is expected to decline by more than 3 million people by 2026, with a decrease of about 400,000 annually, according to the newspaper Kommersant.
In 2019, Russia took in more than 11.5 million foreign migrants, said the International Organisation for Migration.
The Russian economy depends on migrants, Leningrad Province Deputy Governor Dmitrii Yalov said last June, according to Kommersant.
Migrants make up almost 10% of the province's workforce and 40% of its construction workers, he said.
Trapped workers
While migrant workers hold down an important role in the Russian economy, the government is not providing meaningful assistance to those workers who have lost their jobs and means of support.
In addition, many are trapped in place as they cannot go home with international air traffic shut down, while work has dried up for them in Russia.
"Russia's government has come under fire from some Kremlin critics for not handing out enough economic support to citizens and businesses hit by the crisis. Migrants are not eligible for any state support," Reuters reported on April 27.
The same Reuters article quoted one migrant, Ibragim Artykov of Tajikistan.
If the government neither allows migrants to leave nor helps them financially, "the third option is death," he said.
Volunteers and charity workers have stepped in to help migrants who have fallen on hard times in Russia.
Zakyat, a Muslim foundation, is handing out food and offering spiritual support. Another organisation, Dom Dobroty, is also providing assistance.
In Moscow, volunteers have set up the Sakhovat Help Centre with the support of the Uzbek embassy. Migrants may visit it to receive food.
It prioritises assistance to women, the elderly, families with young children and people with disabilities.