TRIPOLI -- Libya's Government of National Accord (GNA) said Sunday (May 10) at least four civilians, including a child, were killed as rockets rained down on the capital Tripoli and damaged its only working airport.
The United Nations (UN)-recognised GNA blamed Saturday (May 9)'s attacks on military strongman Khalifa Haftar, who has been waging a campaign to take control of the capital since April 2019 with help from the Wagner Group, a Russian paramilitary organisation that serves the agenda of Russian President Vladimir Putin.
The UN on May 6 for the first time confirmed that the Wagner Group was operating in Libya and supporting Haftar.
Haftar's forces "fired more than a hundred rockets and missiles at residential areas in the centre of the capital", the GNA said in a statement on Facebook.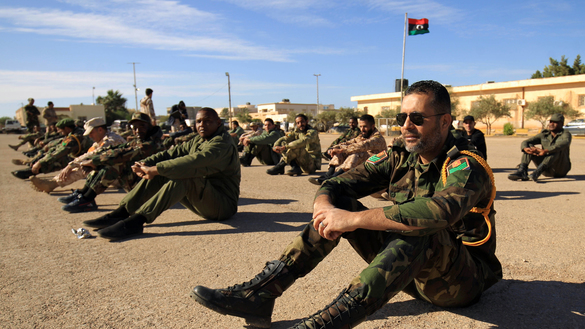 At least four civilians, including a five-year-old girl, were killed and 16 others wounded in the working-class districts of Abu Slim and Ben Gashir, south of the city, GNA health ministry spokesman Amin al-Hashemi said.
Dozens of rockets targeted Mitiga airport, hitting a civilian aircraft lined up to repatriate Libyans stuck abroad by the coronavirus pandemic, the GNA statement added.
Overnight May 7-8, rockets fell on the Zawiyat al-Dahmani neighbourhood, which is home to the GNA foreign ministry and the Italian and Turkish embassies.
At least two policemen and one civilian were killed, Hashemi said at the time.
Turkey warned that Haftar's forces would become "legitimate targets" if such attacks continued.
Mitiga airport was badly damaged May 9 and came under renewed rocket fire on the morning of May 10.
An airport source said the passenger halls and two civilian planes sustained serious damage.
Images of an aircraft with its fuselage ripped open and of a badly damaged runway and airport buildings were posted on social media.
Libya's National Oil Corporation (NOC) May 9 said that rockets and missiles hit a fuel depot at the airport, destroying four tanks and damaging the facility's other six.
'Horrifying attacks'
The UN Support Mission in Libya (UNSMIL) called the bombardment "an all too familiar but frightening spectacle".
"These horrifying attacks occur on a regular basis in close proximity to civilian neighbourhoods," UNSMIL said on Twitter.
It called the shelling "one in a series of indiscriminate attacks, most of which are attributable to pro-LNA (Haftar) forces, killing more than 15 and injuring 50 civilians since 1 May".
Since May 6, 17 civilians and two police officers have been killed and more than 66 other civilians wounded in rocket fire targeting several areas of the capital, according to the GNA.
UNSMIL slammed the attacks hitting civilians and civilian infrastructure and called for "those responsible for crimes under international law to be brought to justice".
"The senseless acts... of the past days... are proof of his weakness and desperation after the successive defeats of his militias and mercenaries," the GNA added.
Haftar's forces have suffered several setbacks in recent weeks, with GNA fighters ousting them from two key coastal cities west of Tripoli in April.
Backed by Turkey, GNA troops now surround Haftar's main rear base at Tarhuna, southeast of the capital.
Turkey's Foreign Ministry said the international community had a "collective responsibility" to stop "putschist Haftar".
The GNA on April 28 accused Haftar, emboldened by military support from Moscow, of seeking to stage a new coup after he claimed to have a "popular mandate" to govern the country.
Putin's agenda
The Wagner Group is a shadowy private security firm, and thousands of its contractors are believed to be in foreign conflicts from Syria and Ukraine to the Central African Republic.
The group is "an instrument of the Kremlin's policy" in Libya, a senior US State Department official told AFP.
The Wagner Group has been co-ordinating a massive recruitment effort of Syrian youths to fight as mercenaries in Libya with the help of a political party supported by the Syrian regime of Bashar al-Assad.
The GNA accused the Wagner Group of carrying out a small-scale sarin gas attack last last month, and evidence is building that the group's recruitment efforts in Syria, and its contact with Iran's Islamic Revolutionary Guard Corps (IRGC), is spreading the COVID-19 coronavirus in Libya.