TASHKENT -- Catastrophic flooding in Sirdaryo (Syrdarya) Province has revived worries over the risks involved with the Russian-made nuclear plant set to be built in another area of potential flooding.
A dam broke at the Sardoba Reservoir in Uzbekistan on May 1, prompting the evacuation of more than 70,000 residents. On May 2, the water reached Maktaaral District, Turkistan Province, Kazakhstan, where several settlements were also flooded. Rescue personnel evacuated more than 30,000 residents.
At least four persons died in the disaster and during rescue efforts, according to the US embassy in Tashkent.
"An official investigation has begun... it ruled out a natural disaster. My personal opinion is that the cause ... lies in poor-quality construction and a violation of building standards," said Tashkent-based hydraulic engineer Anvar Ruzikulov.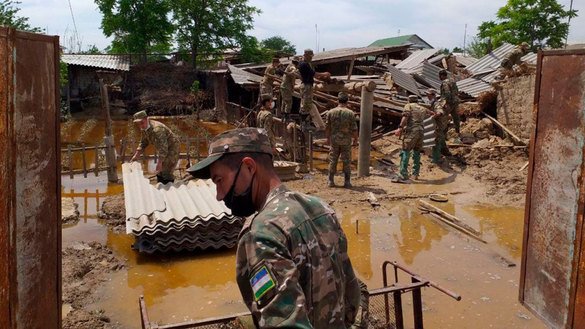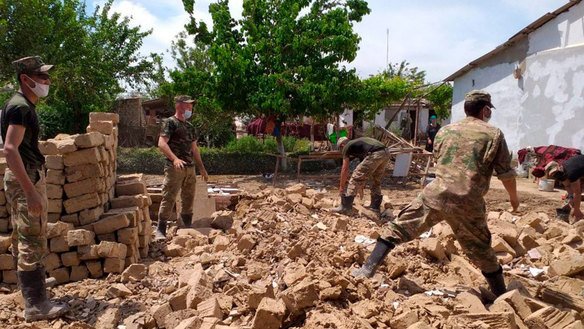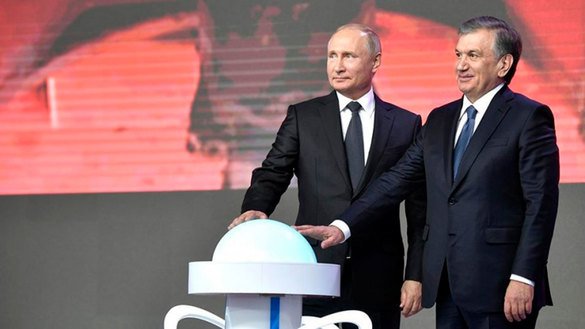 Uzbek workers built the reservoir, but Russian companies took part in its development.
Russian company Power Machines was to participate in building a small hydro-electric station at the dam, according to an announcement on January 29.
Roseximbank of Moscow issued a loan of €21.3 million (234 billion UZS) to finance the construction.
The United States stepped in to aid survivors. "USAID [US Agency for International Development] is providing $100,000 [1 billion UZS] to a local organisation to procure and distribute essential relief supplies to families affected by the disaster," the US embassy in Tashkent said in a statement May 8.
Safety concerns
The disaster has raised concerns over the safety of Uzbekistan's first nuclear power plant, which Rosatom is helping build in Jizzakh Province, just 100km from the Sardoba Reservoir. Rosatom is a Russian state corporation that builds nuclear power installations.
Russian President Vladimir Putin and his Uzbek counterpart, Shavkat Mirziyoyev, marked the start of the project in October 2018 in Tashkent.
Authorities last September decided to build the plant near the Aydarkul system of lakes.
"No one could have imagined a dam breach at Sardoba ...The same thing can happen anywhere," said Ruzikulov.
"Lake Aydarkul, whose banks are where workers will build the nuclear power plant, itself came about from a man-made disaster. In 1969, flooding resulted from a spring thaw. The Shardara Reservoir in Kazakhstan could not withstand it, and [workers] released overflow water into the lowland area," he said.
Under the agreement, Rosatom will build two power-generating units with a capacity of 1,200MW each by 2028. The exact cost of the power plant is unknown, but according to sources at the Kremlin, it will be about $11 billion (90.6 trillion UZS).
Observers expect officials to wrap up the final contract in June, as well as construction to start in 2022, TASS reported. A Russian loan is expected to finance the construction.
Engineering work is progressing at the site near Lake Aydarkul.
In February, the Uzbek Energy Ministry announced that public hearings would take place soon in Kazakhstan and Uzbekistan on the construction of the power plants.
Public opposition
Uzbeks have long expressed concerns over the safety of the proposed plant.
A Facebook group called "Uzbeks against the nuclear power plant!" has more than 2,000 members.
"We shouldn't have a nuclear power plant. We don't know how to build dams, but here you have a nuclear power plant... let every resident of Uzbekistan understand [this] and protest against the nuclear power plant, because it will actually be a nuclear time bomb in our common home," wrote group member Nodir Tukhtayev on May 1.
Public figures, journalists and lawmakers have expressed their opposition to the nuclear power plant's construction after the disaster at Sardoba.
"How many people must die to make it understood? -- something is wrong with the regulations and rules for construction sites in our country. And I don't really want a nuclear power plant in Uzbekistan," Uzbek journalist Darina Solod wrote on her Facebook page May 4.
"Not because I'm scared of nuclear energy. I'm afraid of the people who will work with it," she said.
The Soviet-era environmental disaster at Chernobyl in 1986, and other Russian nuclear-related projects, are still fresh in people's minds.
"Another conclusion is -- given this state of affairs in construction -- not only should we not build a nuclear power plant, but we should not even come close to it," said Doniyor Ganiyev, an MP from the Uzbekistan Liberal Democratic Party.
Inhabitants of neighbouring countries are urging reconsideration of the plan to construct the nuclear power plant.
"Uzbek govt plans to build a nuclear power plant on its territory and launch it in 10 years. Central Asia's security considerations must be revised after Sardoba water reservoir burst last week which had an impact on up to 100,000 population in Uzbekistan and Kazakhstan," Kyrgyz researcher and journalist Ryskeldi Satke wrote on Twitter May 4.