MOSCOW -- As Moscow boosts efforts to spread disinformation about the novel coronavirus pandemic to discredit Western healthcare systems, Russian President Vladimir Putin is employing similar tactics of disorientation and confusion on his own country's healthcare system, causing outrage among Russian medical workers.
Maria, a 24-year-old doctor working outside Moscow, expected to be paid extra if one of her patients tested positive for the coronavirus. Instead, her salary shrank.
In a small town 200km from the capital, she visits patients at home and normally has about three calls a day. But that number surged to 30 in April as the pandemic struck Russia.
When President Vladimir Putin promised on TV in April that doctors would get a monthly bonus of 80,000 RUB ($1,078) for treating virus patients, she thought it was compensation for increased risk and workload.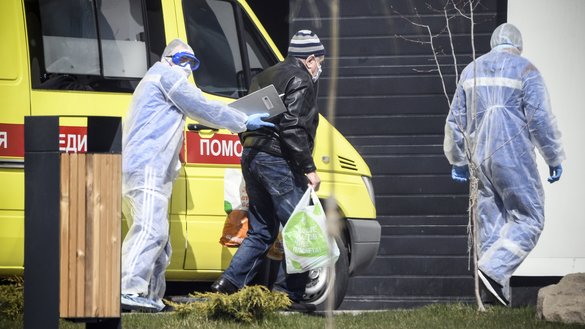 "I hoped that if I came in contact with the infection, I would also get some extra money," said Maria, who spoke to AFP on the condition of anonymity, fearing she could damage her career prospects.
What happened was quite different.
After a patient she visited and swabbed tested positive, Maria was ordered to self isolate for two weeks. When she got her April salary, it was cut to just 14,000 RUB ($189).
Her salary varies from month to month, but the most she makes is 36,000 RUB ($486), working two different jobs and overtime, she said.
"I could have contracted the virus, but instead of a bonus, my salary is less than usual," said Maria, who was given only one surgical mask and a pair of gloves per shift.
Healthcare workers across Russia watched Putin promise doctors extra pay and monthly bonuses of between 25,000 and 80,000 RUB ($337 to $1,078) to medics and drivers working to fight the coronavirus.
But when overworked doctors opened their April pay slips, most saw no sign of these generous sums.
'Huge disappointment'
Many posted photos online of paycheques where the extra money amounted to $10 or less -- or nothing at all.
On Wednesday (May 13), Prime Minister Mikhail Mishustin acknowledged the problem.
The government has transferred more than 27.5 billion RUB ($365 million) for healthcare bonuses, but regional authorities have paid out, in contrast, more than 4.5 billion RUB ($60 million), he said.
"There are problems with payments even in the regions most hit by the novel infection, where the workload on medics is at the maximum," he admitted.
Putin's directive lost its punch as it percolated through the healthcare system's bureaucracy, said Andrei Konoval, co-chairman of the Action union of medical workers.
Some hospitals added certain staff only to "coronavirus teams", so when others, like Maria, faced the virus, they were not eligible for the bonus.
In some regions, facilities calculated time in contact with the infection down to the minute to save money.
Ambulance crews at some hospitals would get paid extra only for treating confirmed coronavirus cases.
"In reality, ambulance teams going out on a call about high blood pressure risk infection even more" because they have less protection and patients do not know if they are infected, Konoval said.
Putin's bonus promise had sounded "very attractive", he said, "but it has resulted in huge disappointment among doctors".
Working for a pittance
That feeling has compounded frustration in the medical community that it is taken for granted, especially after a recent cycle of "optimisation" reforms that closed thousands of clinics.
"All this looks like mockery to medical workers" already used to unfulfilled promises, says a petition launched last week by the Action union, which is demanding full payouts.
The appeal, which calls on the government to widen eligibility for extra payments, already has more than 100,000 signatures.
The Kremlin's vow to pay doctors extra created tension between medics and society at a time when most Russians are struggling economically, said Konoval.
"This rumour that doctors get paid a lot of money during the pandemic is unpleasant for doctors who continue to work for a pittance," he said.
Most in the field are unwilling to demand extra pay in a country where the medical profession is regarded as a service, rather than work that deserves appropriate compensation.
"Patients are telling us that we must be getting a lot of money for working so much," said Maria, the doctor outside Moscow.
"But nobody complains because it makes no difference," she said. "I want justice to prevail, but I'm not going to start a war."
Moscow manipulating numbers?
While Moscow is short-changing the doctors working on the front line of the pandemic, some observers have questioned the veracity of its infection and coronavirus-related death count.
With 262,843 confirmed COVID-19 cases as of Friday (May 15), Russia has the world's second-highest number of cases. It has registered only 2,418 deaths from COVID-19 -- 10 times fewer deaths than Britain, France, Italy and Spain.
Critics have accused Russian authorities of undercounting deaths to play down the scale of the crisis, saying they find it hard to believe that the country's underfunded healthcare system is managing better than those in the United States and western Europe.
Some questioned the data after figures released this week showed an increase in April deaths in Moscow beyond the number recorded as virus-related.
The figures showed Moscow registering 11,846 deaths last month, an increase of 1,841 over April 2019, but registering only 639 deaths from the coronavirus.
City health authorities May 13 denied falsifying the numbers. "Comparing mortality rates on a monthly basis is inappropriate and not clear evidence of any trend," said the Moscow Department of Health in a statement.
Some countries count everyone who died while infected in their total number of fatalities, others include cases where the virus is suspected to have played a role and some count only deaths directly caused by complications from the virus.
Russia is on the conservative end of the scale, attributing fatalities to the coronavirus only when a death can be directly linked, most often through pneumonia.
"If someone dies of a heart attack but has been diagnosed with COVID-19, the official cause of death will be heart attack," said Sergei Timonin, a demographer from Moscow's Higher School of Economics.
"In other words, not all deaths of those with the coronavirus will be listed as deaths from the coronavirus," he told AFP.
Spreading disinformation
Meanwhile, outside Russia, pro-Kremlin media outlets are promoting disinformation about COVID-19 in order to worsen the crisis in the West by undermining trust in healthcare systems, warned an internal European Union (EU) document seen by AFP in March.
Between January 22 and April 1, watchers logged more than 150 cases of pro-Kremlin disinformation on COVID-19, the European External Action Service reported.
Sputnik Deutschland, for example, promoted the claim on Facebook and Twitter that "washing hands does not help" protect against the virus, the EU said.
Members of NATO have been outspoken about Moscow's ongoing disinformation efforts.
The strategy is to pump out dozens of different, sometimes contradictory, narratives to sow confusion and fear.
Examples include the notion that the coronavirus is a biological weapon deployed by China, the United States or the United Kingdom; that it originally broke out in the United States rather than in China; or that the virus is an instrument to impose totalitarian rule.
Pro-Kremlin sources are picking up and amplifying conspiracy theories originating elsewhere, such as China and Iran, according to the EU's Stratcom East task force, which addresses Russian disinformation.
Other Kremlin propaganda extols Moscow's performance in fighting COVID-19, even though authorities in Russia had to frantically lock down their own country against a pandemic that they were late to recognise.