DUSHANBE -- Tajikistan, facing a shortage of medical facilities, physicians and testing availability as the coronavirus outbreak spreads in the country, is in a "worrying" situation, according to the World Health Organisation (WHO) and Tajik health officials.
Fortunately, Tajikistan's Central Asian neighbours, along with the United States, have stepped in to lend their support in the country's fight against COVID-19.
The country has not yet reached its peak infection rate, Patrick O'Connor, the leader of a WHO delegation that visited Tajikistan in early May, said during a telephone briefing in Dushanbe on May 12.
"The situation is worrying and requires ... additional measures," he said.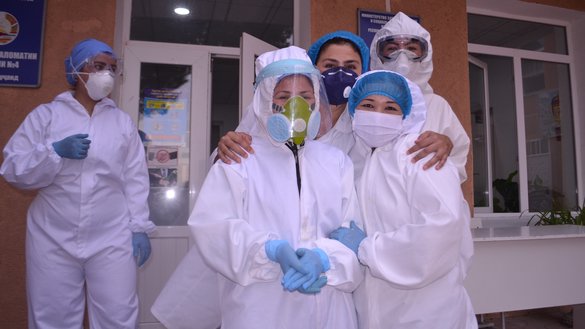 Tajikistan's Health Ministry on May 1 announced the first registered case of the coronavirus. As of Wednesday (May 20), the number of infections in the country had reached 1,736 with 41 deaths.
The situation caused the country's Ulema Council Monday (May 18) to declare that no public prayers to mark the end of Ramadan would be permitted this year, as reported by Radio Free Europe/Radio Liberty.
Tajikistan could have 6,570 to 21,025 deaths from COVID-19, predicted the World Bank in a study published in April.
"Tajikistan's mortality rate already far outstrips that of its closest neighbours in Central Asia -- Kyrgyzstan and Uzbekistan -- which indicates serious problems in the healthcare system," said Kosim Bekmuhammad, an analyst in Dushanbe.
Having facilities that can treat infected patients is one of those problems. Only 30 medical institutions in the country are accepting patients with COVID-19, according to the government.
Together, they have 5,284 beds. Because of the coronavirus pandemic, Istiklol Hospital in Dushanbe, the country's largest and most modern medical complex, had to be fully adapted to receive COVID-19 patients.
Authorities have temporarily reassigned three other major hospitals to treat infectious diseases. Workers remodelled the Karabolo Republican Clinical Hospital to accommodate coronavirus patients, said Abdumajid Usmonov, a spokesman for Dushanbe city hall.
"Work is under way to create additional places for patients, temporarily using several unfinished buildings," Usmonov said.
Vulnerable regions
Tajikistan lacks laboratory research, tests for the coronavirus, and enough doctors qualified to treat the disease, said Maruf Khojiboyev, the deputy director of the Health Department of Sughd Province.
"We have only one functioning laboratory, and we don't have enough infectious disease doctors and specialised hospitals," he said, meaning the country at large. "But we are taking all the measures possible within our power."
"The most vulnerable places in Sughd Province are Jabbor Rasulov, Bobojon Ghafurov, and Istaravshan districts, as well as the city of Khujand, where the population density is very high," said Khojiboyev.
Once the government announced the spread of the pandemic in the country, Tajik authorities shuttered preschools, mosques, schools and universities, markets, restaurants and service businesses.
In addition, the Tajik military quarantined its own units. Authorities in early March closed the country's airports as well as its border with Uzbekistan and Afghanistan. They later stepped up patrols on remote segments of the border with Kyrgyzstan. In ordinary times, Tajiks and Kyrgyz cross back and forth undetected on those parts of the border.
The country's soft quarantine has been the right approach, said Maruf Makhkamov, a Khujand resident.
"The soft, phased quarantine allowed people to overcome the mental barrier and gradually get used to the idea that the coronavirus is not so scary if you are ready to fight it," Makhkamov said.
Outside support
Support for Tajikistan's fight against the virus is rolling in.
The US Centres for Disease Control and Prevention (CDC) on May 6 announced the allocation of $6.8 million (69.9 million TJS) to support Central Asian countries in order to curb the COVID-19 epidemic. It devoted $1.69 million (17.4 million TJS) of that sum to Tajikistan.
It was the latest in a string of such announcements.
The US government, through its Agency for International Development (USAID), allocated $869,000 (8.9 million TJS) to strengthen Tajikistan's ability to respond to the evolving COVID-19 pandemic, as well as for food support for healthcare facilities, the US embassy in Dushanbe said in statements April 7 and 9.
The US government "is providing these funds to USAID partners Abt Associates, the International Federation of Red Cross (IFRC) and the World Health Organisation (WHO)", whose offices operate in Tajikistan, according to the embassy.
The World Bank (WB) and the United States were among the first to extend a helping hand.
The WB on April 2 approved an $11.3 million (115.4 million TJS) grant to help Tajikistan prepare for and respond to the pandemic, the organisation said in a statement that day.
The funding was intended to establish about 100 new intensive care unit beds in health facilities nationwide and will strengthen Tajik ability to treat coronavirus patients.
In March, the US government donated 12,000 surgical masks, 12,000 examination gloves, 1,400 surgical gowns and 400 sets of protective goggles to Tajikistan on behalf of the American people.
These resources went to medical facilities throughout the country.
Neighbouring countries pitch in
Tajikistan is finding support from its neighbours as well in Central Asia in its fight against the coronavirus pandemic.
Kazakhstan sent 5,000 tonnes of flour to the country in early April, while Uzbekistan is helping Tajikistan by supplying equipment, food, and specialists. In early April, an Uzbek humanitarian train delivered aid consisting of medical devices, medicine and food to Dushanbe.
In addition, an Uzbek military plane in early May delivered protective suits and goggles, liquid sodium hypochlorite, respirators, gloves and non-contact thermometers to Dushanbe.
On the plane were 10 ventilators, drugs, protective medical gowns, gloves and respirators. Eight Uzbek virologists, epidemiologists and anesthaesiologists with experience combating coronavirus arrived in Dushanbe on the same plane.
Tajikistan separately received from Uzbekistan by train 154 mobile medical containers for accommodating and treating patients with coronavirus, according to a statement by the Tajik Foreign Ministry in early May.
"Given the difficulties that our healthcare system is experiencing, the help and support of our neighbours are very timely and needed, for which our people will forever be grateful," said Khojiboyev.