ALMATY -- The Wagner Group -- a private army that carries out the agenda of Russian President Vladimir Putin -- is using tactics similar to those of "Islamic State" (IS) to recruit mercenaries around the world, observers say.
The Wagner Group first surfaced in 2014 in eastern Ukraine, where former Russian military personnel -- dubbed "volunteers" by Moscow -- joined the ranks of pro-Russian separatist forces, eventually leading to the illegal annexation of Crimea.
Initially, this "shadow army" filled its ranks with disgraced ex-military types, thugs and ex-convicts who sought money and adventure, but over the years, the group's tactics have changed.
Now, always in alignment with Putin's wishes, the Wagner Group has started recruiting local youth to fight in various hot spots where the Kremlin has a vested interest.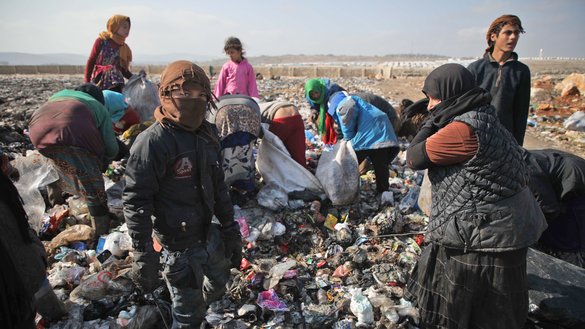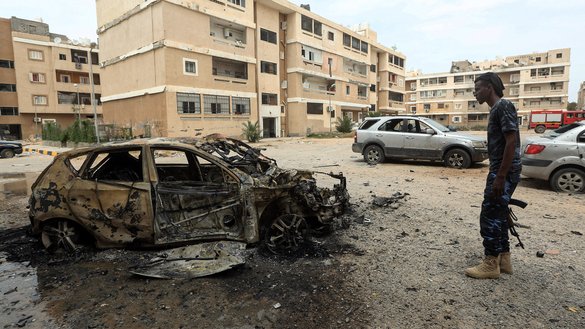 Most recently Moscow, using the Wagner Group as lead, has been orchestrating a mass recruitment campaign in Syria.
New tactics for a new frontline
It is not recruiting within this campaign for the militias fighting for Syrian President Bashar al-Assad's regime, which it has been doing for years, but for Moscow's newest frontline: Libya.
The Syrian youths-turned-mercenaries are being sent to buttress the forces of Libya's Field Marshal Khalifa Haftar, who have Moscow's support against the internationally recognised government in Tripoli.
Syria's civil war, which started in 2011, has left much of the country in ruins, cost more than 500,000 lives and displaced more than 7 million citizens.
For Moscow's mercenaries, it is an ideal situation for recruiting desperate youths.
"They pay well, so this is a great opportunity for unemployed men, many of whom have become desperate in trying to solve financial problems and put their lives in order," said Maj. Dauren Ospanov, a retired Kazakh army officer in Almaty.
The Wagner Group is offering monthly salaries of "$1,000 for those who volunteer to guard the installations and $1,500 for those who volunteer in fighting groups" in Libya, Arabic news outlet al-Suwayda 24 reported in March.
This represents a relative fortune compared to what is available locally in Syria.
The reported monthly salary of regular Syrian soldiers is about $30, while the monthly salary offered by the various regime-linked militias -- some of which are supported by Iran's Islamic Revolutionary Guard Corps -- ranges between $50 and $100.
'Islamic State' playbook
The Wagner Group's recruiting methods have many similarities with the IS terrorist group's methods, such as using money to entice poor recruits and finding vulnerable youth through the internet, Ospanov said.
Initially, appeal for adventure and the mirage of utopia were two of the pillars of IS recruitment. But after the fall of the IS 'caliphate' in March 2019, the group -- like Wagner -- has been capitalising on economic desperation to lure recruits.
This tactic has surfaced recently in Turkey, where IS recruiters are seeking to take advantage of the economic fallout from the coronavirus pandemic to target migrant workers from Turkmenistan.
IS recruiters are offering these despondent, unemployed migrants "jobs" that pay $1,000 per month in addition to a $1,000 on-the-spot bonus.
The recruiters are careful not to reveal the details of the "peaceful opportunities" and insist they are not related to the war.
Often, as has been seen time and time again during the years when IS was in control of larges swathes of Iraq and Syria, these hapless recruits are immediately sent to the front lines to face deadly situations.
The Wagner Group and its allies have adopted the same playbook on this front.
Earlier this year, about 35 Syrian youth were recruited into a militia by a joint venture between Wagner Group and the Syrian National Youth Party, an official organisation that works on behalf of the al-Assad regime, al-Suwayda 24 reported.
These recruits immediately headed to the front with little to no training to fight against anti-government rebels.
Out of the 35 fighters recruited, at least 10 were killed and many others were wounded or reported missing in action on the very first day, suggesting the recruits amounted to cannon fodder, the report said.
The families of the victims, because the militia was not affiliated with any official entity, received no compensation despite promises made by Wagner Group leaders and their allies.
Zero liability
The Wagner Group can carry out intelligence and military tasks that Moscow cannot, said Edil Osmonbetov, a political analyst and international affairs scholar from Bishkek.
Private military companies (PMCs) like Wagner are not "regular armed forces that fall under international law", he said. "The states that co-ordinate them are not responsible for their actions."
International law and Russian law both prohibit mercenaries, but the State Duma and Russian Foreign Ministry were proposing to legalise PMCs in Russia, DW reported in 2018.
That idea has yet to become law for a number of reasons. Authorities remain reluctant to allow too visible a link between the Kremlin and mercenaries, and they also do not want to let unofficial armed groups become legal social movements.
Officials in Russia deny the Wagner Group's existence, while acknowledging that Russians may participate privately in hostilities abroad.
Yevgeny Prigozhin, a St. Petersburg businessman and Putin ally who made a fortune in the catering business by signing lucrative contracts with Russia's military and government, is widely recognised as the bankroll behind the Wagner Group.
This private funding allows the Kremlin to advance its interests and carry out its hybrid warfare under a cover of plausible deniability.
Wagner carries out military operations in countries where the Kremlin has strategic, geopolitical interests, said Ospanov, the retired Kazakh army officer. Moscow also uses fighters in regions where it can implement energy projects, for example, in Africa.
"If a country where Russia has an interest and which it calls a partner begins to do something that conflicts with Moscow's geopolitical interests, then 'uninvited guests' may appear there," he said.
In Libya, the influx of Syrian mercenaries brought under the auspices of the Wagner Group is beginning to raise alarm among the local population, especially as many of them could be infected with the COVID-19 coronavirus.
Similar scenes are taking place in many hot spots around the world that Moscow wants to influence, including the Central African Republic, Sudan, Venezuela, and others.
The COVID-19 pandemic has delivered a particularly powerful blow to countries with already weak economies. As a result, unemployment has risen sharply, which will play into the hands of the Wagner Group.
[Kanat Altynbayev from Almaty contributed to this report.]