MOSCOW -- Russian President Vladimir Putin is scheduling politically advantageous public events despite the obvious risks they would pose to Russian citizens amid the worsening COVID-19 coronavirus outbreak in the country.
Less than a week after Putin said Russia's coronavirus crisis had peaked, he decided to fast-track a vote on constitutional reforms, now scheduled for July 1, that would enable him to serve indefinitely in the Kremlin.
Despite Russia still recording thousands of new cases every day, Putin wants to turn the page on a crisis that critics say was badly managed and which dented his approval rating, while limiting opportunities for protest.
But in doing so, he risks undermining the legitimacy of the vote.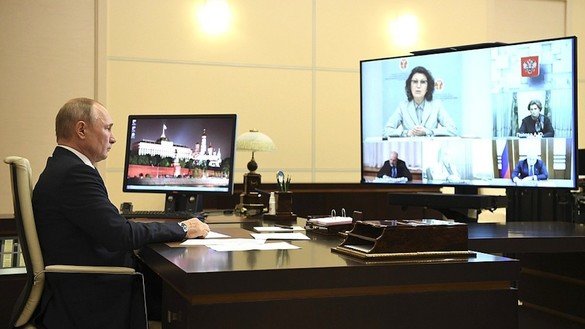 The Kremlin "needs to get it over quickly while people haven't fully grasped the consequences of the epidemic and are happy that life is getting back to normal," Konstantin Kalachev, who heads the Political Expert Group, a Russian think tank, told AFP.
"People will just have shaken off a bad mood and won't yet be aware of any repercussions," said Alexander Baunov of the Carnegie Moscow Centre.
Under existing law, Putin may not stay on as president beyond 2024 because he may serve only two consecutive terms.
If passed, the changes to Russia's basic law would wind the acting president's terms back to zero.
The constitutional vote was originally set for April 22 after Putin announced the reforms earlier this year and received quick approval from Russia's two houses of parliament.
Public interest in the vote has waned as the coronavirus took centre stage, according to opinion polls.
Any further delay will mean that Russians have a stronger sense of the economic impact of the virus including job losses, analysts said.
A dangerous vote
The July 1 date is nevertheless a high-risk decision since Russia's epidemic is far from over.
Daily new cases are relatively stable but still at about 9,000. At the same time, the official death toll is rising, though far below mortality rates seen in countries with similar rates of infection.
However, according to former Kyrgyz diplomat Murat Konokbayev of Bishkek, the Russian authorities are not sharing all the information they have about the pandemic in Russia. In particular, he says that the mortality statistics are substantially underreported.
Voting "will be safer than ... popping out to the shop", promised chief Russian electoral official Ella Pamfilova.
Still, vote-monitoring group Golos said that plans to check voters' temperature and hold outdoor voting show officials realise "how dangerous it is to hold a vote in a time of pandemic".
Opposition politician Lyubov Sobol tweeted: "To wind back his clock, Putin is willing to risk people's lives and health."
It is unclear how the vote will fit with strict lockdowns in place in many regions into June.
Putin has acknowledged failures in efforts to curb the spread of the coronavirus outbreak. One poll in April showed his approval rating falling to a historic low of 59%.
"There is less public enthusiasm" toward Putin, said Baunov. "And now he is offering an official plebiscite on the leadership, on himself."
Going to the polls amid coronavirus restrictions also has raised fears of widespread falsifications.
"The only problem will be with legitimising the result," said Kalachev, predicting disbelief and protests if the "yes" vote is overly high.
Electoral chief Pamfilova ruled out the possibility of a mail-in vote, citing the risk of potential "scandals" and the result being "placed in doubt".
Online voting may be used in a few regions, she said.
Anti-virus measures "have opened up unlimited opportunities for falsifying the vote", argued Golos.
Mask-wearers could pull off repeat voting, while regular disinfection of polling stations offers a "great chance" for ballot stuffing, it said.
In the run-up to the vote, police have cited lockdown measures to halt even one-person protests by opponents of the amendments.
Victory Day parade rescheduled
The vote is not the only example of Putin hurrying to return to his pre-virus agenda and to put the pandemic behind him.
His first move as daily cases began falling was to reschedule a Red Square military parade postponed from May 9. It will be held June 24, a week before the constitutional vote.
The Putin regime is trying to secure the participation of a number of heads of state, and is working on co-ordinating high-level visits.
Kremlin spokesman Dmitry Peskov, acknowledging that this is "rather short notice for working out the schedules of international leaders," said that the process is being co-ordinated "with each country individually".
Putin's plan to hold a large event entailing a procession of thousands of soldiers is sparking bewilderment and concern in Central Asian countries, whose leaders, other than Kyrgyzstan's, have yet to announce that they will be taking part.
"The coronavirus destroyed Putin's major plans -- the referendum on constitutional reform, which was supposed to reset his terms in office to zero, and then the Victory Day parade," said Murat Konokbayev, a Bishkek-based former Kyrgyz diplomat.
"But naturally, he couldn't refrain from rattling weapons for such an occasion," he said.
"This is a vanity parade for Putin, and he's willing to put people's health at risk," said Gulmira Suleyeva of Almaty, an instructor at Al-Farabi Kazakh National University.
The Kremlin is hoping the event for the 75th anniversary of the end of World War II in Europe will boost the public mood and encourage turnout for the referendum.
"They're counting on the mobilising effect of the victory parade," daily newspaper Vedomosti reported, citing a source close to the Kremlin.
"You couldn't find a better time," said Kalachev of the Political Expert Group.
[Kanat Altynbayev from Almaty contributed to this report.]