BRUSSELS, Belgium -- The world's largest trading bloc and a major social network this week called out China and Russia for creating a 'flood' of disinformation about the COVID-19 coronavirus pandemic.
Twitter Friday (June 12) said it had deleted more than 170,000 accounts linked to ongoing Chinese government disinformation campaigns, and the European Union (EU) Tuesday (June 9) formally accused China and Russia of mounting targeted coronavirus disinformation campaigns to undermine European democracy.
In a paper on what it called the "flood" of misleading and inaccurate information proliferating around the pandemic, the EU said Beijing and Moscow had set out to polarise debate and burnish their own images.
"Foreign actors and certain third countries, in particular Russia and China, have engaged in targeted influence operations and disinformation campaigns around COVID-19," according to the paper, set to be published on June 17.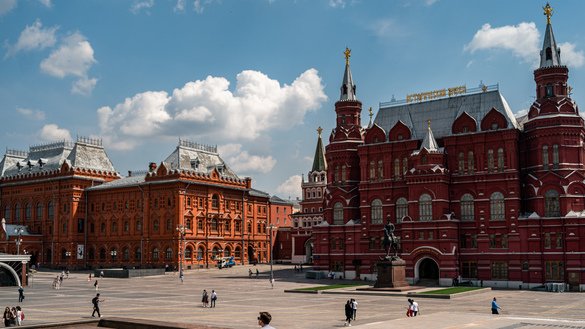 The 17-page report, to be presented by Vera Jourova, the EU's vice president for values and transparency, accuses Moscow and Beijing of "seeking to undermine democratic debate and exacerbate social polarisation, and improve their own image in the COVID-19 context."
Already in April, the EU's anti-disinformation task force detailed "a co-ordinated push by official Chinese sources" to deflect blame for the pandemic, which originated in China.
But the assessment in the commission's official communication to member states and the European Parliament puts the charge on a more official footing -- and in far less diplomatic terms.
EU foreign policy chief Josep Borrell held video talks with the Chinese foreign minister on Tuesday, warning afterwards that Europe needed to devote more resources to tackling disinformation.
"Fact-checkers, researchers and civil society organisations have a crucial role to play, but platforms have not sufficiently empowered them during the current public health crisis," the report said.
"There is therefore a need for additional efforts and information sharing by social media platforms, as well as increased transparency and greater accountability," it added.
The EU task force analysing and debunking misleading stories online is small and mainly focuses on disinformation emanating from Russia.
"For sure we have to allocate more resources in the fight against disinformation," Borrell, the EU foreign policy chief, told reporters.
"We have to work more on that and not only fighting disinformation, trying to counterattack the fakes, but to present a positive narrative," he said.
'Hybrid war'
Askat Dukenbayev, a political scientist from Bishkek, considers the Russian disinformation campaigns part of the new "hybrid war" doctrine of Vladimir Putin's Russian regime against Western countries.
Moscow is "trying to take revenge for its defeat in the Cold War, as well as against post-Soviet countries that are trying to come out from under the influence of the former metropole [colonial power]", he said.
"The Russian-speaking countries of Central Asia have been regularly subjected to barrages of disinformation from Russia practically since their declaration of independence from the Soviet Union but especially after the start of Putinist aggression against Ukraine in 2014," said Dukenbayev.
"For example, pro-liberal and pro-democratic civil society activists in Kyrgyzstan are constantly subjected to attacks for supposedly being 'foreign agents' and 'elements hostile to the country' on websites and the pages of pro-Kremlin and pro-government newspapers that are widely circulated in Kyrgyzstan," he said.
He is pleased "that recognition of the extent of the Russian threat and of the need for counter-measures has finally reached the Western and international community", he said.
While the Russian regime has failed to help its partners and allies during the pandemic, it has been stepping up propaganda in former Soviet countries in an attempt to create "an image of itself as a supposedly strong state that is helping countries that suffered more than others from COVID-19, like Italy, in contrast to the [supposedly unhelpful] EU", said Ruslan Nazarov, a scholar of international affairs from Nur-Sultan.
Nevertheless, Russia is refusing to allow the release of $260 million (19.9 billion KGS) to Kyrgyzstan from the joint Russian-Kyrgyz Development Fund (RKFR), putting a key Kyrgyz economic sector in jeopardy.
Trapped in Russia by closed borders and flight cancellations, vulnerable workers from Central Asia are suffering from abuse and violence by the police.
At the same time, pro-Kremlin bloggers spread fake videos on social networks, including one in which an Italian supposedly discards an EU flag and raises a Russian one.
"Russian bloggers actively push the narrative 'Russia, a fraternal country, extends help at a difficult time; the West does not,'" said Nazarov.
"However, in day-to-day relationships -- political, economic and especially within the [Russian-dominated] Eurasian Economic Union -- Russia has repeatedly shown the opposite. In foreign policy, including toward Central Asia, Moscow pursues thoroughly avaricious interests and acts accordingly."
The Kremlin is using all means in its propaganda: mass media under its control, its troll factories and even analysts, said Yuri Poyta, head of the Asia-Pacific Section of the Centre for Army, Conversion and Disarmament Studies in Kyiv, Ukraine.
"Russia also uses the coronavirus infection to implement its own foreign policy agenda," he said. "The post-Soviet countries where Moscow has interests, such as the members of the EEU [Eurasian Economic Union], have ended up in an extremely difficult economic situation. Russia can use their vulnerability to strengthen its influence and to establish control over the post-Soviet space."
[Kanat Altynbayev from Almaty contributed to this report.]