ASHGABAT -- A shakeup at Russia's Gazprom, stemming from a cover-up of technical breaches and falsified figures with the Power of Siberia gas pipeline, could bode well for Turkmenistan, say analysts.
In 2014, Gazprom and the Chinese National Petroleum Co. (CNPC) signed a 30-year contract to supply 38 billion cubic metres of gas per year via the pipeline, which went online last December.
In a report published May 28, Lenta.ru questioned Gazprom's estimates of the volume of gas at the Chayandinskoye field in the Sakha Republic, Russia, and its ability to provide gas to the Power of Siberia pipeline.
Now, Gazprom risks losing 1.5 trillion RUB ($21.6 billion or 80.6 billion TMT) in its contract with China as a result of "a hasty geological exploration, systematic negligence and criminal fraud permitted by the company leadership", according to the report.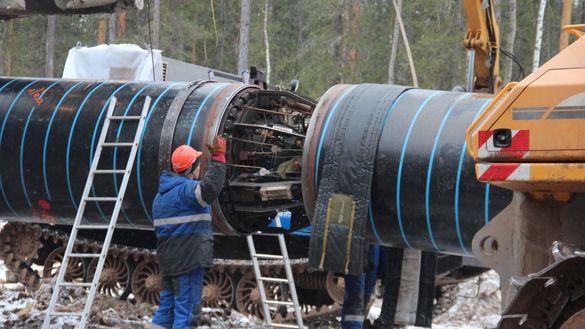 Gazprom has fired Andrey Filippov and Alexander Gromov, senior managers of Gazprom Dept. 307, Ura.ru reported June 8.
The official reason given for their firings was a leak to the media of confidential information.
However, both Filippov and Gromov allegedly were responsible for allowing numerous violations at the Chayandinskoye gas condensate field, according to Lenta.ru.
Problems at the field stemmed from the cover-up of numerous technical breaches, embezzlement, falsified figures and the illicit enrichment of civil servants conducting exploration and extraction, said Turkmen sources close to Gazprom.
Costly errors
The report comes after Gazprom announced a feasibility study was under way for a second pipeline to China, Power of Siberia 2.
Gazprom apparently made the announcement to cover up the problems at the Chayandinskoye field and with the original Power of Siberia pipeline.
"It was a bluff by the Russian gas monopolist, and personally by its head, Alexei Miller," said a gas transportation management specialist at Turkmengaz who requested anonymity.
"When he announced a second gas pipeline to China, we fell for his bluff, but now everything has come to light, and it's already obvious that the threat Russia presented to our gas exports to China has been put off for a few years," said the specialist.
The sloppiness, embezzlement and incompetence of the dismissed senior managers could translate into huge losses and fines for Gazprom, he added.
"If it [the media report] is accurate, now Gazprom, which was aiming to push us out of the market, won't be able to compete with us on the Chinese gas market in the next few years," said Khaknazar B., a gas preparation technologist at Marygazdobycha (Mary Province Gas Extraction).
Russia now will need to build a new pipeline many kilometres long from another field in order to fill the Power of Siberia with gas, he said.
That venture will be no small one, he said.
"It's going to take more than a year," he said. "And more than $1 billion (3.5 billion TMT),"
New prospects
Only last year did Russia resume buying a small amount of Turkmen gas after a hiatus of more than three and a half years, and it forced Turkmenistan to accept an insultingly low price.
In 2019, that price amounted to $76 (266 TMT) per 1,000 cubic metres, according to a Gazprom statement issued that year.
Maisa Agayeva, an Ashgabat-based economist, anticipates new prospects for Turkmenistan's gas exports due to the suspension of work on the Power of Siberia gas pipeline.
Turkmenistan exports about 40 billion cubic metres of gas per year, she said. China and Russia are Turkmenistan's only customers, with China buying far more.
"Now, because of the trouble Russia is having performing its contractual obligations to China, it is likely that Gazprom will step up the amount of gas it buys from Turkmenistan," Agayeva said.
The Turkmen government, "because of feigned respect for its older brothers [Russia and China]," is not making public announcements on matters relating to gas exports, she said.
Nevertheless, Ashgabat is counting on Beijing to make up the shortage of Russian gas by buying Turkmen gas and to cancel previous announcements about curtailing gas purchases from the Central Asian countries.
The capacity of the gas pipeline from Central Asia to China is 55 billion cubic metres per year, of which 33.3 billion cubic metres came from Turkmenistan in 2019, Agayeva said. Uzbekistan and Kazakhstan are the other countries exporting gas to China through that pipeline.
"Our country's leadership is expecting China, under the new circumstances, to resume construction on the fourth branch of the gas pipeline from Central Asia, which had been suspended," she said.
"Turkmenistan could supply 25 billion cubic metres of gas [per year] through the new branch and earn $4 billion (14 billion TMT) for it," she added.