NUR-SULTAN -- Kazakh authorities and non-governmental organisations (NGOs), with assistance from the United States, are continuing their fight against human trafficking.
Kazakh police uncovered 50 incidents of human trafficking as part of Operation STOP Trafficking carried out across the country June 12-19, according to a statement by the Interior Ministry (MVD).
As part of the effort, police officers raided entertainment facilities, saunas, hotels, sublet apartments, farms and construction sites, where they uncovered evidence of human trafficking, slave labour and sexual slavery, the ministry said.
In one case, a 49-year-old woman was enslaved in Aktobe Province, where she was forced to graze livestock and work inside a private residence.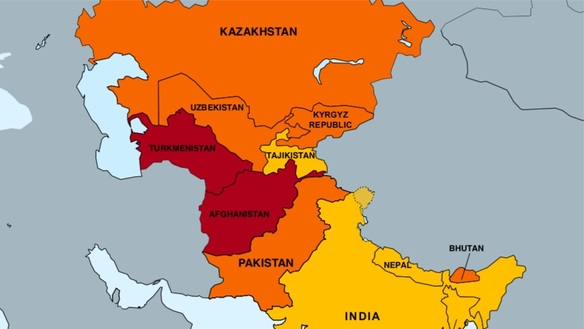 A 40-year-old man, whose captors held him by force and coerced him into grazing livestock, suffered a similar plight in West Kazakhstan Province.
The operation uncovered incidents of trafficking in minors, forced prostitution and forced labour.
Seventeen survivors were freed and are now receiving assistance from NGOs, with several sent to a crisis centre for victims of human trafficking.
"The offences uncovered during the STOP Trafficking police action are the subject of a pretrial investigation," said Aidos Otorbekov, a lawyer in Zhambyl Province.
Article 128 of the Kazakh Criminal Code "stipulates ... up to 15 years in jail with the confiscation of property" as punishment for those found guilty of human trafficking, he said.
Victims of human trafficking rarely go to law enforcement "because they are afraid and they believe in the impunity of their tormentors", said Otorbekov.
Trafficking in Central Asia
While efforts against human trafficking continue in Central Asia, more work is needed.
The US State Department's annual Trafficking in Persons report published in June ranks countries based on their efforts to meet standards against human trafficking. It labelled Tajikistan as Tier 2, Kazakhstan, Kyrgyzstan and Uzbekistan as Tier 2 Watch List and Turkmenistan as Tier 3.
Tier 2 countries do not fully meet minimum standards but are making "significant efforts" to reach compliance. Tier 2 Watch List countries are similar but have a significant number of estimated victims or are failing to provide evidence of increasing efforts.
Meanwhile, the Tier 3 list includes countries whose governments do not fully meet minimum standards and are not making significant efforts to do so.
The US Embassy in Kazakhstan on June 24 published the story of Razia, a survivor of human trafficking who shared her experience.
Her ordeal began with a job advertisement that Razia found online.
On her first day, the business owner took her identification documents but never returned them. He ordered her to work as a cook, cleaner and waitress at a remote hotel-restaurant-bar complex.
The owner never kept his promises to pay her. She was too afraid to confront him.
When a few police officers came to the restaurant, she slit her wrist, hoping for rescue. However, the police only told the owner to pay her and departed.
That night, the owner beat her and threatened to sell her.
A few nights later, she escaped.
"It was dark, cold and scary, but staying was not an option," said Razia.
Razia walked all night until she reached the nearest city. Eventually, she took a job caring for an elderly woman in her home. The woman's son directed her to the NGO Rodnik, which since 2001 has worked to support women, children and youth, protecting them against exploitation and violence.
The United States Agency for International Development (USAID) gave Rodnik funds to open a shelter in 2006 and has continued to support its efforts to fight human trafficking.
Razia refused to seek prosecution of her former boss, which is typical of trafficking survivors, said a Rodnik co-ordinator. They either are scared or do not want to endure a lengthy trial.
People, especially youth, should be aware of human traffickers' methods of luring victims into slavery, said Razia.
"Almost anyone can fall prey to human trafficking," she said. "Young people from rural areas are especially vulnerable because they are not experienced and will accept any job offer that promises them money."
US assistance
In September 2019, USAID began implementing a project focusing on safe migration in the five Central Asian countries, the US embassy in Nur-Sultan said in Razia's story.
"The goal of the ... project is to combat trafficking in persons by empowering survivors, ensuring effective services, improving data and policies, and establishing systems that protect at-risk groups," it said.
Also in 2019, the US State Department provided a $750,000 (303.9 million KZT) grant to the Kazakh NGO Sana Sezim to combat human trafficking in Kazakhstan. This initiative, under which a network of organisations to help victims of human trafficking was created, runs for 36 months.
"The COVID-19 pandemic has only exacerbated the dangers ... Traffickers take advantage of the lack of knowledge and desperate situation many have found themselves in due to the pandemic. The USAID-funded Safe Migration in Central Asia project is working to provide migrants with information to protect themselves and avoid potential exploitation," the embassy said.
Initiatives in which several Central Asian countries participate all at once could prove effective, said Rayan Dautaliyev of Shymkent, a political analyst.
"Human trafficking is a pressing problem for all of Central Asia," said Dautaliyev. "In years past, there would be a joint police operation in which Kazakh, Uzbek and Tajik police simultaneously conducted raids in those three countries."
"Trafficking in people who have been enslaved often crosses from one country to another, so such international operations can be very effective," Dautaliyev added.
Projects of NGOs that have the backing of USAID and international organisations play a vital role in fighting human trafficking, he said.
"Victims of human trafficking are more trustful of civic organisations, which can offer refuge and serve as intermediaries in the process of informing [a victim] and in a victim's contacts with law enforcement," he said.