ALMATY -- Journalists and human rights activists in Central Asia are condemning the arrest of Moscow journalist Ivan Safronov and characterising it as the latest telling example of the Kremlin's efforts to undermine free speech and control the media.
On July 7, Federal Security Service (FSB) agents arrested Safronov in Moscow in connection with charges of treason. Safronov spent about a decade working as a military journalist at Kommersant, a Russian newspaper, and in May became an adviser to Dmitry Rogozin, director general of Roscosmos, the Russian state corporation that manages the space industry.
The FSB accuses Safronov of giving classified information about the Russian defence industry to Czech intelligence in 2017, when he was still a reporter, media reported, citing his lawyers.
The court ordered Safronov jailed for two months before trial, until September 6.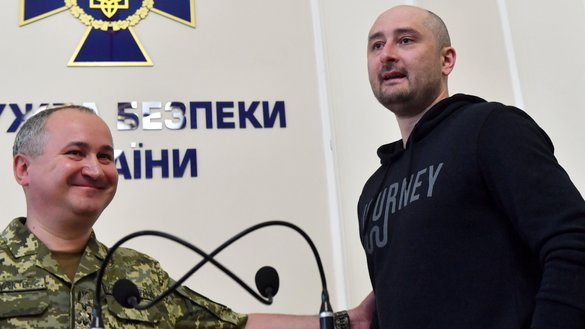 The FSB has not released details about the accusations against Safronov. The court will conduct a closed trial, as is customary in Russia for cases related to highly classified information.
"Any Russian citizen who works in the public sphere -- whether he [or she] is a human rights activist, scholar, journalist or employee of a state-run corporation -- can face a serious accusation at any time", said Kommersant in a statement.
"The public is required to rely solely on the word of the intelligence agencies, whose work raises more and more questions with each passing year. Journalists who ask these questions end up at risk," Kommersant wrote.
Questionable charges
Safronov's arrest is tied to his position at Roscosmos, contends Khairullo Mirsaidov, a Tajik journalist living in Europe who has worked for the Tajik news site ASIA-Plus and for Deutsche Welle.
"Considering the level of corruption in Russia -- this country allocates massive sums of money to space -- he might have gathered damaging information about theft on a cosmic scale. That's why they want to get him out of the way," Mirsaidov said.
The explanation that Safronov "passed classified information to someone at some point doesn't hold water", said Mirsaidov.
"If Russia's counter-intelligence service is conducting its work a few years late, it's time to shut it down because it's useless," said Mirsaidov, referring to the allegation that Safronov betrayed his country in 2017.
As time goes by, the regime of Russian President Vladimir Putin is increasingly clamping down on Russian media, said Kuban Berdibayev, a journalist from Osh, Kyrgyzstan.
"I have no doubt that the case against Safronov has been fabricated, just like many previous cases brought against Russian journalists who have produced reporting that was unwelcome to the Kremlin," he said.
The Russian government has certain ideas about free speech and Kyrgyzstan should not follow its example, said Berdibayev.
Russian authorities traditionally use punitive measures against independent journalists, said Gulnoza Said, the Europe and Central Asia Programme co-ordinator at the international NGO Committee to Protect Journalists (CPJ).
"The Russian government does not tolerate criticism or dissent when it comes to the constitutional reforms, and it is punishing journalists for reporting that contradicts the Kremlin's agenda," she said, referring to a constitutional referendum concluded this month that made Putin eligible to rule until 2036.
"The media has the right to tell the truth about what the Russian government is calling a historic referendum," Said added.
In addition, the Kremlin is persecuting journalists who are independently investigating the coronavirus pandemic, and in so doing is limiting the public's access to objective information about the virus, said Said, though she cited no cases.
Measures taken by the Kremlin include "arrests, new court cases against journalists and mass media, intimidation, blocking of websites and so forth", noted Said.
"Bureaucrats in Russia are, for all intents and purposes, endangering lives," she added.
Bloody history
A number of journalists who ran afoul of the Kremlin have ended up dead.
They include Maksim Borodin, who died in a suspicious fall from his apartment balcony in Yekaterinburg in 2018, and Pavlo Sheremet, whose car exploded in 2016 in Kyiv, Ukraine.
A few reporters in the Kremlin's cross-hairs have been lucky enough to escape.
In 2019, Russian authorities tried to stop Ivan Golunov from reporting on corruption. An international outcry forced them to drop flimsy drug charges against him.
In 2018, Ukrainian authorities staged the sham slaying of Arkady Babchenko to foil a Russian assassination plot.
Safronov's plight alarms journalists in a region where they have been forced to battle for their working freedoms and where ex-Soviet governments are susceptible to influence from the former colonial power.
Putting journalists on trial is meant to frighten them, said Diana Okremova, director of the Legal Media Centre, an NGO in Almaty.
Russian authorities are setting a bad example for their Kazakh counterparts, she added.
"The Russian authorities think they have the powers to control journalistic practice, and unfortunately, this mind-set influences Kazakhstan's reality," she said.
Kremlin misbehaviour could endanger Kazakh progress in protecting freedom of speech.
"The Kazakh government is finally carrying out essential legislative reforms that relate to libel," said Said of the CPJ.
She was referring to Kazakhstan's recently passed libel law, which removes libel from the Criminal Code and substantially reduces penalties for it.
Kazakhstan should continue these reforms now that it has decriminalised slander as well, said Said.