LONDON -- Chinese authorities are forcing Muslim minorities in the Xinjiang region to work in factories that make personal protection equipment (PPE), such as masks, to sell to other countries suffering from the coronavirus outbreak, according to a video report by The New York Times, which cited evidence found in hundreds of videos, photos and government documents.
Before the pandemic, only four companies made such equipment in Xinjiang, the report said. Now, to meet a surge in demand for such equipment as the pandemic continues to spread worldwide, there are 51 with at least 17 using workers from the mostly Muslim group, the July 19 report added.
Chinese authorities, through official statements and propaganda videos, have claimed the Xinjiang PPE labour programme is part of a "worker transfer programme" that "helps local residents rise above poverty through employment and lead fulfilling lives," the report said.
But the reality is much different. The programme is part of an effort by Beijing that over the past few years has sent more than a million Muslims, including ethnic Kazakhs and Kyrgyz, into indoctrination camps and later released back into society.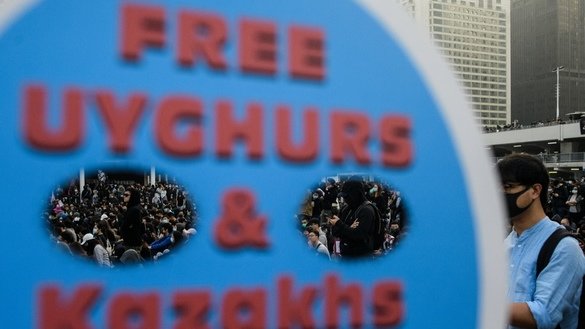 In the video, the Times shows satellite imagery of segregated living quarters for Uighurs at a factory. It adds that Uighur workers must attend weekly indoctrination programmes as well as Mandarin courses at the facilities.
Workers at these factories "are not going by choice", one reporter said, and Beijing is implementing coercive quotas to force them to attend, which is considered a form of forced labour under international law.
'Gross, egregious human rights abuses'
The UK government Sunday (July 19) accused the Chinese regime of "gross, egregious human rights abuses" over its "deeply troubling" treatment of ethnic and religious minorities, which include ethnic Kazakhs and Kyrgyz, in the Xinjiang region of China.
In addition, the US Commerce Department Monday (July 20) announced it has blacklisted 11 Chinese businesses for involvement in human rights violations against the Uighur minority, cutting off those firms' access to American goods.
Reports of forced sterilisations and mass detentions in the predominantly Muslim region require international attention, said British Foreign Secretary Dominic Raab.
"It is clear that there are gross, egregious human rights abuses going on... it is deeply, deeply troubling," he told the BBC.
"The reports and the human aspects of it... are reminiscent of something we have not seen for a long, long time, and this is from a leading member of the international community that wants to be taken seriously," he said.
The United States earlier this month slapped sanctions on senior Chinese officials, as it demanded an end to the "horrific" abuses.
Profiting from shoddy equipment
The exploitation of Uighur workers comes as the Chinese government or Chinese companies attempt to profit from exporting faulty medical equipment during the coronavirus pandemic.
For example, in Afghanistan, substandard PPE imported from China has put many Afghan doctors at risk, officials there have said, while in Pakistan hospitals are shunning PPE made in China after a series of infections and deaths of health workers treating COVID-19 patients.
In Central Asia, countries are trying to develop their own COVID-19 test kits amid news that similar products made in China have proven to be defective.