NUR-SULTAN -- The Kazakh military is adapting the way it operates to ensure the safety of its troops and potential recruits during the ongoing COVID-19 pandemic, while also doing its part to fight the deadly virus.
Since authorities ordered a lockdown in March, no large-scale military exercises have occurred in Kazakhstan.
The Defence Ministry has announced that it will revise combat training to meet the epidemiological situation.
A July 14 meeting of top officials at the ministry addressed combat training for soldiers, the participation of troops in fighting the coronavirus, and the conscription process.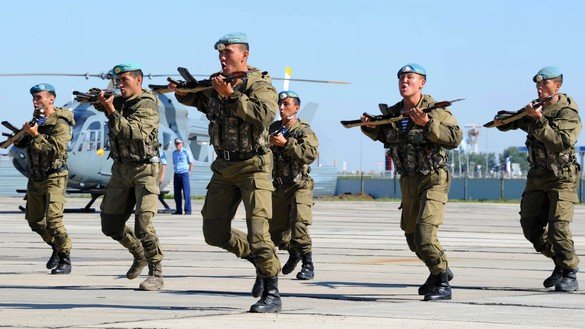 Commanders described exercises underway to Defence Minister Nurlan Yermekbayev.
In July, the air assault forces held tactical and special exercises, during which personnel completed more than 800 parachute jumps.
In the air defence forces, pilots are regularly conducting training flights.
During the meeting, participants decided to fully resume military exercises according to the established plan, but quarantine measures will remain in force.
Yermekbayev ordered commanders to revise the exercises and to set camp-based training next to the military units' bases, so they could train without having to travel to firing ranges.
A planned conscription of young men is taking place in Kazakhstan. To help limit the risk of infection, officials plan to send the draftees to their destinations on specially designated railway cars.
"A significant portion of the military personnel has been shifted to remote working, while still ensuring the units' combat readiness," said the Defence Ministry.
In June, Kazakhstan announced the modernisation of its armed forces and the rollout of an automated command and control system.
Assistance in fighting the coronavirus
Meanwhile, troops are busy helping their compatriots overcome the pandemic.
"Since the very beginning of the pandemic, the armed forces of the Republic of Kazakhstan have been involved in fighting the affliction, helping and supporting their fellow Kazakhs in the battle against this illness and its consequences," the Defence Ministry said on its website.
In April, Kazakhstan began conducting a draft and placing the conscripts in jobs related to the fight against COVID-19.
The armed forces are providing assistance with disinfection and will sanitize areas in Atyrau, Zhambyl, Akmola, Turkistan and Kyzylorda provinces, according to the Defence Ministry.
In addition, military medical personnel are working alongside civilian specialists to treat patients with the coronavirus.
"When every Kazakh faces the threat of falling ill with this insidious virus, the military cannot stand on the sidelines. We're serving while following safety measures, and we're trying to help rescue workers and medics," said Dosbol Aitbayev, a contract soldier from Shymkent.
"All of society is waging a war with the coronavirus pandemic: medics, troops and ordinary citizens. The most important thing is not to succumb to panic and not to give in. Together we need to conquer it," said Mira Akhmetova, a doctor from Turkistan city.
Kazakhstan had 75,153 cases of COVID-19, including 585 deaths, as of Wednesday (July 22), according to the Johns Hopkins COVID-19 database.