TEHRAN -- Iranians are fraught with fear, anger and confusion following President Hassan Rouhani's assertion that more than half the country's population could eventually be infected with the COVID-19 coronavirus.
"Our estimate is that up to now, 25 million Iranians have been infected with this virus," Rouhani told a virus task force meeting on July 18.
Rouhani then suggested Tehran was hoping to overcome the Middle East's worst outbreak via herd immunity, rattling citizens and health officials alike.
Citing the results of a Health Ministry study, Rouhani warned that "30 to 35 million more may face infection" in the future and added that Iran had "not yet achieved herd immunity".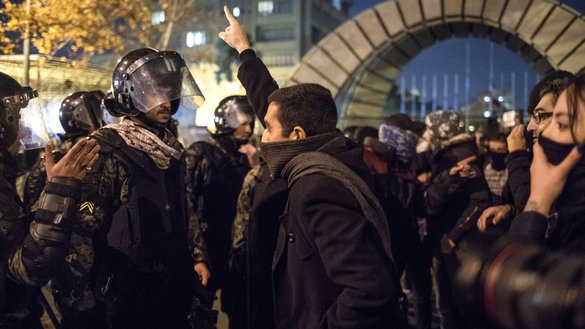 That figure is drastically higher than the country's official tally of more than 291,000 COVID-19 infections and far higher than the approximately 16 million cases recorded worldwide.
Iran reported 235 new deaths from the novel coronavirus on Tuesday (July 28), a record toll for a single day in the country, taking the overall toll to 16,147.
Since Rouhani announced the massively elevated estimates, he has not mentioned them again, nor has he elaborated on his claims.
'A bit scary'
Many on Tehran's streets appeared confused or disturbed by the president's statistics.
"The way Mr. Rouhani put it, this means almost the whole population of Iran" have been or will be infected, said a 50-year-old businessman who gave his name only as Ashrafi.
Iran's population is more than 80 million.
"So, observing health protocols has been for nothing?" Ashrafi said, calling the numbers "frightening".
An art teacher named Rezayi expressed doubt that the numbers were actually so high.
"And even if they are, it's still hard to accept them given how the president has denied his statements before," she said.
She was referring to a comment Rouhani made days after the start of Iran's outbreak in February, when he said "everything will return to normal" within a few days.
Ashkan Daliri, a hairdresser in his 20s, said he considered the numbers real and "a bit scary".
The announcement was meant to make "the people face reality so that they would be scared into observing health protocols more", he said.
Growing distrust
Rouhani's shocking statement and his silence in the wake of it have Iranian officials attempting to offer their own explanations -- even as Iranians' distrust of government institutions continues to grow.
The figure of 25 million was an estimate based on research carried out in March "on about 10,000 people in 13-14 provinces", said Iranian Deputy Health Minister for Research and Technology Reza Malekzadeh.
"It's been proven so far that these people's immunity is stable, meaning that they are like those vaccinated," he told state news agency IRNA on July 20.
The figure came from serology tests, which look for antibodies and detect whether an individual has been exposed to any type of the coronavirus, not just COVID-19, said Alireza Raisi, another deputy health minister, on July 21.
Responding to a suggestion that mentioning such figures and herd immunity may alarm the public, Raisi said in a veiled criticism that "emphasising such numbers is a strategic mistake".
Rouhani's latest comments come amid a flood of disinformation about the pandemic from multiple sources.
Tehran, Moscow and Beijing have suppressed details of the coronavirus outbreak internally, censoring coverage of major outbreaks, while spreading fake news and criticising Western governments' response to the pandemic, activists say.
All three of these governments are actively promoting alternative narratives about the origins of the COVID-19 outbreak.
During the height of the coronavirus crisis, Iran's Islamic Revolutionary Guard Corps (IRGC) made several dubious claims about the production of masks, test kits and cures for coronavirus -- none of which has proven effective.
In April, the IRGC unveiled a COVID-19 coronavirus detection device, describing it "amazing" and a "novel and singular scientific advancement" -- evoking widespread ridicule from Iranian officials and social media users alike.
Public unrest
Protests in various parts of Iran in recent weeks highlight citizens' growing anger at the regime's mismanagement of the pandemic amid the spiralling economic situation.
The regime is exacerbating Iranians' economic hardships by choosing to support proxy wars around the region -- particularly in Syria, Iraq and Yemen -- instead of investing in its own country, protesters say.
The COVID-19 coronavirus epidemic has contributed to the economic woes with a temporary shutdown of the economy and has reduced exports, leading to a sharp devaluation of the rial and rising inflation.
On July 16, police attempted to break up one such protest in Behbahan, Khuzestan Province, where protestors were shouting anti-regime slogans, much like they were in January across the country, chanting "Death to the dictator" -- a reference to Supreme Leader Ali Khamenei.
The recent protests come days after Iran upheld death sentences for three men linked to deadly protests last November sparked by a hike in petrol prices.
On July 19, the regime buckled to public pressure and temporarily stayed the executions.