ALMATY -- Human-rights abuses such as human trafficking and domestic violence are surging in Central Asia as governments are forced to divert resources to fight the COVID-19 pandemic.
Lockdowns, travel restrictions, work limitations and cuts in resources are having a negative and often dangerous impact on the lives of vulnerable inhabitants of the region, the United Nations Office on Drugs and Crime (UNODC) concluded in a recent study.
"With COVID-19 restricting movement, diverting law enforcement resources, and reducing social and public services, human-trafficking victims have even less chance of escape and finding help," UNODC Executive Director Ghada Waly said in a statement on the UN website.
"As we work together to overcome the global pandemic, countries need to keep shelters and hotlines open, safeguard access to justice and prevent more vulnerable people from falling into the hands of organised crime," Waly added.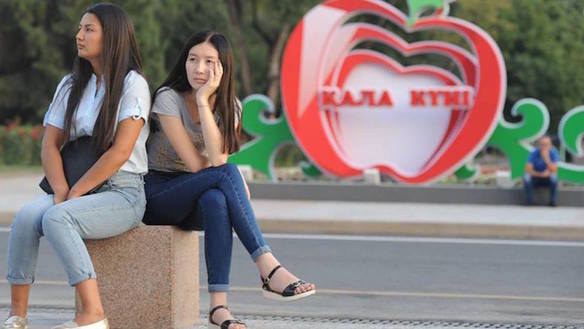 Terrorist organisations such as the "Islamic State" (IS) have in the past used human trafficking to help finance their causes and as a tool in recruitment.
For example, to attract new fighters, IS kidnapped Yazidi women and girls in Iraq to be used as sex slaves for men who joined the militant group.
Regional efforts to combat abuses
Central Asia is a hot spot for human trafficking, with many Central Asians being illegally transported to countries in the Middle East and East Asia, according to a 2018 UN report.
Before the pandemic, Central Asian countries had been stepping up efforts to combat the problem.
In Kazakhstan, authorities and non-governmental organisations (NGOs) have been fighting human trafficking with US assistance. In 2019, the US State Department provided a $750,000 (303.9 million KZT) grant to the Kazakh NGO Sana Sezim to combat human trafficking in Kazakhstan.
The initiative, which created a network of organisations for assisting human trafficking victims, was scheduled to run for three years.
Police in Kazakhstan regularly conduct operations such as Operation STOP Trafficking.
The latest raid, which took place June 12-19 at entertainment facilities, saunas, hotels, sublet apartments, farms and construction sites, uncovered 50 cases of human trafficking.
Initiatives in which several Central Asian countries participate simultaneously are particularly effective, according to Shymkent-based political analyst Rauan Dautaliyev.
Co-ordinated special operations carried out last year simultaneously by police in Kazakhstan, Uzbekistan and Tajikistan demonstrated the value of such co-operation, he noted in June.
"Trafficking in people who have been enslaved often crosses from one country to another, so such international operations can be very effective," said Dautaliyev.
Domestic violence on the rise
In addition to human trafficking, other abuses are increasing amid the coronavirus pandemic, warn rights activists in Central Asia.
Radio Free Europe/Radio Liberty (RFE/RL) published a podcast in July in which host Muhammad Tahir discussed the issue of domestic violence with analysts from Central Asian countries.
Because of the outbreak and related quarantines, Kyrgyz have been forced to stay at home, resulting in a 65% jump in domestic violence incidents in Kyrgyzstan, said one of the participants, Aliya Suranova, a Bishkek journalist who specialises in women's rights.
In one shocking example, she described how in Karakol, Issyk-Kul Province, a man doused his wife with gasoline and burned her.
"Unfortunately, in Kyrgyz society, violent heads of families have their supporters, who claim that this is in the order of things," Suranova said.
The two-month quarantine in Kazakhstan (March-May) contributed to the increase in cases of domestic violence by 25% compared with the same period last year, said Azhigulova, a resident of Almaty.
"We also saw an increase of 44% in mortality due to domestic violence. At the same time, all the crisis centres were closed and victims of domestic violence had nowhere to turn," said Azhigulova.
Many cases of extreme brutality occur, she said.
Calls for tougher punishments
In western Kazakhstan a man killed his wife and two daughters, six and eight years old, in a fit of anger, said Azhigulova. To hide the evidence of the crime, he burned down his house.
The increase in violence is spurring more discussions about toughening the punishment for domestic violence in Kazakhstan, Azhigulova said.
Another participant in the podcast, Dilfuza Kurolova, a human-rights lawyer and curator of the Tashkent hub of the Global Shapers Community, spoke about an 18-year-old girl in Uzbekistan, who was a second, unofficial wife to her "husband" and endured his regular beatings as she could not find support from society or even from her relatives.
In the end, during another beating, she sustained fatal injuries.
"In our country, the specialists who deal with domestic violence discourage wives from divorcing their husbands, reasoning that they may encounter 'divorce problems', such as shame and financial hardship," says Kurolova. "They consider it their duty to save the family and not to help women in difficult situations."
The excuses often made by men who commit domestic violence are unacceptable, according to Suranova.
"Explaining the reasons for their crime, arrested men say, for example, that the wife spent too much time with her relatives, or they were annoyed by how their wives perform their household duties," she said.
Law enforcement agencies often ignore domestic violence, worsening the situation, Suranova said.
"Most law enforcement officers, being men, show solidarity with the criminals," the journalist said.
But more often, women do not seek help anywhere and hide their problem, fearing shame, because society often condemns, rather than supports, the victims of domestic violence, Suranova claims.
"Thus, women are often forced to forgive their husbands and go on existing," she said.