BEIRUT -- Shock has turned to anger in Lebanon since a colossal explosion earlier this week killed at least 153 people, injured more than 4,000 and devastated swathes of Beirut, leaving 300,000 people homeless.
The revelation that a huge shipment of hazardous ammonium nitrate fertiliser had languished for years in a warehouse in the heart of the capital served as shocking proof to many Lebanese of the rot at the core of their political system.
But blame for the catastrophe goes far beyond local politics and involves a leaky, Russian-leased cargo ship that made an unscheduled stop in Beirut in 2013.
"The ship was trailed by debts, crewed by disgruntled sailors and dogged by a small hole in its hull that meant water had to be constantly pumped out," The New York Times reported Wednedsday (August 5).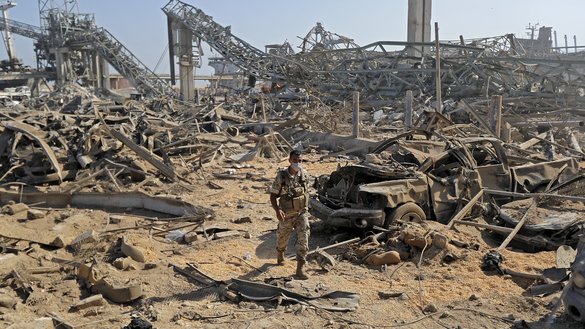 Bound for Mozambique, the ship left Batumi, Georgia, in 2013, carrying 2,750 tonnes of ammonium nitrate, a combustible material used to make fertilisers and bombs.
Because of financial and diplomatic disputes, the Rhosus was abandoned by the Russian businessman Igor Grechushkin, who had leased it. Workers transferred its cargo to a dockside warehouse in Beirut.
What ignited the massive amount of fertiliser is still unclear -- officials have said work had recently begun on repairs to the warehouse, while fireworks were stored nearby.
Cypriot police interrogate Russian
Cypriot police Thursday (August 6) said they had questioned Grechushkin over alleged links to the ship and its cargo.
"Lebanese authorities asked us to locate the individual and ask him some questions, which we did," a Cypriot police spokesman told AFP. "His response has been sent back to Lebanon."
Grechushkin was not arrested, said the spokesman. Police asked him specific questions relating to the ship's cargo as requested via Interpol Lebanon.
Lebanese authorities announced their own inquiry into the explosion. A military prosecutor August 6 said 16 people had been detained.
The measures did not dampen the anger in Beirut's streets, where dozens of demonstrators scuffled with security forces late August 6, drawing a volley of tear gas.