BISHKEK -- Grim statistics on the prevalence of the novel coronavirus are making themselves felt in Kyrgyzstan's battered tourism industry.
Kyrgyzstan has 40,455 cases of COVID-19, including 1,478 deaths, as of Tuesday (August 11), according to the Johns Hopkins University worldwide case tracker.
A lack of tests and their poor quality, many of which are from China, are two reasons why coronavirus is increasingly not being diagnosed or counted as a cause of death
"We hope that there will be no second wave, but we must prepare for it to the maximum ... the government is now taking all possible measures," Tolon Isakov, acting deputy director of the Kyrgyz Department of Disease Prevention and of State Sanitary and Epidemiological Oversight, told 24.kg Monday (August 10).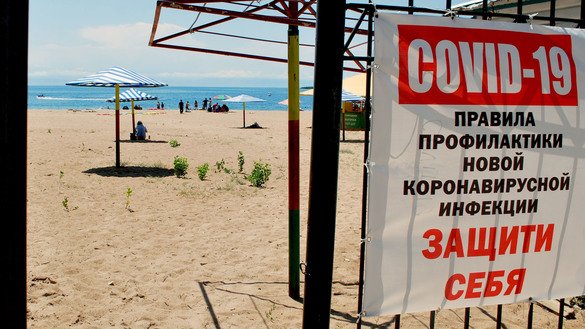 Last year, tourism accounted for 5% of gross domestic product, and economists expected this share to reach 7% by 2023.
The pandemic has overturned these projections.
"The revenue for the country's travel industry could drop by 70% to 80%," Kyyal Kenjematova, the deputy director of the Kyrgyz Tourism Department, told Radio Free Europe/Radio Liberty's Kyrgyz service in March.
The COVID-19 virus has decimated the income of many travel agencies.
Islam Azimov, manager of the travel agency Kyrgyz Travel in Bishkek, decided he will either sell or rent out his company's office after putting "many employees on forced, unpaid leave".
Worsening the situation is a shortage of hospitals, medicine and medical personnel, and a continuing campaign of disinformation from foreign powers trying to cause confusion and panic in Central Asia.