KABUL -- Nine months after announcing its defeat in Afghanistan, the "Islamic State" Khorasan branch (IS-K) has remained largely silent.
But as the Taliban and Afghan government take steps toward intra-Afghan peace talks, pockets of IS fighters are attempting to destabilise the tenuous political situation.
IS-K marked the beginning and end of Eid ul Adha with bloodshed, even as the Taliban and the Afghan government agreed to a three-day ceasefire during the holiday.
IS-K claimed responsibility for the bombing of a bus July 29 in a Shia-dominated area in Herat city that killed four civilians and injured three others, according to local officials.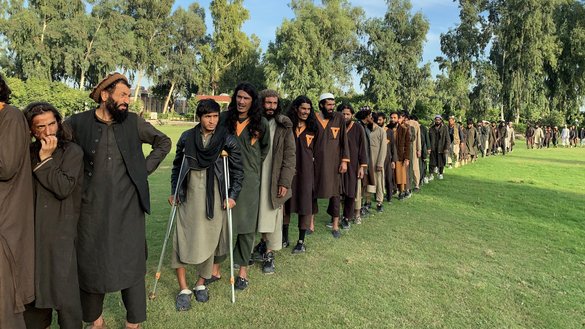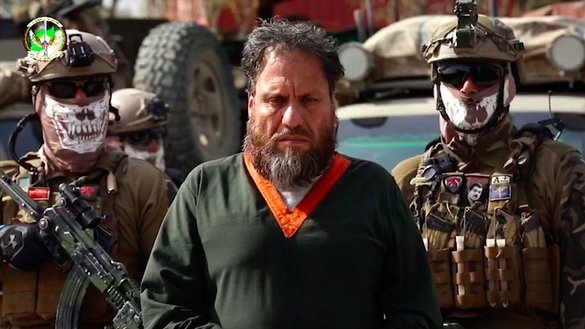 Two days later, at least 14 civilians were wounded after a bomb exploded in a crowded market in Herat city ahead of Eid ul Adha. No group claimed responsibility, but all signs point to IS-K, and other militant groups including the Taliban denied involvement.
On the final day of Eid, IS-K launched a raid on a prison in Jalalabad that held about 1,700 IS-K and Taliban inmates.
The fighting ended mid-afternoon Monday (August 3) and left at least 29 people dead and 48 others injured.
IS-K struggling to survive
Even though it is trying to draw attention with those terrorist acts, IS-K is struggling to survive as it continues to lose disaffected members, funding sources and the ability to recruit new fighters.
Between September and November 2019, the Afghan National Defence and Security Forces (ANDSF) dealt IS-K a series of territorial setbacks and "existentially threatening blows" and have since managed to prevent the return of fighters and curtailed the group's revenue sources, United Nations (UN) monitors reported May 27.
IS-K issued a statement on November 17 admitting the group's defeat in Nangarhar and said its members had had nothing to eat for weeks.
"From September to November 2019, the number of IS-K operatives in Nangarhar was reduced from 1,750 armed fighters and a leadership council of 22 senior members spread over seven districts, to fewer than 200 fighters who were under siege in the Takhto area of Achin District," the report said.
"By the end of February 2020, a total of 1,442 IS-K members (mainly families) had surrendered following the collapse of the group in Nangarhar Province," it added.
Former IS-K fighters who surrendered told authorities that "many recruits had been coerced, either through the use of force or the threat of violence, to join" while others said they were "lured by wages initially offered by the group that never materialised".
The group's "propaganda tactics of advertising high salaries for their fighters had been 'nothing more than a false narrative to attract recruits and support'," local interlocutors told UN monitors.
This "lie" could be told only once, they said, adding that IS-K relied more and more on conscription and persecution of those who refused to join the group.
"IS-K has no permanent organised presence in the north of Afghanistan," the report found, although "small groups of foreign fighters believed to be members of IS-K [are] operating in Taliban-controlled areas," mostly in Kunar Province.
Split from IS core
Confusion over the leadership of IS in Afghanistan -- and the group's fragile connection to the IS core -- contributes to the group's continuing loss of power.
In April 2019, IS-K leader Mawlawi Zia-ul-Haq, also known as Abu Omar al-Khorasani, was dismissed and replaced by Mawlawi Abdullah Orakzai, also known as Mawlawi Aslam Farooqi.
The IS core nominated Farooqi directly, underscoring the relationship between the core in Iraq and Syria and the offshoot in Afghanistan.
Now, however, from remote and heavily forested areas of Kunar, IS-K "maintains limited communications with IS core via satellite links", the report said.
While there has been a limited movement of foreign fighters from the main conflict zone in Iraq and Syria, IS-K has established contact with new IS leader Amir Mohammed Abdul Rahman al-Mawli al-Salbi, despite IS's core playing a far lesser role in IS-K internal decision-making, the report said.
Al-Salbi uses the nom de guerre Abu Ibrahim al-Hashimi al-Quraishi.
This past March, IS-K suffered a further blow when ANDSF captured Farooqi, along with senior IS-K military commanders Qari Zahid and Saifullah, and 19 others in Kandahar.
More recently, the Afghan National Directorate of Security (NDS) on August 1 announced the killing of IS-K intelligence chief Assadullah Orakzai near Jalalabad.
Following the group's setbacks in Nangarhar and the subsequent capture of Farooqi in Kandahar, it remains unclear who holds the reins of IS-K.
Prior to Farooqi's capture, he was reportedly in competition with IS-K deputy Sheikh Matiullah Kamahwal to become emir, although there were other candidates as well, including Abu Saeed Mohammad al-Khorasani and Sheikh Abdul Tahir, according to the UN report.
"Sources have suggested that the nomination would be decided internally by IS-K following the death of Abu Bakr al-Baghdadi without the involvement of IS core," the report said.
Change in operations
Operations against IS-K in Nangarhar and Kunar carried out by the ANDSF and coalition forces have weakened the group's ability to conduct high-profile, complex attacks, monitors say.
Debate continues as to how many attacks that IS-K claimed were genuinely carried out by the group.
"Most attacks claimed by IS-K demonstrated some degree of 'involvement, facilitation, or the provision of technical assistance' by the Haqqani Network," the UN report said.
Furthermore, IS-K has taken "responsibility for operations that had, in all likelihood, been carried out by the Haqqani Network", it said.
The Haqqani Network, a notorious Taliban affiliate, is one of the most dangerous factions fighting Afghan and US-led NATO forces in Afghanistan.
Afghan special operations forces on May 5 busted a major terrorist network led by IS-K and the Haqqani Network after storming two hideouts of the joint network -- one in Kabul and one outside the capital, the NDS said.
The peace deal between the Taliban and US negotiators and the impending intra-Afghan peace talks have angered some factions of the Taliban and the Haqqani Network, pushing some members to carry out destructive attacks on behalf of IS-K, according to Afghan security officials.
"Our intelligence suggests that relationships between the Taliban and foreign terrorist groups have become stronger than in the past," Lt. Gen. Ahmad Zia Saraj said at a news conference on May 18 in Kabul.
"Those whom we have recently arrested and the documents we have collected show that organisers for the recent events had ties to the Haqqani Network as well as Daesh," Saraj said, using the Arabic name for IS.