NUR-SULTAN -- Kazakh authorities arrested two accused members of an extremist movement on August 7 in Zhanaozen, according to the National Security Committee (KNB).
"During searches, material evidence was found and seized, including two assault rifles, three pistols, a silencer and ammunition," the KNB said in a statement on August 10.
A pre-trial investigation is under way in the case regarding the illegal manufacturing and sale of firearms and the defendants' potential involvement in extremist crimes, it added.
Kazakh law enforcement personnel have been launching operations to seize illegal weapons in the country as part of efforts to keep arms out of the hands of criminals and extremists.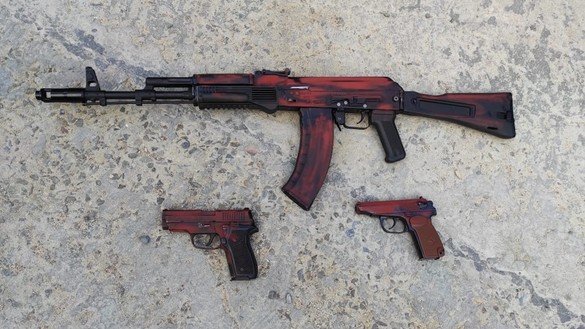 In July, police in Kazakhstan conducted an annual operation to buy illegal weapons from the population.
A month earlier, the KNB detained five suspected members of a crime ring consisting of extremists in Atyrau Province.
That was preceded by Operation Karu (Weapons) in May, which also was aimed at seizing weapons from criminal groups.
The KNB broke up two organised criminal outfits in Almaty Province that month, seizing 11 firearms and ammunition.
An ongoing effort
Security personnel must remain vigilant against extremist elements in the country, said Yernar Beisaliyev of Nur-Sultan, a political scientist.
"Law enforcement agencies are constantly working to identify extremist sleeper cells. Nobody harbours illusions that there is no threat of terrorism," he said.
The disclosed successes of security agencies and of the police are only "the tip of the iceberg", he said.
"I don't think everything can be shown and told," he added. "Undercover work and the infiltration of destructive ... groups are under way."
"This is an unceasing struggle that is bearing fruit -- there have been no terrorist attacks in Kazakhstan recently," Beisaliyev said.
Crime rings and terrorist groups co-operate with each other, and extremists have no aversion to income earned from selling drugs, conducting kidnappings for ransom or reselling stolen goods, he said.
In addition, extremist groups are taking advantage of the coronavirus outbreak to target the vulnerable for their causes.
"Amid today's pandemic, online recruitment is becoming an even more acute problem," he said. "People are experiencing financial difficulties. They are bearing the hardship of social isolation. They are spending more time on social networks."
"All this can be used by evil forces to carry out their propaganda and recruitment," Beisaliyev said.