ALMATY -- Beijing is actively taking advantage of Central Asia's struggles to deal with the coronavirus fallout to advance its geopolitical and economic goals, say observers.
Central Asian countries continue to grapple with the coronavirus pandemic, which has taken an incalculable political, economic, social and health toll, as well as a pneumonia epidemic and an major economic decline due to plummeting hydrocarbon prices and remittances sent home by migrant workers.
The GDP of the Central Asian countries could fall by as much as 5.4% by the end of the year, according to the World Bank.
Meanwhile, China's economy appears to have recovered significantly from the pandemic, and a number of signs -- including recent pictures of Chinese partying in Wuhan, the birthplace of COVID-19, without masks or worries of social distancing -- suggest Beijing is already moving on from the crisis.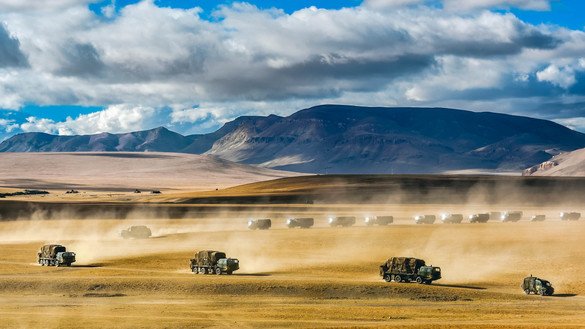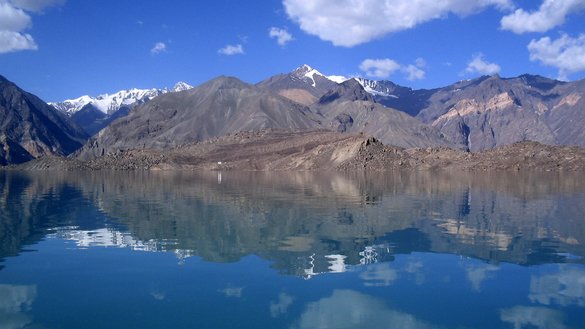 This imbalance has created a situation in which an empowered China is able to exploit countries in Central Asia that have been made more vulnerable by the pandemic, and observers say Beijing is doing just that.
"[China's] quicker economic recovery has positioned it to resume purchases of the numerous commodities, including oil from Kazakhstan, on which the Central Asian economies depend," wrote Philip Caruso, a fellow at the Carnegie Council for Ethics in International Affairs, in Foreign Policy on August 3. "And true to form, it has negotiated potentially billions of dollars in loans to Kyrgyzstan and Uzbekistan, including through the China-led Asian Infrastructure Investment Bank."
"Beijing is still intent on seeing China rise to the top in global affairs and it sees the current disorder from the virus as a way to achieve that goal," Nadege Rolland, a senior fellow at the National Bureau of Asian Research and a former adviser on Chinese strategic issues to the French Defense Ministry, told RFE/RL.
'Economic games'
Although Beijing has promised support, it is actually reassessing its current and future ventures as Chinese infrastructure and other economic projects in Central Asia have not proven to be sound enough in the last few months, according to Bishkek-based economist Elmira Suranchiyeva.
In June, the Chinese government examined the status of projects being carried out in the region as part of the Belt and Road Initiative and found that about half of them had taken a hit from the pandemic, she said.
"These Chinese projects, funded by China itself, drove the Central Asian countries even deeper into Beijing's debt bondage," Suranchiyeva said. "The pandemic halted the projects, but no one cancelled the debt to China."
Meanwhile, the Chinese regime is not rushing to provide economic support to its neighbours, which need to increase their exports.
In fact, in trying to develop the Chinese market, Central Asian manufacturers often run up against Beijing's protectionist policies.
The numerous tariffs and inspections at Chinese customs and the subsequent price hikes make Kazakh flour much less competitive in China, said Dos-Mukasen Taukebayev, director of Mutlu, a large flour mill in Karaganda.
"As a result, their local flour is much cheaper than ours," Taukebayev said. "China has made it very hard to conquer its market."
Beijing is interested in Central Asia more as a source of raw materials than as a valuable partner, said Aidos Sarym, an Almaty-based political analyst.
The region's countries need to be wary of China and not fall for "economic games", he said.
Taking advantage
Amid the worsening situation, the foreign ministers of China and the five Central Asian countries met on July 16 in a video-conference to discuss economic plans and co-operation in fighting the pandemic.
In his statement at the conference, Chinese Foreign Minister Wang Yi primarily expressed the standard diplomatic rhetoric on "Central Asia's important strategic position in today's international arena" and "great changes unlike anything seen in 100 years".
He stressed the value of co-operating on trade and security and praised successes in solving "border issues and transforming the shared border into a symbol of friendship and co-operation".
However, shortly after the online conference, Chinese media published an article with the provocative headline, "Tajikistan Initiated a Land Transfer to China, and the Lost Pamir Mountains Were Returned to Their Rightful Owner".
The article described the 2011 cession of 1,158 sq. km of Tajik territory to China, which outraged many Tajiks at the time.
The Pamir Mountains in Tajikistan belong to China, asserted the author, a Chinese journalist and historian named Qu Yao Lu, relying only on Chinese sources.
The article angered the Tajik government, and "Dushanbe appealed to Beijing not to allow the publication of provocative stories about the Tajik-Chinese border," Asia-Plus reported on July 24.
"China has already taken our Upper Kumarg gold mine to settle a debt. They say they want to help, but obviously, a bill will come after their 'help,'" said Abdurakhmon Khasanov, a Dushanbe resident who works at Avitsena, a construction company.
In 2018, China received a licence to operate that mine in exchange for building a power plant in Dushanbe, as media reported.
"Beijing is simply using Central Asia," he added.
Growing concerns
While the Central Asian governments are co-operating with Beijing out of economic considerations, the region is showing widespread concern about Chinese expansion.
This attitude is sparking anti-China protests and conflicts among local residents and Chinese workers at companies launched by Beijing.
In the summer of 2019, a brawl broke out at the Solton-Sary gold mine in Naryn Province, Kyrgyzstan, between workers at the Chinese company Zhong Ji Mining and local residents, leading to dozens of injuries.
The local residents accused the mining company of violating environmental standards and of causing mass livestock deaths through pollution.
One month later, a wave of anti-China protests united under the slogan "No to Chinese expansion" swept through several cities in Kazakhstan.
Activists demanded the cancellation of President Kassym-Jomart Tokayev's upcoming visit to Beijing and the shutdown of Chinese industrial and agricultural projects.
China was also caught in July circulating disinformation in Central Asia on the coronavirus outbreak, exploiting the escalating pandemic to stir panic and confusion in the region.
Other concerns about China's exploitation of the COVID-19 crisis centre around Beijing's military expansion in the region.