ALMATY -- While residents of Central Asia are expressing solidarity with protesters in Belarus over the results of the nation's widely disputed presidential election, observers see the shadow of the Kremlin behind the attempts by the government to quash the demonstrations.
Hundreds of thousands of demonstrators continue to fill the streets in Belarus despite the threat of violence, with numerous countries around the world rejecting the results of the August 9 election, saying President Alexander Lukashenka's victory was neither free nor fair.
Lukashenka won 80% of the vote, with main opposition candidate Svetlana Tikhanovskaya (Svyatlana Tsikhanouskaya) taking 10%, said the nation's Central Election Commission.
Tikhanovskaya fled to Lithuania after the election for fear of her life.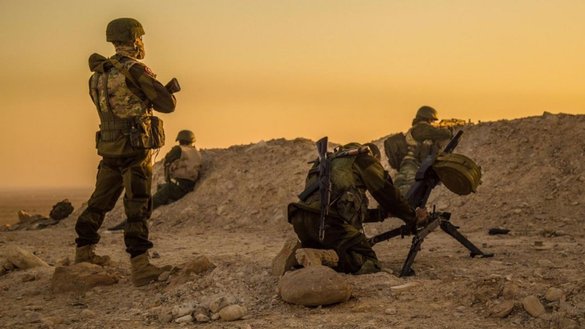 The European Union (EU) has been working on a new round of sanctions against Belarus, targeting those involved in allegedly fixing the August 9 vote and in repressing protests, according to AFP.
"The people of Belarus deserve better. They deserve the democratic right to choose their leaders and shape the future," said EU Council President Charles Michel.
Shadow of the Kremlin
After the protests began, Lukashenka and Russian President Vladimir Putin have repeatedly talked by telephone, with the Belarusian strongman claiming that the Russian leader had offered full assistance to ensure security.
Moscow has said it is ready to step in if necessary in Belarus through the Collective Security Treaty Organisation (CSTO) military alliance, which is comprised of six ex-Soviet states.
The protest movement has come at an awkward time for the Kremlin with Putin's own popularity sharply eroded, as he faces a resolute and growing level of dissatisfaction among his once loyal political base.
Mass protests and arrests have been commonplace in Moscow and other parts of the country, with unprecedented protests occurring now in eastern Russia.
"Obviously, a popular revolution in Belarus is not something Vladimir Putin would like to see having a spill-off effect in Russia," Katia Glod, non-resident fellow at the Centre for European Policy Analysis (CEPA), told AFP.
Many observers see the alleged poisoning of leading Russian opposition figure Alexei Navalny, who might be on his deathbed as of Friday (August 21), as a preemptive Kremlin attack. Navalny, who has millions of supporters in Russia, openly supported the people of Belarus against Lukashenka.
Belarus occupies a central place in Russian strategic thinking, perhaps more so than any other neighbour except Ukraine. It is key to what Moscow considers its "strategic depth".
Moscow also has great interest in Belarus because the Russian regime supplies almost all of its oil and gas.
"Dictators are dangerous not only because of the harm they inflict ... but also because of the chaos that erupts when they exit the stage. A dictator trembling from fear and hate is capable of anything," said Yuliy Yusupov, director of the Centre for Economic Development in Tashkent.
'Unjustified and brutal violence'
As Belarusians took to the streets, various media reported excessive and unjustified use of force by the OMON (riot police) against demonstrators, including the torture of some detainees.
So far, those efforts have not succeeded in quelling the protest movement, and the demonstrators' courage and determination have garnered the admiration of Central Asians.
In the past Lukashenka quashed dissent by resorting to harsh methods, said Sergey Duvanov, a human rights activist with the Kazakhstan International Bureau for Human Rights and Rule of Law.
That will not work this time, he said.
"The unjustified and brutal violence by security personnel didn't scare the Belarusians. On the contrary, it angered and provoked them," he said.
The powerful wave of protest could lead to the downfall of the regime in Belarus, he said.
While leaders of Central Asian nations have yet to give official positions on the elections, many citizens have expressed their desire to see Belarusians attain justice and meaningful democratic changes.
Assem Zhapisheva, a journalist based in Almaty, Kazakhstan, who is known for her criticism of the Kazakh government, took to Facebook to voice her admiration for the Belarusian people.
"My kinfolk, may you be successful! You're the best!" she wrote.
Yuliya Rutskaya, a popular singer who lives in Bishkek and a native of Belarus, sharply condemned the violence against the protesters.
"The Belarusians have been conducting peaceful, civilised protests. They haven't set cars on fire or smashed up businesses," Rutskaya said. "They deserved honest elections and peaceful expression of their views; they didn't deserve this horrible torture carried out by the authorities."
"You must not confuse stability with the banal unwillingness of a given individual to give up power," Timur Toktonaliev, a Bishkek editor for the Institute for War and Peace Reporting, wrote on Facebook.
"Society always needs to watch over the government and to continually change it, and not allow anyone broad powers and to entrench himself [or herself]," he wrote.
Russian mercenaries
If Putin decides to use force in Belarus, he has several tactical options including a re-run of the scenario where Russian forces annexed Crimea from Ukraine in 2014 and backed separatists in the east of the country.
Even before the Belarusian election occurred, dozens of members of the Wagner Group, a private mercenary group that carries out Putin's agenda worldwide under a cover of plausible deniability, were arrested in Belarus.
Police arrested them in connection with charges of plotting to destabilise the country ahead of the presidential election, but their real intentions in Belarus remain unknown.
Belarus subsequently released the 33 of the suspects after the election.
The Wagner Group has been or is active in a number of other countries around the world, including Syria, Sudan, Venezuela and Madagascar.
"It's total mayhem," said Nurlan Kojakhmetov, owner of Khozyayushka, a store in Nur-Sultan, Kazakhstan, that sells household goods, of the byplay between Putin and Lukashenka after the election. "It's clear what's happening. One dictator is helping another protect his regime."
Russian military personnel may seek to provoke other countries where Moscow's interests are concentrated, said Kojakhmetov.
"Kazakhstan is also in the risk group since it's in the Kremlin's area of interest, and God forbid that Russian fighters show up on our land," Kojakhmetov said.