ALMATY -- A sense of unease has set in over Central Asia after Russian President Vladimir Putin vowed to intervene in Belarus, and many in the region are beginning to question the objectives, risks and benefits of the Collective Security Treaty Organisation (CSTO) military bloc.
Putin Thursday (August 27) promised to send in a Russian security force if the post-vote situation in Belarus deteriorated further.
Demonstrators have flooded the streets of the former Soviet country daily, demanding the resignation of authoritarian leader Alexander Lukashenka since he claimed a sixth term in disputed elections on August 9.
In a violent crackdown, Lukashenka dispatched his security services to disperse protesters, prompting accusations of torture and police violence.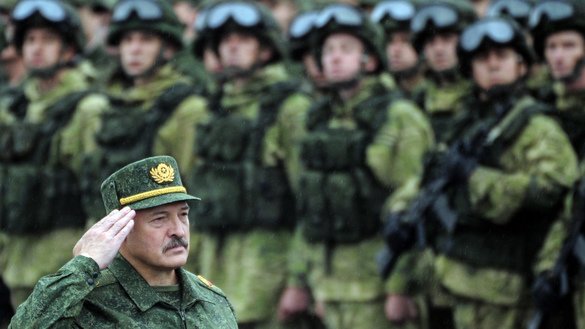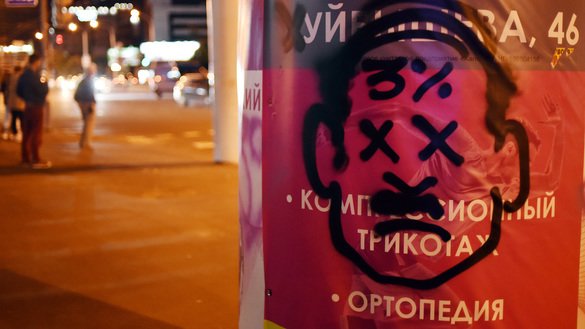 "It won't be used unless the situation starts to get out of control," Putin said of the reserve force, unless "extremist elements ... begin setting fire to cars, houses and banks, begin seizing administrative buildings".
Putin's sabre-rattling aroused immediate criticism from countries around the world.
NATO chief Jens Stoltenberg, for example, on Thursday called on the Kremlin not to meddle in the crisis engulfing Belarus.
"Belarus is a sovereign and independent state. And nobody, including Russia, should interfere there," Stoltenberg was quoted as telling Germany's Bild daily.
Kremlin interests
Such statements by Putin were undoubtedly reassuring to Lukashenka, who almost two weeks earlier cited Russian willingness to prop him up.
The Kremlin "will provide comprehensive assistance to ensure the security" of Belarus, said Lukashenka August 15, according to Belta, a Minsk news site.
"Therefore, today I had a long, detailed conversation with Russia's president about the situation. I must say, I was even somewhat surprised -- he is absolutely engrossed in what is happening," Lukashenka said.
The protest movement in Belarus has come at an awkward time for the Kremlin with Putin's own popularity sharply eroded as he faces a resolute and growing level of dissatisfaction among his once loyal political base.
Mass protests and arrests have been commonplace in Moscow and other parts of the country, with unprecedented protests occurring now in eastern Russia.
Many observers see Putin and his regime in a panic as they fear the protests spreading further in Russia.
The attempted assassination of Russian opposition leader Alexei Navalny earlier this month is another sign of how seriously the Kremlin is taking the Belarus crisis.
Moscow also has major military interests in Belarus with the presence of two strategically vital Russian military facilities.
"The first site is a tracking station that can detect, at a distance of 5,000km, any missiles flying toward Russia," Moscow journalist Maksim Shevchenko said in an interview with radio station Ekho Moskvy.
"The second is the naval base situated near Minsk, which enables communication with all Russian nuclear submarines," Shevchenko said, referring to the Russian navy's 43rd Communications Centre.
The Kremlin will do whatever it can to prevent having another state hostile to Russia, similar to Ukraine, emerge in Belarus, said Shevchenko.
Questioning the CSTO alliance
The spectre of the CSTO crushing Belarusian demonstrations has raised many questions among analysts in Central Asia.
The CSTO military alliance is comprised of six ex-Soviet states -- Russia, Kazakhstan, Kyrgyzstan, Tajikistan, Belarus and Armenia.
The main principles of the alliance are that signatories may not join other military alliances, while aggression against one signatory would be perceived as aggression against all.
"As for the military component, we have an agreement with the Russian Federation as part of the Union State and of the CSTO. These are precisely the issues that fit this agreement," Lukashenka said in his August 15 remarks quoted by Belta, referring to the deployment of foreign troops to Belarus.
The Kremlin regularly uses the CSTO to implement its strategic goals, according to Michael Andersen, a Danish journalist living in Kyiv who has covered events in post-Soviet countries for 20 years.
In particular, he suspects that the Kremlin is installing anti-missile systems in Central Asian countries for its own political reasons and not to "ensure the military security of CSTO countries", as Moscow claims.
The CSTO artificially "creates" threats to the security of its member states and, in events like those in Belarus, tries to find supposedly guilty parties, usually Western countries, said Orozbek Moldaliyev, a Bishkek-based political scientist and former director of Kyrgyzstan's State Commission on Religious Affairs.
Decisions to provide CSTO military support to a member country come only if doing so benefits the Russian regime, he said, citing Moscow's actions amid the Kyrgyz Revolution of 2010.
"During the bloody events in Osh in 2010, our authorities asked Moscow for support -- one helicopter to observe the situation from the air and a couple of armoured personnel carriers to break through the barricades on the streets of Osh. But then-Russian President Dmitry Medvedev refused to help the Kyrgyz authorities," Moldaliyev said.
Kyrgyzstan, despite its membership in the CSTO, was forced to rely on its own forces alone, he said.
It is very doubtful that Kyrgyz soldiers will go to Belarus to support Lukashenka, he added.
"Everyone knows that Lukashenka rigged the elections. Batka [Lukashenka] made his bed; now let him lie in it," Moldaliyev said.
Other analysts are urging their countries to avoid meddling in Belarus.
Kazakhstan must not interfere in the affairs of Belarus, where the people are striving for freedom and opposing an authoritarian usurper of power, said Gaziz Abishev of Nur-Sultan, a political scientist and former adviser to the Kazakh vice minister for investment and development.
Central Asian countries' participation in the CSTO could spoil relations with friendly states, according to Almaty-based political scientist Islam Kurayev.
After military exercises by Turkey and Azerbaijan near Armenia's borders, the CSTO began conducting its own exercises in Astrakhan Province, Russia, near Azerbaijan's border, he said on his Facebook page.
"The exercises look like Russia flexing its muscles in front of Turkey and Azerbaijan, and we [Kazakh, Kyrgyz and Tajik troops], in turn, will confront our brothers," Kurayev said.
"This act will be very wrong. It is best to refrain from participating in such activities," he wrote.