BERLIN -- World leaders are demanding explanations from Moscow after Germany confirmed that Kremlin critic Alexei Navalny was poisoned with a Novichok nerve agent, a poison used only by Russian state security agencies.
The 44-year-old in August became the latest in a long line of Russian defectors and critics of President Vladimir Putin to be poisoned in suspicious circumstances, and is now in hospital in Berlin.
Medical tests from German military's chemical weapons laboratory Wednesday (September 2) yielded "unequivocal evidence" that Navalny had been afflicted by military-grade Novichok.
The Soviet Union developed the poison towards the end of the Cold War.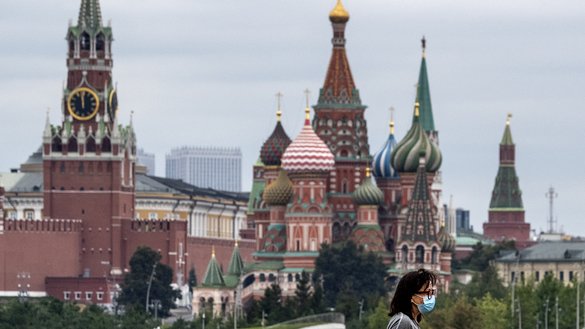 The findings prompted "some very serious questions that only Russia can and must answer", German Chancellor Angela Merkel said.
"It is certain that Alexei Navalny is the victim of a crime," she said. "He was meant to be silenced, and I condemn this in the strongest possible terms."
The news prompted a fresh round of condemnation from leaders around the world.
British Prime Minister Boris Johnson said Navalny's poisoning was "outrageous", while French Foreign Minister Jean-Yves Le Drian called it "shocking and irresponsible".
European Union chief Ursula von der Leyen denounced the poisoning as a "despicable and cowardly act -- once again".
"The Russian people have a right to express their views peacefully without fear of retribution of any kind, and certainly not with chemical agents," wrote US National Security Council spokesman John Ullyot.
NATO chief Jens Stoltenberg condemned the "shocking" use of a military-grade nerve agent, which, he said, made "a full and transparent" investigation by Russia even more urgent.
The Italian Foreign Ministry and Canadian Foreign Minister Francois-Philippe Champagne also condemned Navalny's poisoning.
Despite the overwhelming scientific and contextual evidence, Kremlin spokesman Dmitry Peskov on Thursday (September 3) said there was "no reason" to believe the regime was behind the attempted assassination.
Many see a link between Navalny's poisoning and the unrest in Belarus.
Chemical warfare agent
The nerve agent, whose name means "newbie" or "newcomer" in Russian, can be deployed in an ultra-fine powder, liquid or vapour.
Navalny fell ill after boarding a plane in Siberia in August, with aides saying they suspect he drank a cup of spiked tea at the airport.
He received initial treatment in a Siberian hospital, where doctors said they were unable to find any toxic substances in his blood, before a German NGO flew him to Berlin for specialised treatment on August 22.
"Only the state (FSB, GRU) can use Novichok. This is beyond any reasonable doubt," Ivan Zhdanov, the director of Navalny's Anti-Corruption Foundation, said on Twitter, referring to the FSB internal security and GRU military intelligence agencies.
The use of a "chemical warfare agent" made it clear that the state organised the attack, Zhdanov said in separate comments to the Ekho Moskvy radio station.
"And it is responsible for the attempt on the life of a public figure. So naturally we demand the initiation of a criminal case and a normal investigation of all the circumstances of the poisoning."
Just another Kremlin poisoning
The Kremlin has a long history of poisoning opposition figures, both inside and outside Russia, and employing hybrid warfare tactics to satisfy domestic and foreign agendas.
In March 2018, former Russian double agent Sergei Skripal and his adult daughter were found unconscious on a bench in Salisbury, England, after being poisoned with the highly toxic nerve agent Novichok.
Pyotr Verzilov, an anti-Kremlin activist, was hospitalised in September 2018 after suffering from apparent poisoning from medical drugs.
In November 2006, former Russian spy Alexander Litvinenko, who spoke out against the Kremlin, died after drinking tea laced with highly radioactive polonium-210 at a London hotel.
Meanwhile, Ukrainian politician Viktor Yushchenko, campaigning against a Russian-backed candidate for the presidency, almost died in September 2004 from a massive ingestion of dioxin.