ALMATY -- Journalists in Central Asia are condemning their Russian counterparts who have agreed to take part in a media coup in Belarus and support President Alexander Lukashenka's violent crackdown on protesters contesting the the nation's widely disputed presidential election.
About 300 Belarusian state television and radio workers staged strikes last month in support of protesters, and dozens of employees including a number of top presenters quit, explaining that they heard the "call of conscience" and that it was "impossible to watch the violence taking place".
This move of support, and consequential drop in media personnel, offered the Kremlin and Lukashenka a chance to tip the media scales in their favour.
At least two teams of technical staff from Russian television channel RT have arrived at the studios of Belarusian state television since August 18 to provide "assistance", the Russian business daily RBC reported August 31.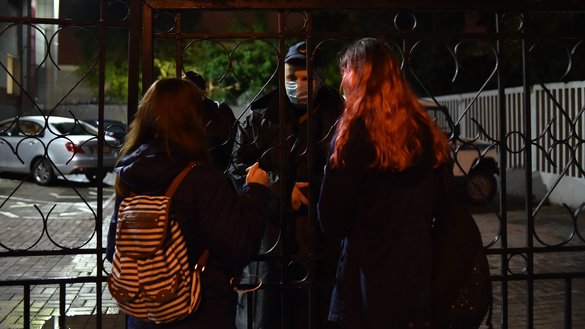 Lukashenka confirmed that he "asked the Russians to give Belarus two or three groups of journalists just in case".
"It's six or nine people from the most cutting-edge television," said Lukashenka, while speaking to workers at an agriculture plant in Minsk on August 21.
Kremlin PR strategists
Journalists, film editors and public relations (PR) specialists came to Belarusian television channels from Russia, confirmed Vladimir Burko of Minsk, who previously hosted the Arsenal programme on state-run television channel Belarus 1 before he quit.
"They put together propaganda materials that certainly are not from the pen of Belarusian journalists," he said.
"Never in the past have we seen Belarusian TV channels insert shots like, for example, people setting fires during the protests in Spain, and passing them off as events occurring in Belarus," Burko said. "Our journalists wouldn't think up something like that."
None of his colleagues who had quit regretted leaving, he said.
"As for the arrival of Russian journalists and PR specialists, I'm ashamed it happened," he said. "Local healthcare workers and teachers took to the streets with signs saying, 'Go ahead and replace us with Russian healthcare workers and teachers.'"
Lukashenka thanked RT for providing "support" after the staff and presenters at Belarus's state broadcaster quit in protest, AFP reported.
"I am grateful to you for this support," Lukashenka told an RT journalist in a video released by the channel on September 1. "This is worth a lot."
"You understand how important you've been for us in this difficult period," Lukashenka said, thanking technical staff, journalists and top management at state-controlled RT.
Crafting narratives will be of the utmost importance following Putin's vow to militarily intervene in Belarus if the situation deteriorated further.
Crackdown on journalists
Lukashenka's praise for Russian journalists comes as officials crack down on other members of the press.
Workers at state-run and independent Belarusian media outlets sent an open letter to Information Minister Igor Lutsky, Deutsche Welle reported on August 13.
The letter, which at least 250 journalists signed, issued an appeal to "take urgent measures so that law enforcement agencies immediately cease attacking and arresting members of the media", and to not shut down the internet or to deprive Belarus residents of a reliable connection.
Authorities arrested at least 64 journalists, including foreigners, during the first four days of the protests, local media reported.
They released some, while other reporters faced more severe punishment. For example, Belarus deported three correspondents from the Current Time television channel to Ukraine and banned them from entering Belarus for 10 years.
The Belarusian Association of Journalists (BAJ) has accused security personnel of targeting journalists. Natalya Lubnevskaya, a reporter from Nasha Niva who covered the protests, was injured in the leg with a rubber bullet and hospitalised.
Meanwhile, Belarusian authorities August 29 withdrew the accreditation of journalists working for several foreign media organisations, AFP reported.
The decision to revoke the media accreditations resulted from the recommendation of the country's counter-terrorism unit, said government spokesman Anatoly Glaz.
He did not specify how many journalists the measure affected, but foreign media including the BBC, Reuters, Associated Press and Radio Free Europe/Radio Liberty reported the withdrawal of accreditation of several of their journalists.
Condemnation from Central Asia
The clampdown on freedom of speech, the violation of the rights of journalists in Belarus and the replacement of their civic-minded Belarusian colleagues with Russian PR strategists are unacceptable, say Central Asian journalists.
The Independent Union of Journalists of Kyrgyzstan has condemned the harsh measures of the Belarusian government against journalists, including the arrests and the revocation of accreditation, said Azamat Kasybekov, chairman of the union.
"These actions seem like an effort to combat free speech, when the authorities are not only getting rid of reputable foreign media but also purging the domestic media," he said.
"This concerns our union, since we advocate for respecting journalists' rights not only in our country but also in the CIS [Commonwealth of Independent States] and around the world," he said.
"We therefore stand in solidarity with the [BAJ] and are expressing support for it," he said. "At the end of the day, those of us who work in the media have not only journalistic but also fundamental human rights."
The group of media specialists who came from Russia had specific tasks to carry out in Belarus, said Ilya Balanchuk, a PR manager from Nur-Sultan.
"In truth, they're not journalists -- they're engaged in propaganda and brainwashing of the Belarusian audience," he said. "But they shouldn't underestimate Belarusian viewers, who aren't fools and can skilfully distinguish between truth and lies."
The PR and political strategists in Belarus are doing what they do every day at Kremlin-backed television channels such as Channel One and Rossiya, he said.
"Such propaganda may work with the older generation that grew up during Soviet times and has poor critical thinking skills when it comes to the media," Balanchuk said. "But we're in different times now, and society has changed."