BISHKEK -- On September 1, the new academic year began throughout Kyrgyzstan.
But this year only first-graders and their parents attended the traditional ceremonial lineup on the first day of class; those children will be the only ones attending classes in person.
The other pupils will study remotely as part of measures to prevent the spread of the novel coronavirus.
This year, 156,430 first-graders took a seat at a school desk for the first time, according to the Ministry of Education's press office.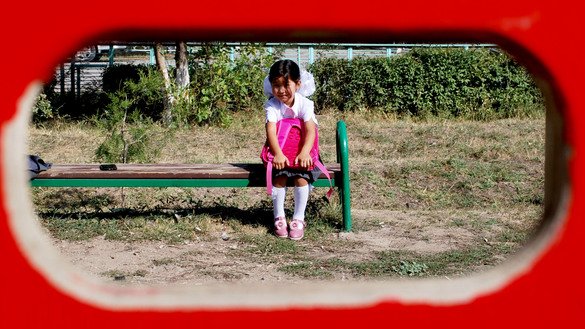 The Ministry of Education, together with the Ministry of Health, has developed a procedure that allows schools to comply with the appropriate public health rules when teaching first grade.
If a school has a large number of first-graders, it will divide them into two sections and seat each section in its own room in a checkerboard pattern.
The schools will comply with all health standards, said the ministry.
As of Wednesday (September 9), the country had 44,613 known cases of COVID-19, including 1,061 deaths, according to the Johns Hopkins University global case-tracking site.
The number of known COVID-19 cases increased by 87 compared to the previous day, Kyrgyz public health chief Ainura Akmatova said September 9, according to 24.kg.