TOMSK, Russia -- Yelena Basova at first was not convinced that Russian opposition figure Alexei Navalny could have been poisoned in her hometown in Siberia.
Then she watched his investigation into local corruption.
"Everything became clear," the 33-year-old saleswoman said as she walked the streets of Tomsk, Siberia.
"He was poisoned because he is fighting for the truth," Basova told AFP. Now, she said, she plans to support Navalny's movement in a municipal vote on Sunday (September 13).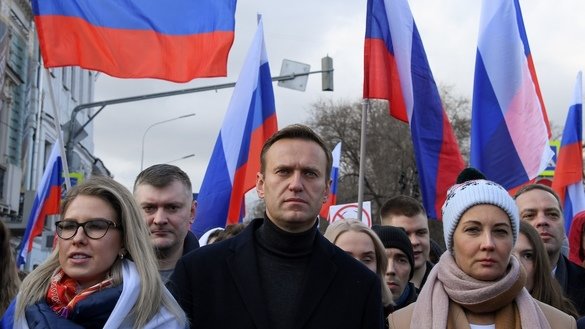 Tomsk is one of dozens of Russian regions, cities and towns voting in local elections that day.
It is also where supporters of Navalny, the most high-profile critic of Russian President Vladimir Putin, claim he was poisoned last month because of his political activities.
The veteran anti-corruption crusader is recovering after being evacuated to Germany, where investigators say they discovered he was afflicted with Novichok, a military-grade nerve agent developed by the Soviet Union towards the end of the Cold War and used only by Russian state security agencies.
Navalny was in Tomsk before he suddenly fell ill on a flight that had to make an emergency landing, after he drank tea at the airport.
Battle against apathy
Navalny had been completing a Siberian tour in support of local candidates in the regional vote and the filming of two of his famed investigations into corruption among Russia's elite.
His probe in Tomsk alleged that members of United Russia, the ruling party set up by the Kremlin, had awarded public contracts to companies secretly controlled by party officials. Authorities denied the claim.
Ksenia Fadeyeva, 28, the head of Navalny's Tomsk headquarters, was one of the last people to see him before he boarded a plane meant to take him to Moscow.
Fadeyeva said she expects the investigation and Navalny's alleged poisoning to boost support for her city council candidacy.
Navalny and his supporters have been effectively banned from national politics -- he was barred from standing against Putin in a 2018 presidential vote -- and he has been focusing his political efforts on regional campaigns.
The Navalny movement's campaign's biggest battle is against apathy, said Mitya Nemtsev, a volunteer in the campaign.
"People have been instilled with the thought that they are powerless," said the 30-year-old tattooed activist.
"There is this idea that politics is something dirty. But it's wrong," he said. "Local officials can sort things out, like in Khabarovsk."
The city in the Russian Far East has been held up as a rare example of defiance to Moscow after two months of protests against the arrest of a local governor who defeated a United Russia candidate.
'Senior Russian officials' responsible
Governments around the world are calling on the Kremlin to provide answers about the attempted assassination of Navalny.
"I think people all around the world see this kind of activity for what it is," US Secretary of State Mike Pompeo said in a radio interview Wednesday (September 9).
"And when they see the effort to poison a dissident, and they recognise that there is a substantial chance that this actually came from senior Russian officials, I think this is not good for the Russian people," he said.
Moscow went on a diplomatic offensive on Thursday (September 10) over the case.
As well as summoning the German ambassador, the Russian Foreign Ministry issued a response to a G7 statement calling for those behind the suspected poisoning to be quickly found and prosecuted.
The ministry denounced an "massive disinformation campaign".
Another Kremlin poisoning
Many see a link between Navalny's poisoning and the unrest in Belarus.
The protest movement in Belarus, widely supported by the people of Central Asia, has come at an awkward time for the Kremlin with Putin's own popularity sharply eroded as he faces a resolute and growing level of dissatisfaction among his once loyal political base.
One explanation of the timing of Navalny's poisoning, according to Masha Gessen, a Russian-American journalist and activist, "is that the Kremlin, which invariably sees its former colonies as mirrors, is terrified by the protests in Belarus".
"Belarusians have shown that, even in a country where electoral institutions, the media and civil society are almost entirely dominated by an autocrat, people can still claim the power to say that they've had enough," Gessen wrote in The New Yorker.
That is exactly what Putin, who has been in power in Russia for 20 years, fears, said Gessen.
Kremlin opponents have a long history of being mysteriously poisoned in Russia and abroad.
In March 2018, former Russian double agent Sergei Skripal and his adult daughter were found unconscious on a bench in Salisbury, England, after being poisoned with the highly toxic nerve agent Novichok.
Pyotr Verzilov, an anti-Kremlin activist, was hospitalised in September 2018 after suffering from apparent poisoning from medical drugs.
In November 2006, former Russian spy Alexander Litvinenko, who spoke out against the Kremlin, died after drinking tea laced with highly radioactive polonium-210 at a London hotel.
Meanwhile, Ukrainian politician Viktor Yushchenko, campaigning against a Russian-backed candidate for the presidency, almost died in September 2004 from a massive ingestion of dioxin.