NUR-SULTAN -- Uzbekistan is building a new border city with an industrial zone in Tashkent Province, while Uzbek and Kazakh officials work together on a joint trade centre that will straddle their countries.
The moves reflect the progress in the relationship of Central Asia's two most populous countries since reformist Uzbek President Shavkat Mirziyoyev took office in 2016. Their co-operation has extended to trade, security and other matters.
About 150,000 people are expected to live in the future Uzbek border city. The city's industrial zone will host businesses that provide at least 60,000 jobs, according to the Uzbek presidential press office.
The city and industrial zone will be situated on 493 hectares near the Kazakh border.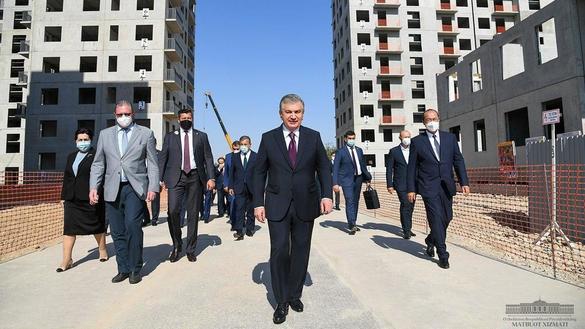 The Uzbek ministries of Economy and Finance, as well as the Tashkent city administration, will soon work out the budget for the upcoming construction and create a projection of the socio-economic development of the city, according to a draft of the resolution.
The new city will have gardens, pedestrian zones and bicycle paths, as well as shopping centres that will create 5,000 jobs, Gazeta.uz reported.
Uzbekistan is implementing a programme for the development of a number of satellite cities between 2020 and 2025.
Under the programme, officials will designate 10 large settlements near cities as satellite cities and develop their infrastructure.
Prospects for co-operation
At the same time, construction is set to start on the International Centre for Trade and Economic Co-operation, which will be situated in both Kazakhstan and Uzbekistan, according to economist Musabek Utepov of Nur-Sultan.
"The centre will be built near the Jibek Joly and Gisht Kuprik checkpoints... Now they [the two governments] are searching for investors and developing the technical documentation for the upcoming construction," he said.
Discussions are under way on potentially designating this territory as a free economic zone with tax and customs breaks for investors, he said.
"The creation of [the Uzbek] satellite city and industrial zone near Tashkent, as well as the work carried out by the future International Centre, may have a synergistic effect on the development of Kazakh-Uzbek trade and economic relations," Utepov said.
Trade between Kazakhstan and Uzbekistan amounted to $2.5 billion in 2018 and $2.8 billion in 2019. That figure is expected to reach $5 billion per year soon.
Officials from the two countries inked several economic and military agreements in April 2019 during Kazakh President Kassym-Jomart Tokayev's visit to Uzbekistan.