ALMATY -- Massive military exercises hosted by Russia this week are drawing concern in Central Asia, as Russian President Vladimir Putin continues his "sabre-rattling" with no regard to the environmental, economic and security impact in the region, observers say.
More than 12,000 troops will take part in the Kavkaz (Caucasus)-2020 war games in southern Russia from Monday (September 21) to Saturday (September 26), Russian Deputy Defence Minister Alexander Fomin told a press briefing.
China, Iran, Pakistan and Myanmar have received invitations to take part in the drills, along with former Soviet states Armenia, Azerbaijan and Belarus, the ministry said in a statement September 11.
The exercises will include land and naval exercises and involve up to 250 tanks and about 450 infantry combat vehicles and armoured personnel carriers, the statement said.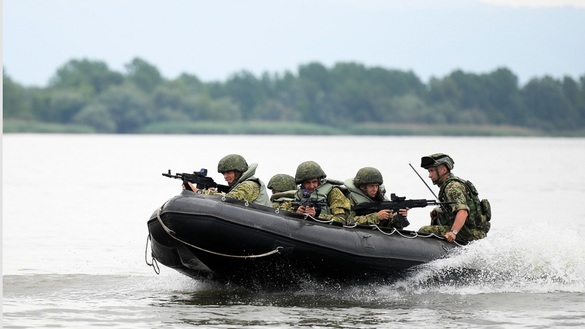 About 80,000 service members including support staff will be involved in the drills.
The main exercises are expected to occur on the Russian Southern Military District's training grounds, including air training grounds, local media reported.
Additionally, the exercises will include practicing joint actions in the Black and Caspian seas, where Iranian naval forces will be involved.
About 100 Chinese service members were some of the first foreign participants to arrive in Russia, flying in aboard Chinese military aircraft, Krasnaya Zvezda, the Russian Defence Ministry's official newspaper, reported September 14. An unspecified number of Chinese officers preceded them.
But not all the countries invited by Moscow showed the same zeal to participate in the military exercises, which have strategic importance for Russia.
Azerbaijan, Indonesia, Iran, Kazakhstan, Tajikistan and Sri Lanka will participate only as observers, Russia's Defence Ministry said.
In an article with the telling headline "Kavkaz-2020 suffers losses even before the exercises start", Russian newspaper Nezavisimaya Gazeta (NG) reported that some countries, surprising Moscow, unexpectedly refused to participate in Kavkaz-2020 for various reasons.
India, for example, at the end of August decided not to participate in the war games and is in no hurry to sign key military-technical contracts with Moscow, NG reported.
Concern for Putin's 'militaristic policies'
The Kavkaz-2020 exercises are taking place near the border with Kazakhstan, drawing criticism and concern from readers of the Kazakh news website Nur.kz.
"The arms race, boasting and sabre-rattling are Putin's militaristic policies," commented Astana2018. "The residents of West Kazakhstan Province have so many disabled children, mother's tears and calamities from the tests at Kapyar!"
The reader was referring to the Kapustin Yar missile range in Russia's south, near the border with Kazakhstan.
"It would be better if Putin would give the money he spent to veterans for an apartment," said SB, another Nur.kz reader. "They live in slums, dilapidated houses without amenities or gas. Pensioners pick food from garbage cans, but he the militarist cannot play enough war games."
Russia recently has been trying to drag Kazakhstan into its geopolitical games, said political analyst Urazgali Selteyev of Nur-Sultan.
"Our country must maintain its neutral position on principle and not get mixed up in a confrontation with the West," he said. "The citizens of Kazakhstan should not be affected by the consequences that Russia and its military partners are begging for."
The Kremlin is creating tension in Central Asia with provocative military exercises as well as through other means, said former Kyrgyz diplomat Murat Konokbayev from Bishkek.
"Recently, they planted fake news in our information space pushing the idea that the Kyrgyz are allegedly discussing the question of Kyrgyzstan joining Russia," he said. "This is a gross provocation from Moscow, which agitated the public in Kyrgyzstan. The reaction in the Central Asian republic showed that such statements have nothing to do with reality."
Central Asian countries should turn away from Moscow and focus on strengthening regional security internally and independently, say some analysts.
Kazakhstan and Uzbekistan could drive this process, said Farhad Tolipov, director of the Tashkent think-tank Caravan of Knowledge.
There is a need to strengthen the interaction of the Central Asian countries in order to build regional unity and consolidate their policies in all areas, including regional security, he said.
"Tashkent and Nur-Sultan can jointly develop initiatives to create their own regional collective security system in Central Asia in a five-state format," Tolipov said.
Russia-Belarus drills raise alarm
Meanwhile, Russia's involvement in the political unrest unfolding in Belarus is threatening other planned military exercises in the region.
The Slavic Brotherhood-2020 exercises are taking place on the Brest training ground in Belarus on September 14-25, the Russian Defence Ministry said.
Belarus is mired in intensifying political protests and is attracting international scorn following the widely disputed re-election of President Alexander Lukashenka on August 9.
Putin on September 14 backed the embattled Belarusian strongman and promised a $1.5 billion loan, while Lukashenka vowed to strengthen ties with Moscow.
In pursuing the goal of retaining power, Lukashenka is counting on help from Russia, said Khairullo Mirsaidov, a Tajik journalist living in Europe who has worked for the Tajik news site ASIA-Plus and for Deutsche Welle.
Lukashenka tried to justify the hypothetical deployment of Russian troops to Belarus even though according to the terms of the Collective Security Treaty Organisation (CSTO), it would be permissible only if external forces were threatening Belarus, he said.
"To abide by these terms, Lukashenka announced that NATO forces were allegedly gathering on the Lithuania-Belarus border," Mirsaidov said. "However, NATO and the Lithuanian authorities denied these announcements."
The exercises, despite being held annually since 2015, have become a political pressure point to Moscow's detriment.
Serbia -- which the Kremlin considers a close ally and an outpost for the Russian military in the Balkans -- on September 9 officially dropped out of the military drill involving Belarus and Russia.
"We are asked, at the cost of leaving our European future... to abandon the planned military exercises with Belarus," said Serbian Defence Minister Aleksandar Vulin.
Serbia is a candidate for European Union (EU) membership and likely did not want to risk its political future over the situation in Belarus.
Although Serbia has close relations with Lukashenka's government, Belgrade endorsed an August 11 joint EU-US statement saying the Belarus presidential election was "neither free nor fair" and criticising the government's violent crackdown on protesters.
Meanwhile, the Unbreakable Brotherhood-2020 military exercises are scheduled to take place October 12-16 at the Brest training ground in Belarus, the Russian Defence Ministry announced September 15.
The exercises involve CSTO member states Russia, Belarus, Kazakhstan, Kyrgyzstan, Armenia and Tajikistan.