China's increasing willingness to flex its military muscles and violate the sovereign territory of its neighbours is putting officials and citizens nearby on alert.
The latest military incursion happened Monday (September 21), when Taiwan was forced to scramble fighters and deploy anti-missile systems after Chinese military jets entered its air defence zone for the fourth time in five days.
Two Chinese Y-8 anti-submarine planes intruded into Taiwan's southwest air defence identification zone, the Taiwanese Defence Ministry said.
Last week, Chinese fighters and bombers breached the same zone three times.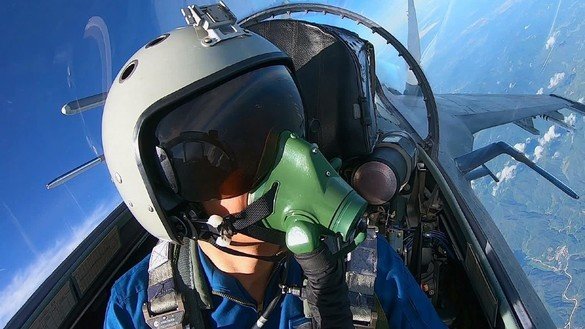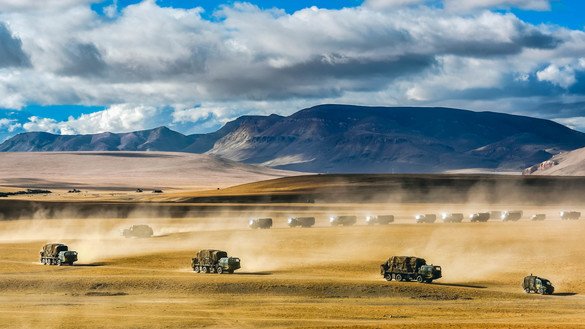 Beijing, which considers the self-ruled island part of its territory, wants to absorb it into the mainland -- by force if necessary.
Taiwan maintains "the right to self-defence and counter attack" in the wake of the "frequent harassments and threats", said the Taiwanese Defence Ministry.
"Our primary principle is not to provoke, not to heighten conflicts, trigger incidents or cause misfire," Defence Minister Yen De-fa told reporters.
"But we are not afraid of a war, and we must maintain our necessary right to self-defence and counterattack."
Recent Chinese aggression has extended to neighbouring India.
In mid-June, Chinese and Indian soldiers engaged in violent hand-to-hand fighting in the Ladakh region that left 20 Indian troops dead. The Chinese regime acknowledged suffering casualties but has not revealed any figures.
The clash arose from "an attempt by the Chinese side to unilaterally change the status quo" on the border, Indian Foreign Ministry spokesperson Anurag Srivastava at the time.
Since then, the two nations have sent tens of thousands of extra troops to the mountainous border.
In another incident in early September, shots were fired for the first time in 45 years on the border. Both sides accused each other of opening fire.
Meanwhile, Chinese troops are participating in the Kavkaz (Caucasus)-2020 war games in southern Russia, which started September 21 and run until Saturday (September 26).
More than 12,000 troops are involved in the military exercises, which observers say are part of Russian President Vladimir Putin's continuing "sabre-rattling" that demonstrates his disregard for the environmental, economic and security impact in the region.
Territorial rows
Taiwanese Foreign Minister Joseph Wu Tuesday (September 22) urged Beijing to "return to the civilised international standards" after a Chinese Foreign Ministry spokesman said there was no so-called median line in the Taiwan Strait "as Taiwan is an inseparable part of Chinese territory", AFP reported.
Last year, Taiwan accused the Chinese regime of violating a long-held tacit agreement after Chinese fighter jets -- for the first time in years -- crossed the median line of the waters that separate the two sides.
"I call on the international community to condemn the CCP [Chinese Communist Party] for its dangerous and provocative words and deeds threatening peace... China must back off," Wu added in a tweet.
Beijing already has drawn international criticism for its domestic and foreign policies.
"From India to Japan... to Australia to Canada, the Chinese have been bullying their way around the world," Hong Kong's last British governor, Chris Patten, told an online discussion organised by British lawmakers on July 8.
"What's happened in Hong Kong is just part of a broader series of actions taken by the [CCP] taking advantage of the fact that we're all of us focused very much on dealing with the coronavirus," he said, referring to Beijing's imposition of a controversial security law in Hong Kong, which effectively ended the city's cherished autonomy and democracy traditions.
In Central Asia, the region is undergoing a geopolitical transition in which the Russian and Chinese regimes are vying for influence.
Beijing has been ramping up military co-operation with Central Asian states, much to the worry of Moscow.
Chinese military officials regularly confer on security matters with defence ministers from Kazakhstan, Tajikistan and Kyrgyzstan, and Beijing's aid to the region takes a variety of forms. Turkmenistan, for instance, receives air-defence systems, drones and light armoured vehicles from China. Kazakhstan and Uzbekistan receive combat drones from the Chinese regime as well as technical assistance to their armed forces.
Beijing is paying special attention to military co-operation with Tajikistan, which borders both China and Afghanistan and shares a longer border with Afghanistan than does any other country.
In the South China Sea, Beijing, at the expense of other nations' territorial claims, has been building artificial islands and establishing a heavy military presence in a brazen pursuit of resources.
Beijing has constructed a series of ports along the Indian Ocean, creating a necklace of refuelling and resupply stations from the South China Sea to the Suez Canal. Ostensibly commercial in nature, the ports would allow its rapidly growing navy to expand its reach.
The Chinese regime is leveraging its financial dominance over countries to exact military use for strategic areas and ports, particularly in Gwadar, Pakistan, and Jask, Iran.
Incursions of a different sort
The Chinese regime is also busy making serious incursions into neighbouring countries of a different sort -- it is engaged in a highly sophisticated malign foreign influence campaign, and its methods include bribery, disinformation campaigns, blackmail and covert deals.
While Twitter, YouTube, Google and Facebook are banned in China, which uses a "Great Firewall" to restrict access to news and information, Chinese diplomats and state media hypocritically take advantage of openness abroad and have flocked to such platforms in recent years to push Beijing's narrative.
Beijing increasingly has turned to an aggressive, conspiratorial type of disinformation during the coronavirus pandemic, according to a report published by the US Council on Foreign Relations on September 10.
"Beijing is both manipulating factual information and spreading disinformation -- or willfully false information -- to distract from the origins of the virus, highlight the failures of the United States, and promote China as a global leader," said the report.
Coronavirus disinformation spread by Russian and Chinese journalists found a bigger audience on social media than content created by premier news outlets around the world, the Oxford Internet Institute said in a report published June 29.
Twitter on June 12 said it had deleted more than 170,000 accounts linked to Chinese government disinformation campaigns.