MOSCOW -- Russian President Vladimir Putin in a speech at the United Nations on Tuesday (September 22) boasted of Russia's creation of the world's first coronavirus vaccine, although much of the world community has dismissed the Kremlin's aggressively marketed drug as rushed and potentially more dangerous than COVID-19 itself.
Russia is open to partnership with other countries over "the first vaccine in the world, Sputnik V", said Putin in a video address to the General Assembly.
It was clear Putin used the world stage as an opportunity to market the product, which could potentially earn billions for state-linked organisations.
"We are ready to share our experience," Putin said, offering to supply other countries with "a Russian vaccine that has shown its reliability, safety and effectiveness".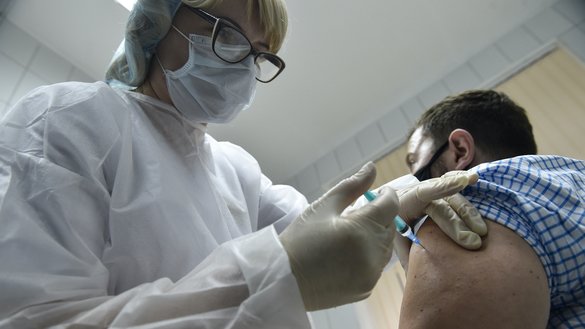 He touted Russia's speed in "developing test systems and medications for diagnosing and treating coronavirus".
While the vaccine has shown promising results in early trials, its developers have not yet completed the final phase of clinical testing, in which large numbers of test subjects receive either the vaccine or a placebo.
Twenty countries have pre-ordered supplies, said the Russian Direct Investment Fund last month. It funded the vaccine's development.
Serious concerns
The state-run Gamaleya institute, which produced the vaccine, came under fire after researchers and its director injected themselves with the prototype several months ago, with specialists criticising the move as an unorthodox and rushed way of starting human trials.
Observers have previously raised concerns that Russian researchers cut corners and came under pressure from authorities to deliver.
"I have little faith in the pronouncements of the Russian authorities that they already have a vaccine ready for use," said Asel Saliyeva, a doctor who specialises in COVID-19 at a hospital in Kazakhstan, in August.
"During the testing process, a vaccine can seem safe early on, but the consequences can appear much later. You can't risk the health of millions, even when the risk seems justified," said Saliyeva.
"The creators of the Russian vaccine themselves don't know how long the vaccine works because they didn't conduct any long-term, large-scale clinical studies," warned Bolot Kalmyrzayev, a molecular geneticist at the American University of Central Asia in Kyrgyzstan, in August.
Without more testing, there will be many "surprises" in the future, he added.
The vaccine could present a risk for pregnant women, breastfeeding mothers, sufferers of chronic illnesses, and individuals younger than 18 and older than 60, Kazakh Vice Minister of Healthcare Marat Shoranov said in an online briefing on September 3.