WASHINGTON -- The US Treasury Department Wednesday (September 23) sanctioned associates and businesses connected with a wealthy financier close to Russian President Vladimir Putin as well as Moscow's security service.
Eight people and seven entities related to Yevgeny Prigozhin and the Federal Security Service (FSB) were targeted in the sanctions, the Treasury said in a statement.
Prigozhin is nicknamed "Putin's chef" because his company Concord has done catering for the Kremlin.
The move was aimed at checking both Prigozhin's activities in the Central African Republic (CAR) and the FSB, which has been accused of interfering in the US elections.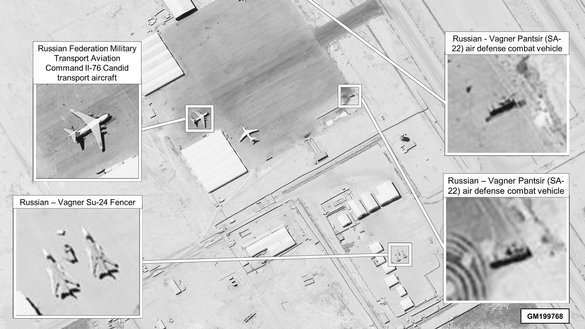 The latest sanctions focus on "Prigozhin's exploitation of African countries' natural resources and ... the role of the Russian government in co-ordinating Prigozhin's operations", the statement said.
"Prigozhin has ties to mining, security and logistics companies in CAR, and his operations in CAR are reported to be co-ordinated with the Russian Federation's Ministry of Foreign Affairs and the Ministry of Defence," it said.
The sanctions target two mining businesses and three employees tied to Prigozhin in the CAR, which has struggled with instability and armed conflict since a coup ousted President Francois Bozize in 2012.
Prigozhin owns or controls two companies that conduct mining operations in CAR: the Russian-based M Finans -- which mines precious metals and provides private security services -- and CAR-based Lobaye Invest -- which specialises in the extraction of gold and diamonds.
Both companies have been linked to the CAR operations of the Wagner Group, a Russian private military company linked to Prigozhin, the Treasury said. The United States previously sanctioned Prigozhin in 2018 and 2019 over his role as manager and financier of the Wagner Group.
M Finans has also been linked to Prigozhin's Concord firm, which investigators accuse of providing material assistance to the Internet Research Agency (IRA), a Russian troll farm in St. Petersburg allegedly funded by Prigozhin.
First sanctioned by the US Treasury in 2018, the IRA was accused of fuelling political and social chaos around the world.
The latest US sanctions target three of Prigozhin's associates as well: Dmitry Sytii, the founder of Lobaye Invest and a former IRA employee; Yevgeniy Khodotov, the director of Lobaye Invest; and Alexander Kuzin, Prigozhin's employee working in CAR.
US elections targeted
The US sanctions are part of Washington's "efforts to promote accountability for the Russian government's intelligence organisations, including the FSB, for perpetrating an array of destabilising activities", the US Treasury said.
The Treasury designated the FSB in March 2018 "for engaging in activities that undermine the cybersecurity of individuals and entities on behalf of the Russian government, including targeting US officials".
Earlier sanctions in December 2016 targeted the FSB following the Kremlin's attempted interference in US elections.
Washington on September 23 designated Okeanos, a St. Petersburg-based underwater-technology company, along with three of its employees for co-operating with the FSB.
Also targeted were Finland-based freight-forwarding company Optima Freight and its owner, Nikita Kovalevskij, for aiding the FSB in evading US sanctions.
Kovalevskij is the managing director of three other Finland-based freight-forwarding companies accused of the same thing: GCH Finland, Unicum Trade and ACEX.
"Nikita Kovalevskij, and his company, Optima Freight, through an illicit scheme, violated US export laws in the acquisition of sensitive, controlled US maritime technologies," said Stacey R. Moy, a US Federal Bureau of Investigation (FBI) agent.
"The FBI remains committed to aggressively investigate and stop Russia from covertly pilfering US innovation," he said.
The United States is seeking "accountability for the Russian government's use of proxy actors and intelligence organisations, including the FSB, for perpetrating an array of destabilising activities, such as conducting malicious cyber activities and interfering in elections," US Secretary of State Mike Pompeo said.
Kremlin goal: resources
"Yevgeniy Prigozhin has an international network of supporters to spread his malign political and economic influence around the globe," US Treasury Secretary Steven Mnuchin said in a statement.
"The United States will continue to target the ability of Prigozhin to conduct operations globally."
The Wagner Group -- whose mercenaries number between 800 and 1,200 according to the United Nations (UN) Security Council -- carries out Putin's agenda worldwide under a cover of plausible deniability.
Wagner mercenaries have been or are active in a number of other countries around the world, including Syria, Sudan, Venezuela and Madagascar.
Wagner, in co-ordination with the Russian military, also played a role in the civil war in eastern Ukraine and was instrumental in Moscow's illegal annexation of Crimea in 2014.
Recent Wagner Group interventions include attempts to destabilise Belarus ahead of presidential elections in early August and deployment of mercenaries in Libya's civil war in support of strongman Khalifa Haftar against the United Nations-recognised Government of National Accord.
The carnage in Libya has left hundreds dead and displaced more than 200,000 over the course of Haftar's year-long attempt to take over Tripoli, according to the International Organisation for Migration.
Kremlin support for Syrian President Bashar al-Assad has left a tragic trail of bloodshed in its wake.
Russia's subterfuge in countries in addition to the CAR has been aimed at securing access to valuable natural resources, among other goals.
By backing Libyan strongman Haftar, Moscow aims to tap that country's rich resources and get have a share in Libya's oil industry, which, in addition to immense profits, offers geopolitical leverage.
Oil exports are the source of almost all the state's revenues, and Libya has the biggest proven crude reserves in Africa.
Meanwhile, Moscow has signed agreements that include an exclusive tender -- since suspended, but which Russian energy companies are determined to reactivate -- to develop Syria's offshore gas reserves in Block 12.
In 2016 alone, the Kremlin signed almost $1 billion in infrastructure and other contracts. In December 2016, the Russian company Evro Polis signed an agreement with the regime to protect oil wells in exchange for a 25% share of production.
Taking on Putin's opponents
In addition to Prigozhin's role as financier for the Wagner Group, he controls RIA FAN, or the Federal News Agency, the BBC reported last October.
The media outlet has been used by Kremlin propagandists to spread disinformation, division, and mistrust in Russia and abroad.
Prigozhin also has taken aim at the Russian leader's opponents.
He has vowed to ruin leading Kremlin critic Alexei Navalny, who was poisoned with a Soviet-era nerve agent. After being in a coma in a Berlin hospital for a month, Navalny was discharged on Tuesday (September 22). Doctors expect him to make a full recovery.
Concord's press office quoted Prigozhin in a statement on social media on September 22 as saying he intends to enforce a court decision from last October. The ruling obliges Navalny and his associates to pay him almost 88 million RUB ($1.2 million) in damages over a video report.
Navalny's foundation, in a video investigation, accused a firm linked to Prigozhin in media reports of sickening schoolchildren with low-quality cafeteria food. Prigozhin denies owning the company.
"I intend to strip this group of unscrupulous people of their clothes and shoes," Prigozhin was quoted as saying.