Beijing is forcing Tibetan farmers and herders into labour programmes similar to those used in Xinjiang, where more than a million Muslims and ethnic minorities have been subjected to systemic abuse, a top research institute alleges.
The moves risk precipitating a "loss of cultural heritage" in the politically sensitive region, the report by the Jamestown Foundation warned on September 22.
Authorities in Tibet, a predominantly Buddhist area in China's far west, have touted the scheme -- which puts rural workers to task in factories -- as a tool for poverty alleviation.
But "militarised vocational training" is also a form of ideological indoctrination and assimilation of ethnic Tibetans, who make up 90% of the remote border region's population, say researchers.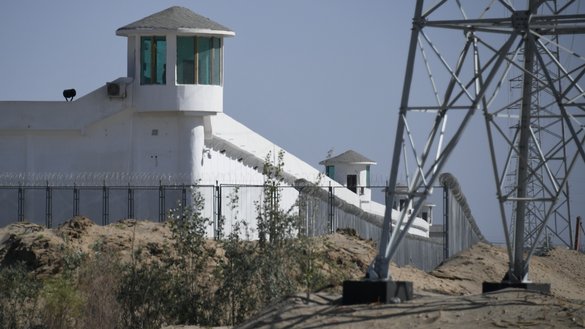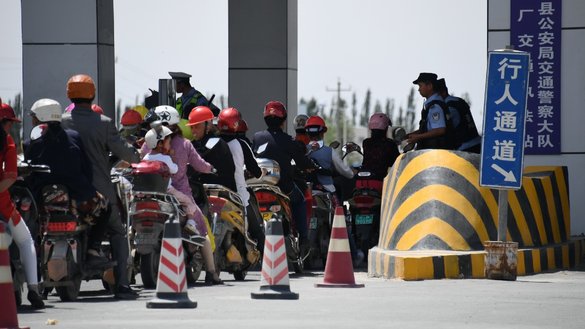 More than 500,000 rural labourers -- mainly herders and subsistence farmers -- were trained in the first seven months of 2020, with each county assigned quotas, said the foundation.
The training schemes aim to instill "work discipline, Chinese language and work ethics", according to a 2019 Chinese government action plan quoted in the report.
The purpose of the labour transfer scheme is to "effectively eliminate lazy people", adds a 2018 report by the Naqqu city government.
Companies that fulfill the hiring quota for workers are offered up to 500,000 CNY ($75,000), the report said, while herders and farmers are encouraged by the scheme to hand over their livestock and land to large state-run co-operatives.
"In the context of Beijing's increasingly assimilatory ethnic minority policy, it is likely that these policies will promote a long-term loss of linguistic, cultural and spiritual heritage," wrote Adrian Zenz, the author of the Jamestown Foundation report and researcher at the US-based Victims of Communism Memorial Foundation.
Reports of forced sterilisations
About 50,000 residents have been transferred to other areas of Tibet, and more than 3,000 sent to other parts of China, the report said.
Beijing says its troops "peacefully liberated" Tibet in 1951, but many exiled Tibetans accuse the central government of religious repression and erosion of their culture.
In Xinjiang, Beijing's actions have aroused a similar outcry regarding persecution of a minority's religious practices.
"Approximately 16,000 mosques in Xinjiang (65% of the total) have been destroyed or damaged as a result of government policies, mostly since 2017," the Australian Strategic Policy Institute said in a report released last week.
While the report by the Jamestown Foundation claims there are similarities with labour schemes in the Xinjiang region, the scale of the Tibetan work scheme is still dwarfed by that of Xinjiang.
It trained an average of 1.29 million workers each year between 2014 and 2019, according to a government white paper released last week.
Beijing already has been facing mounting pressure over its "horrific and systematic abuses" of Uighurs and other Muslim groups in the Xinjiang area.
Those abuses, in addition to locking up Muslims in re-education camps, include forcibly sterilising women, a group of exiled Uighurs charged in July, when they called on the International Criminal Court to investigate the Chinese regime for genocide and crimes against humanity.
Beijing has called the forced sterilisation accusations baseless. The facilities in the Xinjiang region are job training centres aimed at steering citizens away from terrorism, it says.
In addition, at least 435 Uighur intellectuals have been imprisoned or forcibly disappeared since April 2017, according to the Uyghur Human Rights Project.
The rounding up of Uighur linguists, scholars and publishers is seen by overseas advocacy groups as part of a campaign by the Chinese Communist Party to erase the ethnic group's identity and culture and assimilate it into the Mandarin-speaking Han majority.
Chinese authorities have denied that the government is detaining intellectuals.
International pressure intensifies
Despite the regime's denials, Beijing's actions in Xinjiang have come under intense international criticism and are spurring western nations to take action.
The US House of Representatives voted overwhelmingly September 22 to ban imports from the Xinjiang region, vowing to stop the systematic forced labour by the Uighur community.
"Tragically, the products of the forced labour often end up here in American stores and homes," House Speaker Nancy Pelosi said before the vote.
"We must send a clear message to Beijing: These abuses must end now."
The United States already bans products made through slavery, but the act would put a blanket ban on products from Xinjiang, saying that forced labour is inextricably linked to the region's economy.
Meanwhile, the European Union, which also has been critical of Chinese policies toward ethnic minorities, has urged Beijing to allow independent observers to travel to the highly surveilled region.